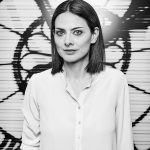 Bettina Pousttchi: Meet the Artist
Friday, June 10
6:30 pm, Lerner Room
In her sculptural and photographic practice, German artist Bettina Pousttchi has often contemplated systems of time and space. Over the past eight years, she traveled the globe creating World Time Clock, a series of twenty-four photographs taken in twenty-four different time zones, in cities as far-flung as Bangkok, Auckland, Mexico City, and Tashkent. At each location, Pousttchi created a portrait of a public clock at the same local time: five minutes until two. Displayed together, these images suggest both a sense of suspended time and, in the artist's words, "imaginary synchronism." The Hirshhorn provides a historically and architecturally resonant backdrop for this work, since Washington, DC, is the birthplace of International Standard Time, having hosted the International Meridian Conference in 1884, and the hollow cylindrical form of the Museum building itself allows it to act as a natural timepiece, framing the sun's passage across the sky. On the occasion of the premiere of World Time Clock, the Hirshhorn welcomes Pousttchi for a Meet the Artist talk.
Lerner Room seating is limited and available on a first-come, first-served basis. Members at the Inner Circle level ($500) and above may reserve two seats by contacting us at hirshhornevents@si.edu or 202.633.2836. Unclaimed seats will be released ten minutes prior to the start of the lecture.