Thursday, September 4, 2008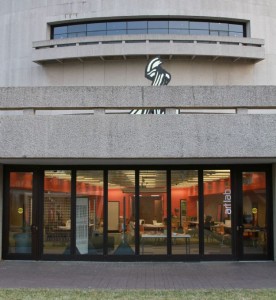 Media only: Gabriel Riera (202) 633-4765; rierag@si.edu
Erin Baysden (202) 633-0828; baysdene@si.edu
Public only: (202) 633-1000; www.hirshhorn.si.edu
The Hirshhorn Museum and Sculpture Garden announces upcoming exhibitions in the museum's Black Box space. Since 2005, as part of its commitment to the creative possibilities of   new media, the Hirshhorn's Black Box has presented the work of a diverse range of emerging and established international artists. Organized by associate curator Kelly Gordon, the artists featured in upcoming solo shows are Semiconductor (Aug. 25–Dec. 14, 2008), Ori Gersht (Dec. 22, 2008–Apr. 12, 2009) and Guido van der Werve (Apr. 20–Aug. 9, 2009). Works by each of these artists have recently been acquired by the museum. Support for the Black Box program is provided in part by Lawrence A. Cohen/Ringler Associates.
Black Box: Semiconductor on view from Aug. 25–Dec. 14
Ruth Jarman (b. 1973, Fareham, England) and Joseph Gerhardt (b. 1972, Oxford, England), aka Semiconductor, have collaborated since 1999 on what they call various forms of "digital noise and computer anarchy," including films, experimental DVDs and multimedia performances. The UK-based pair makes moving-image works that focus on the nature of flux on earth and beyond, including cities in motion, shifting landscapes and systems in chaos.
 "Magnetic Movie" (2007), a recent acquisition, is an eye-dazzling short in the guise of a documentary created during the artists' 2005 residency at the NASA Space Sciences Laboratory, University of California, Berkeley. As scientists' voiceovers describe their discoveries, it is unclear whether the viewer is observing actual experiments or something utterly imaginary. The "invisible" activity of magnetic fields is shown as a rampage of chain reactions that overtake the space of the laboratory, implying that these activities are also occurring around viewers as they watch the film unfold.
 "Magnetic Movie" was awarded Best Experimental Film at Cutting Edge at the 2008 British Animation Awards, Best Experimental Film at the 2007 Tirana International Film Festival and was featured at the 2008 Rotterdam International Film Festival.
Black Box: Ori Gersht on view from Dec. 22, 2008–Apr. 12, 2009
Ori Gersht (b. 1967, Tel Aviv) currently lives and works in London. He is noted for his series of large-scale photographs and arresting moving-image pieces. The artist's work encourages viewers to reflect on the power of natural beauty and how it is affected by human intervention.  In "The Forest" (2006) the camera pans a lush, primeval forest. Sound alternates with silence and suddenly a tree falls to the ground with a thunderous echo. The departure point for this work seems to be the conundrum "if a tree falls in a forest, and there is no one there to hear it, does it make a sound?" But other questions emerge: Who or what is causing these trees to fall?  Is this a statement about nature and inevitability, about proverbially missing the forest for the trees, a commentary about deforestation or a metaphor for loss? Or is it perhaps an exercise in anticipation? "The Forest" is soothing but also becomes increasingly mysterious. Shot deep in the Moskolovaka woods that span Poland and the Ukraine, this site has personal meaning for the artist. It was from the edge of this glen that his in-laws witnessed the execution of their fellow villagers before escaping into the forest, where they hid from the Nazis for two years.
The exhibition also includes the flat-screen work "Pomegranate" (2006), installed next to the entrance to the Black Box on the lower level. This work references traditional Spanish and Dutch still-life painting in which precise arrangements of foods, fruit or flowers are shown at their peak, implying the inevitability of decay. These metaphors for the brevity of life are termed "vanitas." Gersht fast-forwards the impending threat of demise. His imagery does not decay by dissolving over time; it combusts and then, in the type of slow motion used to depict extreme violence in feature films, recalls the time-lapse imagery of Harold Edgerton's scientific action photography. Gersht updates the concept of "vanitas" by creating meditations on how violence in contemporary life is often random, anonymous and unpredictable. Triggering a visceral response, these films translate the experiences of the artist's fear-filled childhood in Israel into provocative statements that have global resonance.
Black Box: Guido van der Werve on view from Apr. 20–Oct. 11, 2009
Guido van der Werve (b. 1977, Papendrecht, The Netherlands, lives and works in Amsterdam) is a man of many talents and interests. An accomplished classical pianist, composer, and chess player, he studied industrial design, archeology, and Russian before focusing on fine art—first on painting, then performance work, and finally, film. To date he has completed ten short film works that he describes as "possible scenarios of imaginary realities."
The artist is often at the center of his elaborate and sly dramas: playing piano on a float in the middle of a lake, launching an asteroid back to where it came from, greeting a flock of ballerinas in the middle of the street, hoisting a grand piano through his apartment window, and turning slowly (in the opposite direction of the earth's rotation) while standing on the North Pole. In Nummer Acht (#8) everything is going to be alright, 2007, van der Werve plods just ahead of a gigantic ice-breaking ship as it crashes through the Gulf of Bothnia in Finland. He seems oblivious the giant craft at his heels. The romantic notion of his isolated and harrowing plight is made vivid by van der Werve's daring performance. His stride is at once quaint and ambitious, dangerous and hilarious, ridiculous and sublime. He is a stand-in for everyman who presses on despite all peril.
Related Programming
Associate curator Kelly Gordon will discuss the Black Box on Oct. 17 at 12:30 pm as part of the free Friday Gallery Talks series. Meet the Artist: Semiconductor on Nov. 6 at 7 p.m. is a free lecture and screening of their work.  "Magnetic Movie" can also be seen during After Hours, Nov. 7, when the museum has extended hours and special performances. The Hirshhorn's website features a transcribed interview between Semiconductor and Gordon. For further background on artists and exhibitions, consult the museum's website for podcasts.
About the Hirshhorn
The Smithsonian Institution's Hirshhorn Museum and Sculpture Garden welcomes visitors at all levels of understanding to experience the transformative power of contemporary art. The museum collects, preserves and presents international modern and contemporary art in all media. By collaborating with artists on exhibitions, programs and special projects, the Hirshhorn provides an important national platform in Washington, D.C., for the vision and voices of artists. Open daily from 10 a.m. to 5:30 p.m. (closed Dec. 25); Independence Ave. at Seventh St. S.W.; admission is free.