Monday, June 13, 2011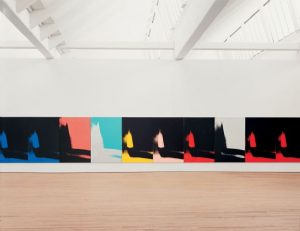 The First Installation of a Major 102-Part Work in its Entirety
This fall, the Hirshhorn will present "Shadows" (1978–79), the monumental painting installation by Andy Warhol (American, b. Pittsburgh, 1928; d. New York, 1987). The Hirshhorn's exhibition, which runs from Sept. 25 until Jan. 15, 2012, marks the first time that all 102 canvases have been shown at once. Installed edge-to-edge as the artist intended, "Shadows" will extend nearly 450 linear feet around the outer perimeter of the museum's curved second-level galleries, offering the public a unique opportunity to view the work in its entirety. Associate curator Evelyn Hankins is coordinating the Hirshhorn's presentation of "Andy Warhol: Shadows," which is organized by Dia Art Foundation. The foundation acquired the piece from the artist during its inaugural exhibition at the Heiner Friedrich Gallery in New York in 1979. Prior to this tour, Dia has had 72 of the panels on long-term view at Dia's Hudson River Valley location, Dia:Beacon. Through July 29, 54 panels are on view at the Arts Club of Chicago.
Warhol, an iconic American artist whose reputation has only increased in the quarter-century since his death, is best known for appropriations of images from popular culture—advertisements, mass-media photographs and celebrity portraits—that challenged the conventional definitions and subjects of art. In the last decade of his career, he began to take on the premises of abstraction in works such as the "Shadows," as well as the "Oxidation" and "Camouflage" series. Warhol's growing fascination with shadows in the mid-1970s is evident in the "Skulls" (1976) and the "Hammer and Sickle" series (1977); however, it was not until 1978–79 that shadows became subjects in their own right.
Each of the "Shadows" canvases measures 76 by 52 inches and features one of two compositions generated from photographs taken in the artist's studio. Each also is hand-painted and/or silkscreened with one of 17 brightly colored monochromatic acrylic grounds. Ronnie Cutrone, Warhol's painting assistant at the time, said the palette was chosen from Warhol's favorite colors: "aubergine, chartreuse, carmine red, yellow, midnight blue … and white." The imagery and the bold paint application, created with a sponge mop, at once suggest and mock the formal language and bravura paint handling of the Abstract Expressionists. Furthermore, the monumental scale of the paintings contradicts the banality of the subject matter and invokes a panoramic, cinematic quality. Moreover, the repetitive forms and silkscreen process undermine the notion of the unique artwork.
When questioned whether the paintings were art, Warhol answered ambiguously, in his characteristically self-deprecating tone: "No. You see, the opening party had disco. I guess that makes them disco décor." Warhol's multifaceted practice included the creation of environments for a variety of social and artistic events; his willingness to allow "Shadows" to be employed as a decorative backdrop for a 1979 fashion shoot in Interview magazine, which had been founded by the artist a decade earlier, further exemplifies his tendency to undermine longstanding art conventions. Artist and filmmaker Julian Schnabel remarked on the "Shadows" series' significance: "There is almost nothing on them. Yet they seem to be pictures of something and as full of imagery as any of Andy's other paintings. These paintings embody the art historical landscape of postwar American painting as well as any other landscape I can think of."
Warhol was born Aug. 6, 1928, in Pittsburgh, Pa., and studied design at the Carnegie Institute of Technology in Pittsburgh from 1945 to 1949. After establishing himself as a successful commercial illustrator in New York in the 1950s, he began making paintings featuring popular advertising and cartoon imagery in 1961. In the following years, the artist would garner international acclaim for his paintings, films, sculptures and performances, continuing to have a profound influence on contemporary art and artists after his death Feb. 22, 1987.
Related Programs
Details for related programming, including scholarly lectures and artist talks for "Andy Warhol: Shadows," will be announced later this summer.
The Hirshhorn offers a range of interactive educational experiences designed to engage people of all interest levels in contemporary art. Dialogues is a new social media-based program that connects the museum's virtual audience with leading contemporary artists, filmmakers, photographers, scholars and critics via live Twitter discussions. Friday Gallery Talks are informal weekly lunchtime discussions led by artists and scholars that focus on one work in depth. The museum's ever-expanding library of podcasts (featured on iTunes in the top 100 Arts and Entertainment podcasts) makes gallery walk-throughs and interviews with artists accessible internationally.
About the Hirshhorn
The Hirshhorn Museum and Sculpture Garden, the Smithsonian Institution's museum of international modern and contemporary art, has nearly 12,000 paintings, sculptures, photographs, mixed-media installations, works on paper and new media works in its collection. The Hirshhorn presents diverse exhibitions and offers an array of public programs that explore the art of our time. Located at Independence Avenue and Seventh Street S.W., the museum is open daily from 10 a.m. to 5:30 p.m. (except Dec. 25). Admission to the galleries and special programs is free. For more information about exhibitions and events, please visit hirshhorn.si.edu. To request accessibility services, please contact Kristy Maruca at marucak@si.edu or (202) 633-2796, preferably two weeks in advance.
Image Caption: Andy Warhol, "Shadows," 1978-79. Dia Art Foundation. © The Andy Warhol Foundation for the Visual Arts, Inc. / Artists Rights Society (ARS), New York. Photo: Bill Jacobson.