Tuesday, June 14, 2011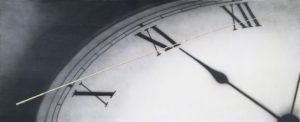 Ed Ruscha, "Five Past Eleven," 1989, Hirshhorn Museum and Sculpture Garden, Smithsonian Institution, Washington, DC, Joseph H. Hirshhorn Purchase Fund, 1989.
A Look at Diverse Approaches to Notions of Time and Space
The Smithsonian's Hirshhorn presents "Fragments in Time and Space," on view June 23–Aug. 28, an exhibition that draws primarily on the museum's collection to explore the diverse ways in which artists have envisioned, employed and manipulated notions of time and space across a variety of media. Located in the museum's second-level galleries, "Fragments" features works by 16 artists: David Claerbout, Tacita Dean, Jan Dibbets, Thomas Eakins, Hamish Fulton, John Gerrard, Douglas Gordon, Takahiko iimura, On Kawara, Richard Long, Ed Ruscha, Wolfgang Staehle, Hiroshi Sugimoto, Wolfgang Tillmans, Mark Tobey and Jeff Wall. The pieces in the exhibition, most acquired since 2000, use a range of direct and indirect approaches to encourage viewers to focus on and reconsider the way they perceive and experience the world—from a single moment in time to an idea of the infinite. The organizing curator for "Fragments in Time and Space" is deputy director and chief curator Kerry Brougher.
Throughout art history, but particularly since the beginnings of Modernism, the representation and analysis of the universal concepts of time and space have been central to art in all media. As early as 1884, Eakins, recognized mainly as a painter, attempted to break movement down into its component parts in his motion-study photographs. His use of sequential images finds contemporary echoes in works by such artists as Dibbets, Kawara and Sugimoto. While Eakins dissected motion through photography, Sugimoto is interested in the opposite, compressing an expanse of time into an instant in his long-exposure movie-palace photographs. Similarly, Sugimoto's "Seascapes" represent bodies of water around the world at specific moments; in their austere compositions, each of these works hark back to what Sugimoto calls "a primordial landscape."
The ability to capture and even manipulate space and time has been expanded by the technical innovations of cinema. "Fragments" demonstrates how this medium has provided artists with greater means to control these elements, both in the works themselves and in the orchestration of the viewer's experience. For instance, Dean creates a 44-minute film of a slowly revolving restaurant, in what was formerly East Berlin. Designed as a futuristic utopian vision, the restaurant, though endlessly in  motion, goes nowhere. Gordon, in "Play Dead; Real Time" (2003) takes the cinema image off the wall and projects it onto two large screens in the middle of the gallery. Dismantling the window-like effect of the screen as a view into a fictive landscape, he places it firmly within the viewers' space and time. And the conflation of still and moving images in ways that challenge perception is central to the work of artists like Gerrard, Wall and Claerbout, who use a range of techniques to re-create, stretch and layer time.
On view at the Hirshhorn for the first time, "MA: Space/Time in the Garden of Ryoan-Ji" (1989) by Japanese artist iimura, invites the viewer to think about space and time in three different ways through three similar tracking shots of a Zen garden. Japanese philosophies of the interconnectedness of the temporal and the spatial are also fundamental to much abstract painting, including Tobey's "Fragments in Time and Space" (1956), from which the exhibition derives its title. "Fragments" encourages viewers to slow down and contemplate the moments of existence when, as Baudelaire stated, "time and space are more profound, and the awareness of existence is immensely heightened." 
Related Programs
The Hirshhorn offers a range of interactive educational experiences designed to engage people of all interest levels in contemporary art. Friday Gallery Talks are informal weekly lunchtime discussions led by artists and scholars that focus on one work in depth. The museum's ever-expanding library of podcasts (featured on iTunes in the top 100 Arts and Entertainment podcasts) makes gallery walk-throughs and interviews with artists accessible internationally.
About the Hirshhorn
The Hirshhorn Museum and Sculpture Garden, the Smithsonian Institution's museum of international modern and contemporary art, has nearly 12,000 paintings, sculptures, photographs, mixed-media installations, works on paper and new media works in its collection. The Hirshhorn presents diverse exhibitions and offers an array of public programs that explore the art of our time. Located at Independence Avenue and Seventh Street S.W., the museum is open daily from 10 a.m. to 5:30 p.m. (except Dec. 25). Admission to the galleries and special programs is free. For more information about exhibitions and events, please visit hirshhorn.si.edu. To request accessibility services, please contact Kristy Maruca at marucak@si.edu or (202) 633-2796, preferably two weeks in advance.
           # # #