21st Century Consort: Threnody
October 1, 2022 | 5:00 pm

–

7:00 pm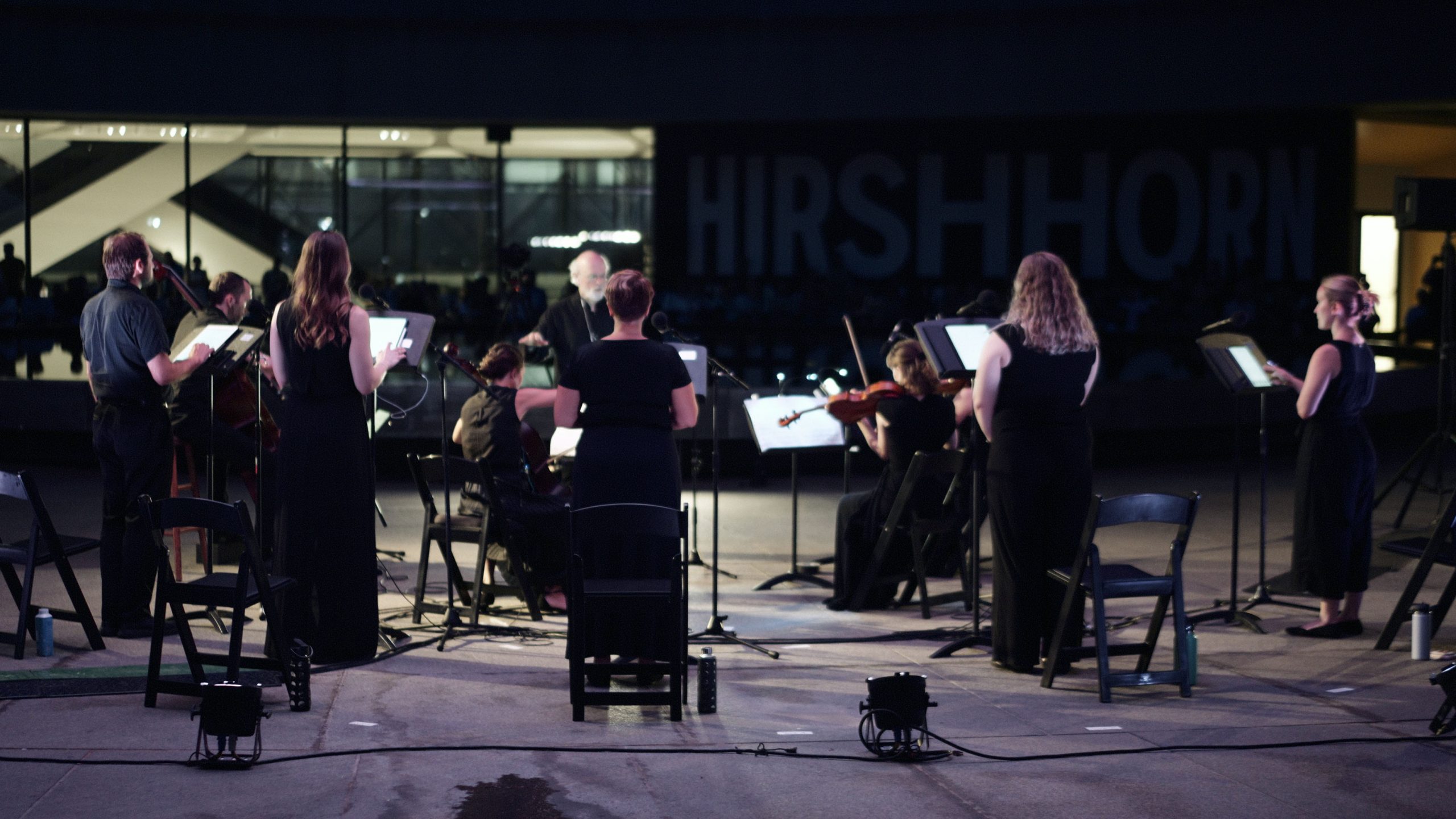 FREE
Tickets available now
We strongly recommend claiming a ticket to ensure your seat. This program is expected to be at capacity.
Questions? Email Hirshhornexperience@si.edu
Hirshhorn Insiders, email HMSGdevelopment@si.edu
---
 The 21st Century Consort presents a special performance inspired by Armenian-American artist Zarouhie Abdalian's work Threnody for the Unwilling Martyrs and the exhibition Put It This Way: (Re)Visions of the Hirshhorn Collection, which highlights works from the Museum's collection by 49 women and non-binary artists. The performance aligns the "protracted grieving" for loss and injustice behind Abdalian's sound installation with a performance of Armenian-American composer Tatev Amiryan's Tristesse. Together with music variously witty, virtuosic, and haunting, these works share a sense of collective mourning, a theme threading through a presentation of engaging and challenging music by women composers.
Come early for a pre-concert discussion with Christopher Kendall, Director of the 21st Century Consort, and composers Alexandra Gardner and Juri Seo. The talk will take place at 4 pm in the Lerner Room on Level 3.
This performance is presented in memory of the recently lost composer David Froom, who was a long-standing member of the 21st Century Consort family. Froom's Lament for the City will be performed in his honor.
---
SCHEDULE
4:00 pm | Pre-concert discussion
4:30 pm | Doors open to Ring Auditorium
5:00 pm | Performance: Threnody
PERFORMANCE
Tristesse by Tatev Amiryan
And Then Not by Susan Kander
Klein Suite by Elena Ruehr
Lamentations for the City by David Froom
***
Pieces of Sanity by Stacey Garrop
The Way of Ideas by Alexandra Gardner
Dark Ground by Tansy Davies
Respiri by Juri Seo
---
ABOUT 21ST CENTURY CONSORT
Founded in 1975 as the 20th Century Consort, the group became the resident ensemble for contemporary music at the Smithsonian Institution in 1978. In next season's concerts at the Hirshhorn Museum and Sculpture Garden and historic St. Mark's on Capitol Hill, the Consort continues to present finely balanced concerts frequently related to museum exhibitions, featuring music by living composers—often world premieres—along with twentieth-century classics. In 1990, the Consort was awarded the Smithsonian Institution's Smithson Medal in honor of their long, successful association. Under the direction of its founder and conductor, Christopher Kendall, the Consort's artists include principal players from the National Symphony Orchestra, along with other prominent chamber musicians from Washington, DC, and elsewhere.
---
Please e-mail hirshhornexperience@si.edu if you would like to request ASL interpretation for this event.