48-Hour Stream: Arthur Jafa's Love is the Message, The Message is Death
June 26, 2020 | 2:00 pm

–

June 28, 2020 | 2:00 pm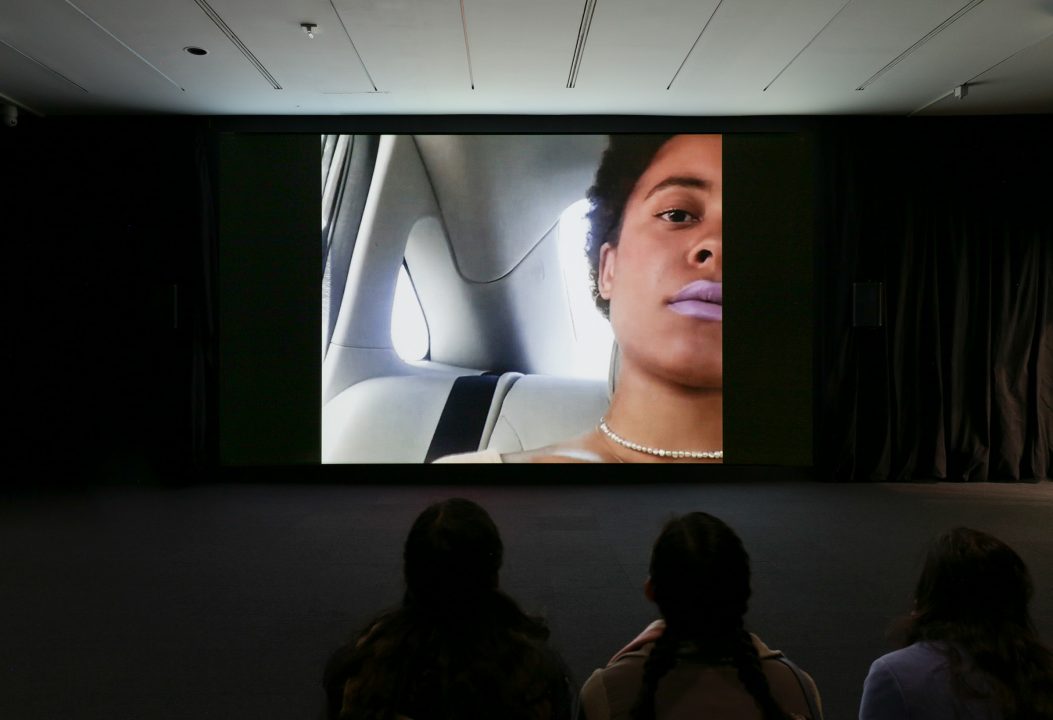 The stream has ended
#DeathIsLoveIs
Arthur Jafa's film is a powerful collage of found and original footage exploring the Black American experience set to Kanye West's song "Ultralight Beam." Love is the Message is usually displayed on a large screen in a dark gallery, and Jafa previously has not made it available online. Now, with the artist's full support, a coalition of 13 museums around the world have come together to stream it online for the first time. We understand that sharing art is not a substitute for other institutional actions to support social change. Yet we also believe that artists' insights into complex histories and lived experiences are essential, and that they can be galvanizing.
As relevant as Love is the Message is to events today, it also assumes the ongoing history of systemic violence against Black people in the United States. It shows how Black Americans have taken these experiences and created cultural, political, and aesthetic achievements that both are intrinsic to American identity and radiate far beyond the nation's borders. Four minutes in, the actress Amandla Stenberg poses a pointed question that echoes long after it ends: "What would America be like if we loved Black people as much as we love Black culture?"
Displayed at the Hirshhorn in the 2017 exhibition The Message: New Media Works, Jafa's video was acquired jointly by the Hirshhorn and the Smithsonian American Art Museum in 2018.
With Jafa's support, 13 institutions in seven countries have come together to amplify his work and simultaneously stream it for the first time outside of a traditional museum and gallery setting.
---
Learn More About Arthur Jafa and His Film, Love is the Message, The Message is Death
Arthur Jafa leads a shot-by-shot discussion of the film with writer, musician, and professor Greg Tate
Jafa in conversation with jazz musician Steve Colman at the Hirshhorn, 2017:
Jafa in conversation with artist Ja'Tovia Gary at the Smithsonian Museum of American Art, 2019:
---
Talk About #DeathIsLoveIs

Two roundtable panel discussions convened by the artist will take place Saturday, June 27, at 2 p.m. ET and Sunday, June 28, at 2 p.m. ET on sunhaus.us.
Participants in Saturday's panel may include Peter L'Official, assistant professor of literature at Bard College; Josh Begley, artist; Elleza Kelley, writer and doctoral candidate at Columbia University; and Thomas Lax, curator of media and performance at the Museum of Modern Art, New York. Participants Sunday may include Aria Dean, artist and assistant curator of net art and digital culture at Rhizome; Rashaad Newsome, artist; Isis Pickens, First Lady of Los Angeles' Zion Hill Baptist Church; and Simone White, poet and assistant professor of English at the University of Pennsylvania. Both panels are moderated by Tina Campt, the Owen F. Walker Professor of Humanities and Modern Culture and Media at Brown University.
Engage in conversation using the hashtag #DeathIsLoveIs with @hirshhorn and art institutions participating in the stream: @americanart @dallasmuseumart @glenstonemuseum @highmuseumofart @moca @studiomuseum @JuliaStoschekCollection @luma_arles @lumawestbau @pinaultcollection @palazzo_grassi @StedelijkMuseum @tate
Talk About Race: Explore the National Museum of African American History and Culture's new portal.
https://nmaahc.si.edu/learn/talking-about-race
---
About the Artist
Arthur Jafa (b. 1960, Tupelo, Mississippi) is an artist, filmmaker and cinematographer. Across three decades, Jafa has developed a dynamic practice comprising films, artefacts and happenings that reference and question the universal and specific articulations of Black being. Underscoring the many facets of Jafa's practice is a recurring question: how can visual media, such as objects, static and moving images, transmit the equivalent "power, beauty and alienation" embedded within forms of Black music in U.S. culture?
Jafa's films have garnered acclaim at the Los Angeles, New York and Black Star Film Festivals and his artwork is represented in celebrated collections worldwide including The Metropolitan Museum of Art, the Museum of Modern Art, Tate, the San Francisco Museum of Modern Art, The Studio Museum in Harlem, the High Museum of Art in Atlanta, the Dallas Museum of Art, the Museum of Contemporary Art Chicago, the Stedelijk Museum Amsterdam, Luma Foundation, the Pérez Art Museum Miami, The Museum of Contemporary Art Los Angeles, the Hirshhorn Museum and Sculpture Garden and the Smithsonian American Art Museum, among many others.
Jafa has recent and forthcoming exhibitions of his work at the Berkeley Art Museum and Pacific Film Archives; Moderna Museet, Stockholm; Fundação de Serralves, Porto; the 22nd Biennale of Sydney; and the Louisiana Museum of Art, Denmark. In 2019, he received the Golden Lion for the Best Participant of the 58th Venice Biennale "May You Live in Interesting Times."