Film: Apichatpong Weerasethakul Selects
June 22, 2019 | 2:00 pm

–

4:00 pm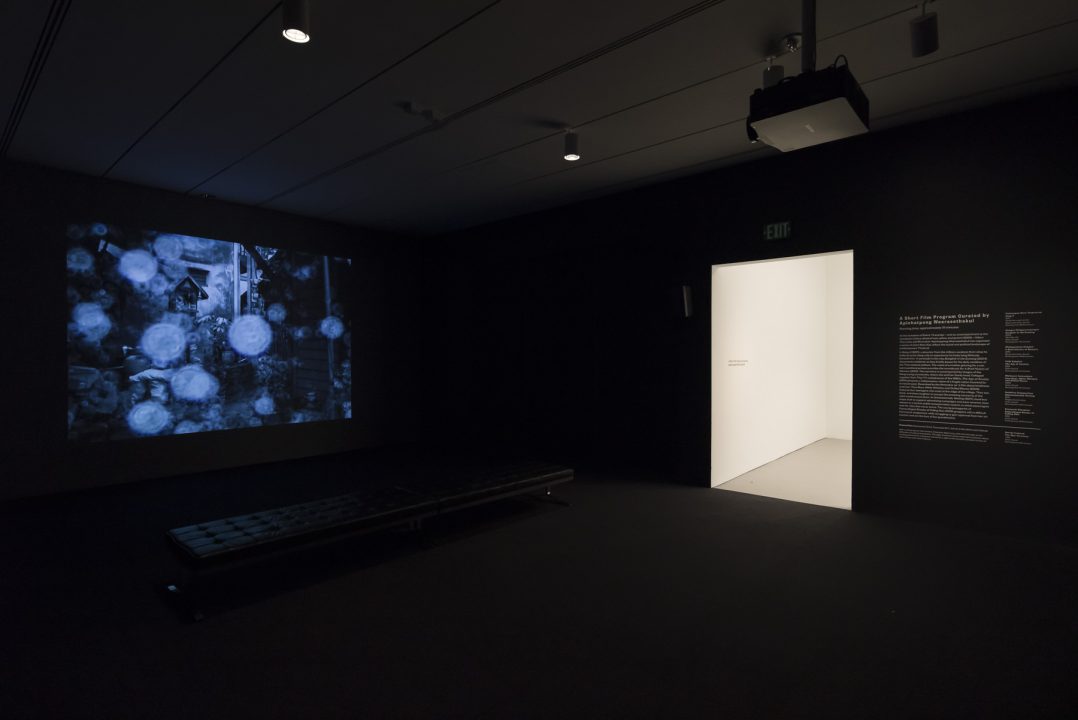 Celebrated Thai director Apichatpong Weerasethakul curates a series of documentary shorts for the Hirshhorn's dynamic exhibition Rirkrit Tiravanija: (who's afraid of red, yellow, and green). The exhibition transforms the Museum's galleries into a communal dining space in which visitors are served curry and invited to share a meal together. The installation includes a large-scale mural, drawn on the walls over the course of the exhibition, which references the 2009-2010 protests against Thai government policies. The films selected offer a contemporary glimpse into Thailand's culture, people, and history – from a memorial to victims of recent political turmoil to experimental ruminations on Thai TV melodramas of the 1980s.
The films are screened daily in the exhibition galleries.
SCREENING SCHEDULE
Total running time: approximately 111 minutes
2:00 pm
Pathompon Mont Tesprateep, Song X (2017)
Running time: 20:19 minutes
A deserter from the military awakens from what he believes to be sleep only to experience his body lying lifelessly beneath him.
2:21 pm
Sompot Chidgasornpongse, Bangkok In the Evening (2004)
Running time: 16 minutes
A serenade to the city, which documents residents as they briefly pause for the daily rendition of the Thai national anthem.
2:37 pm
Chulayarnnon Siriphol, A Brief History of Memory (2010)
Running time: 13:48 minutes
A mother voices her grief for a son lost to political protest, against a backdrop of images from the Nang-Lerng community where they lived.
2:51 pm
Taiki Sakpisit, The Age of Anxiety (2013)
Running time: 14 minutes
Collaged together, Thai TV melodramas of the 1980s present a hallucinatory vision of a fragile nation haunted by its recent past.
3:05 pm
Wichanon Somunjarn, Four Boys, White Whiskey and Grilled Mouse (2009)
Running time: 10 minutes
Four teenagers meet at the edge of the village, where they eat, drink, and share laughter to escape the pressing concerns of the adult world around them.
3:15 pm
Sutthirat Supaparinya, Unintentionally Waiting (2017)
Running time: 8:46 minutes
In a broken public transportation system, passengers wait at local bus stops for rides that never arrive.
3:24 pm
Boonyarit Wiangnon, Camouflaged Shades of Falling Rain (2016)
Running time: 27:51 minutes
A young girl grapples with a difficult homework assignment while struggling to gain approval from her art teacher and win the love of her grandmother.