Artist Talk: Alicja Kwade
October 15, 2019 | 6:30 pm

–

7:30 pm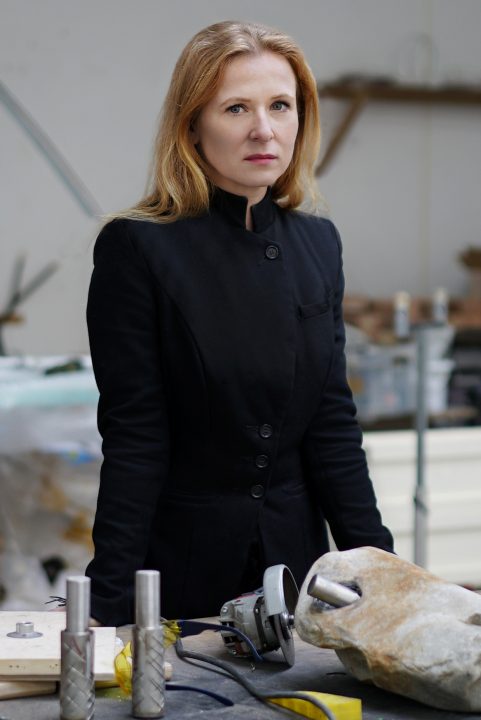 FREE
Get tickets
We strongly recommend claiming a ticket to ensure your seat. This program is expected to be at capacity.
Questions? Email Hirshhornexperience@si.edu
Hirshhorn Members, email HMSGdevelopment@si.edu
5:30–6:30 pm
Come early to enjoy a happy hour at Dolcezza Café in the Lobby. Drinks for purchase.
5:45–6:30 pm
View WeltenLinie (2018) and other new works on view in Feel the Sun in Your Mouth: Recent Acquisitions.
6 pm
Doors open to Ring Auditorium.
6:30–7:30 pm
Artist Talk: Alicja Kwade in conversation with Stéphane Aquin
"I always try to give sculpture a time sequence," Kwade explains of the mesmerizing doubling and tripling [in her mirrored sculptures]. "I hope that it is more like a feeling or experience than a solid sculpture; that is why I included the space so much — it's like a phantasm rather than an object." – Alicja Kwade in "The 10 Best Things We Saw at the Venice Biennale" (Kat Herriman, 2017, The New York Times)
Join Berlin-based artist Alicja Kwade and Hirshhorn chief curator Stéphane Aquin as they discuss the structures and perceptions that shape our experience of everyday life through the lens of her practice and WeltenLinie, on view in Feel the Sun in Your Mouth: Recent Acquisitions. Like many of Kwade's poetic, yet industrial, installations, the work explores meaning through space and heightens viewers' awareness of the self in relation to objects in the world.
While Kwade's work has been making a splash across the world for some time, WeltenLinie at the Hirshhorn was the first large-scale installation by the artist to enter a public collection in the United States. In 2017, an earlier edition of her WeltenLinie sculptures anchored curator Christina Macel's Viva Arte Viva exhibition at the 57th Venice Biennale, and Kwade's work was featured in The Garden – End of Times; Beginning of Times, #3 The Future as part of the Aros Triennial in Aarhus, Denmark. This year, she has had exhibitions at MIT; Dallas Contemporary; Palazzo Biscari in Catania, Italy; and at 303 Gallery in New York. Additionally, Kwade was selected to show ParaPivot—a monumental installation that evokes a miniature solar system—for the 2019 Roof Garden Commission by the Metropolitan Museum of Art, New York.
We encourage you to arrive early. Ring Auditorium seating is limited. Any open seats may be released to walk-up visitors 10 minutes before the program.