ArtSounds: Awareness Through Absence
December 5, 2019 | 6:00 pm

–

9:00 pm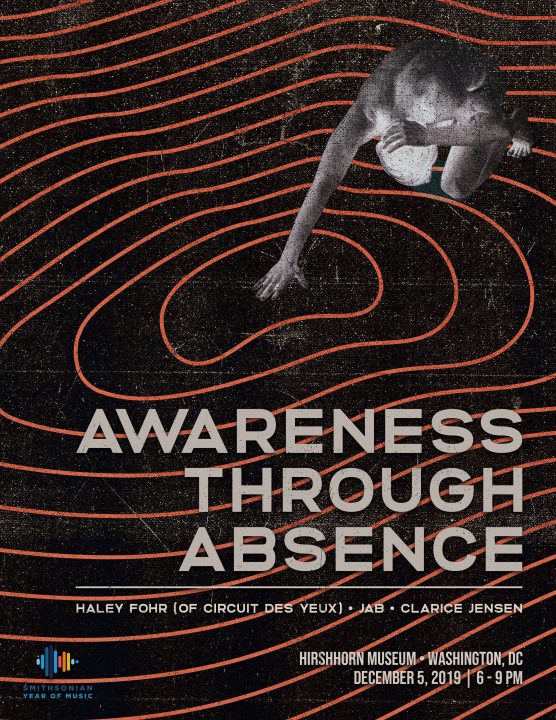 FREE
Awareness Through Absence will explore the ideas of quietude and silence in music and sound, featuring performers on the vanguard of contemporary composition and exploratory music. Inspired by the writings of John Cage and Pauline Oliveros, as well as the Hirshhorn's current exhibition What Absence Is Made Of, this program offers an opportunity to collectively experience works incorporating silence and quietude in an intimate space. The experience of quiet sounds in a meditative environment forces the listener to become increasingly present, with active awareness necessary to experience the music's nuances and sonic contours.
Seating in the Lerner Room will be first-come, first-served.
This program is presented in partnership with Smithsonian Folkways and the Smithsonian Year of Music.
About the Performers
Haley Fohr (b. Dec 16 1988) is a vocalist, composer and singer-songwriter based in Chicago, Illinois. Her musical endeavors focus around our human condition, and her 10-year career as Circuit des Yeux has grown into one of America's most successful efforts to connect the personal to the universal. She is most distinctly identified by her 4-octave voice and unique style of 12-string guitar. Her mysterious "Jackie Lynn" project landed her on the cover of Wire Magazine in August of 2016. Her recent works include an Original Soundtrack for Charles Bryant's silent film Salomé (1923), commissioned by Opera North, and a critically acclaimed 2017 album Reaching For Indigo, released on Drag City Records
John Also Bennett is an American composer, flautist and synthesist based in Brooklyn, New York. As well as composing and performing solo under his own name he is a member of the trio Forma and founding member of the duo Seabat. His debut solo album Erg Herbe, which uses flutes, microtonal synthesis and field recordings, was released via Shelter Press in 2019. He has collaborated with Jon Gibson, Christina Vantzou, American Contemporary Music Ensemble (ACME), Theatre Of Voices, Jefre-Cantu Ledesma, Peter Burr, Zin Taylor, among many others, and performed internationally including at festivals such as Big Ears, Moogfest, MODE (London), Meakusma (Belgium), Jue (China), The World Minimal Music Festival (Amsterdam) and Nostos (Greece). His work as a composer for animation and short films has been screened at international film festivals including the Sundance Film Festival, International Film Festival Rotterdam, 25FPS International Experimental Film/Video Festival, London International Animation Festival and ESPTV.
Julliard alumnae Clarice Jensen is the artistic director of ACME, the American Contemporary Music Ensemble. She has toured with Bjork, and collaborated with numerous recording artists including Jóhann Jóhannsson, Stars of the Lid, Owen Pallett, Max Richter, and Tyondai Braxton. Her most recent performances include concerts at The Kings Theatre, Elbphilharmonie (Hamburg), Disney Hall, Benaroya Hall, The Sydney Opera House, Big Ears Festival, Duke Performances, BAM, (le) Poisson Rouge, Roulette, and the Isamu Noguchi Museum. Recording collaborations have been released on Deutsche Grammophone, Kranky, Warp, Matador, Brassland, Domino, Merge, Jagjaguwar, New World, 4AD and many others.
Flyer by Josh Levi.
Visual artist Tatev will be designing a program available at the event.