Behaving Boldly: Women Leading 21st Century Museums
January 19, 2023 | 6:30 pm

–

7:30 pm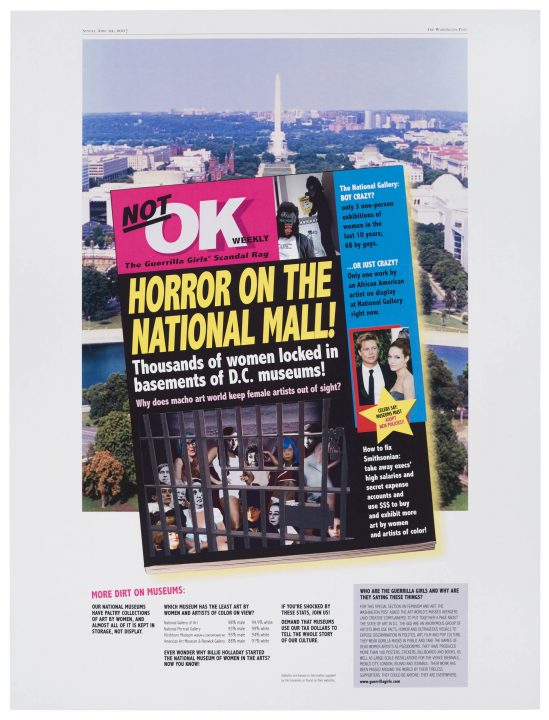 FREE
This event is at capacity and we are no longer issuing tickets.
Questions? Email Hirshhornexperience@si.edu
Hirshhorn Insiders, email HMSGdevelopment@si.edu
---
The Washington Post commissioned a special art work by feminist artist group Guerilla Girls calling attention to the lack of women represented at art museums in the nation's capital.  Nearly 15 years later, these museums are all led by women. Join Hirshhorn director Melissa Chiu, National Gallery of Art director Kaywin Feldman, National Portrait Gallery director Kim Sajet, and Smithsonian American Art Museum and Renwick Gallery director Stephanie Stebich as they explore the responsibilities of museums in the 21st century. The program will be moderated by celebrated ethnographer and writer Sarah Thornton.
This program coincides with the exhibition Put It This Way: (Re)Visions of the Hirshhorn Collection, which unites almost a century of work by nearly 50 women and nonbinary artists in a range of media drawn exclusively from the Hirshhorn's permanent collection. Many of the works selected have never been shown before.
Why wait? Learn more about the work of the Guerrilla Girls by watching this 2021 virtual Hirshhorn conversation, On Art and 'Behaving Badly': Artist Talk with the Guerrilla Girls.
ASL translation will be provided for this program. If you have any questions about accessibility, please email hirshhornexperience@si.edu.
---
SCHEDULE
5:30 – 6:30 pm
Exhibition Preview: Put It This Way: (Re)Visions of the Hirshhorn Collection
Light refreshments will be available for purchase.
6:30 – 7:30 pm
Behaving Boldly: Women Leading 21st-Century Museums
---
ABOUT THE SPEAKERS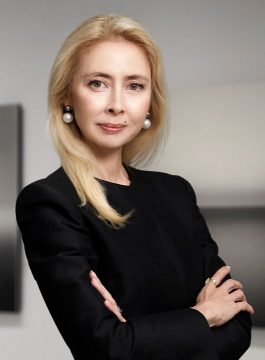 Melissa Chiu is director of the Smithsonian's Hirshhorn Museum and Sculpture Garden, the national museum of modern and contemporary art. Since her appointment in 2014, she has advocated for contemporary art through the Museum's exhibitions, acquisitions, and public programs.
While maintaining the Hirshhorn's focus on 20th and 21st century art, the Museum has presented landmark exhibitions of work by some of today's most important artists, notably Shirin Neshat, Robert Irwin, Yayoi Kusama, Laurie Anderson, and Charline von Heyl. Under Dr. Chiu's leadership, the Hirshhorn has also commissioned site-specific artworks that respond to the Museum's unique modern architecture, including Mark Bradford's longest-ever painting spanning 300 feet.  Dr. Chiu has expanded the Museum's substantial holdings of European and American postwar art with examples of global modernism–works by artists Park Seo-bo, Jimmie Durham, Monir Farmanfarmaian, Natsuyuki Nakanishi, and Senga Nengudi have been added to the collection.
Under her leadership, the Hirshhorn welcomed over one million visitors in 2017—a major milestone marking its highest annual attendance in nearly 30 years and doubling its visitation from three years  prior. Dr. Chiu's current organizational focus is transforming the Hirshhorn into a 21st century institution through the revitalization of the museum's campus including a new design for the Hirshhorn's Sculpture Garden by artist/architect Hiroshi Sugimoto. Another significant technology initiative by the Hirshhorn is the award-winning mobile video guide, Hirshhorn Eye (Hi), which uses image recognition of art works to offer instant videos of artists speaking about the creation of their work. This guide is now used by other Smithsonian museums such as the National Museum of African American History and Culture and the National Museum of African Art.
A native of Australia, Chiu earned her bachelor's degree in art history and criticism from the University of Western Sydney in 1992 and her master's degree in arts administration in 1994 from  the University of New South Wales. She completed her Ph.D. with a dissertation on contemporary Chinese art at the University of Western Sydney in 2005. Chiu has authored and edited several books and catalogues on contemporary art, including Contemporary Art in Asia: A CriticalReader (MIT Press, 2010), and has lectured at Harvard, Yale, Columbia, the Museum of Modern Art, and other universities and museums.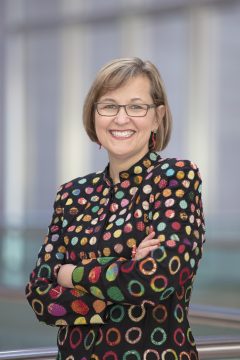 Kaywin Feldman is director of the National Gallery of Art in Washington, DC. Prior to joining the National Gallery in March of 2019, Feldman led the Minneapolis Institute of Art as its Nivin and Duncan MacMillan Director and President from 2008 to 2019 and directed the Memphis Brooks Museum of Art from 1999 to 2007. She is a member of the Board of Directors of the Terra Foundation for American Art and a trustee of the National Trust for Historic Preservation, the White House Historical Association, and the Chipstone Foundation. She is a past president of the Association of Art Museum Directors and past chair of the American Alliance of Museums. She lectures and publishes widely on many aspects of museums in the twenty-first century. In 2021 Forbes magazine listed Feldman as one of the "50 Over 50" most visionary women making an impact on society.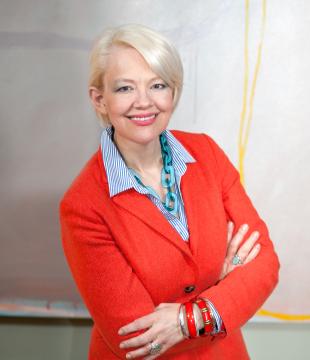 As the first woman to serve as director of the Smithsonian's National Portrait Gallery, Kim Sajet (pronounced Say-et) has been exploring new ways to place personal experience and creativity at the center of learning and civic awareness. Not just a place to see famous Americans, the museum explores identity as a social construct that has been shaped in equal measure by opportunity and ability, prejudice and fear. By taking a cross-disciplinary approach that merges the traditional forms of painting, sculpture, drawing and printmaking with poetry, installation art, video and performance, Sajet aims to make the past personal and deepen our understanding of how people have changed the course of history.
Before her current appointment, Sajet was the president and CEO of the Historical Society of Pennsylvania, the vice president and deputy director of the Pennsylvania Academy of the Fine Arts and the director of corporate relations at the Philadelphia Museum of Art. Arriving in the United States with her family in 1997, she served first as curator and then as director of two Australian art museums from 1989 until 1995.
Born in Nigeria, raised in Australia and a citizen of the Netherlands, Sajet brings a global perspective to the position. She has earned a doctorate in Liberal Studies from Georgetown University, a master's degree in art history from Bryn Mawr College, a master's degree in business administration from Melbourne University Business School in Australia, a bachelor's degree in art history from Melbourne University, and a graduate diploma in Museum studies from Deakin University in Australia. She has completed arts leadership training at the Harvard Business School, the Getty Institute and National Arts Strategies.
In addition to arts management experience, Sajet has written a number of scholarly publications, curated exhibitions and spoken at academic symposia around the world. Since June 2019 she has been the host of the PORTRAITS podcast where "art, biography, history and identity collide," interviewing artists, scholars and thought leaders about the intersection between portraiture and culture. Her current interests include early photography, social reformers of the nineteenth century, semiotics, identity politics and the significance of celebrity culture in U.S. history. Sajet is under contract with Princeton University Press to write a book about the social activist Emily Howland and photography for publication in 2024.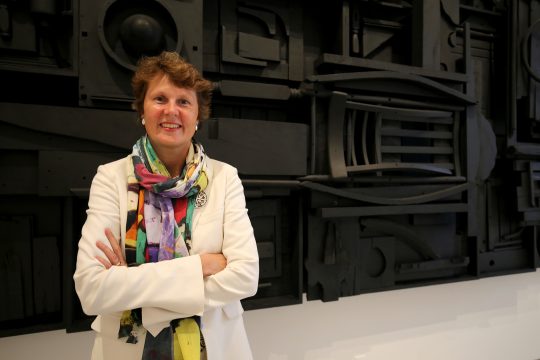 Stephanie Stebich (pronounced STEE-BISH) is the Margaret and Terry Stent Director of the Smithsonian American Art Museum, the largest of the Smithsonian art museums. The museum's mission is to celebrate the extraordinary creativity of artists whose works reflect the American experience and global connections. She is responsible for the nation's premier collection of American art and major exhibition, research, publication, education and digital media programs at the museum and its branch, the Renwick Gallery, dedicated to American craft.
She was named director in January 2017. She oversees a staff of 150 professionals working across four locations, a collection of nearly 46,000 artworks and an annual budget of more than $22 million. Stebich also serves as co-chair of the Smithsonian American Women's History Initiative.
Stebich's priorities include endowing curatorial positions and fellowships, building the collection with an emphasis on increasing the representation of women and artists of color and supporting a culture that values inclusion, diversity, equity and accessibility. SAAM continues to be a leader in identifying and collecting significant aspects of American visual culture, including photography, modern folk and self-taught art, African American art, Latinx art and video games. Stebich has secured major acquisitions, including the transformative L.J. West Collection of early African American photography and an extraordinary Amish quilt collection from Faith and Stephen Brown. Under Stebich's leadership, nearly $8 million has been raised to secure the future of its academic programs, including SAAM's premier fellowship program, the oldest and largest program for the study of American art, which celebrated its 50th anniversary in 2020.
Stebich has championed major exhibitions of new scholarship such as Alexander von Humboldt and the United States: Art, Nature, and Culture (2020), ¡Printing the Revolution! The Rise and Impact of Chicano Graphics, 1965 to Now (2020) and Sargent, Whistler, and Venetian Glass: American Artists and the Magic of Murano (2021) that continue to innovatively analyze important historical periods and artists. During her tenure, attendance at the museum's two locations saw a terrific increase (prior to closures due to the global COVID-19 pandemic), with annual visits exceeding 3 million at its main building and the Renwick Gallery thanks to the popular exhibitions Murder Is Her Hobby: Frances Glessner Lee and The Nutshell Studies of Unexplained Death and No Spectators: The Art of Burning Man.
Before coming to Washington, DC, Stebich was the executive director of the Tacoma Art Museum (2005-2016). Prior to her time in Washington state, she was assistant director of the Minneapolis Institute of Art (2001-2004) and assistant director at the Cleveland Museum of Art (1995-2001). She has served as a trustee of both the Association of Art Museum Directors (2010-2014) and the American Alliance of Museums (2015-2021).
Stebich earned a bachelor's degree in art history from Columbia University and a master's degree with a concentration in modern art from the Institute of Fine Arts at New York University. She has a certificate in nonprofit management from Case Western Reserve University and is a graduate of the Getty Leadership Institute in Los Angeles. She was a Hilla Rebay Fellow at the Guggenheim Museum and studied at the University College London. She is fluent in German.
Sarah Thornton is an ethnographer and investigative writer, who explores art, people, and their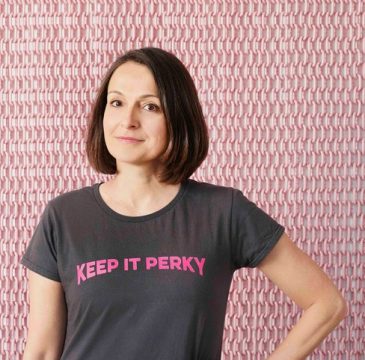 bodies. Formerly the chief writer on contemporary art for The Economist, Thornton is the author of three books, including one based on her PhD about the hierarchies of hipness and her bestseller Seven Days in the Art World. Once hailed as "Britain's hippest academic," Thornton is now based in San Francisco and better known as "the Jane Goodall of the art world." A scholar-in-residence in Gender and Women's Studies at University of California, Berkeley, Thornton is currently researching a book about the culture of breasts, titled Uplifting Sagas: The Top Half of Women's Liberation.
---
Image credits: Kaywin Feldman, Image courtesy National Gallery of Art. Kim Sajet, Photo: Wendy Concannon