Gallery Experience: Artists and Climate Change
December 20, 2019 | 4:00 pm

–

5:00 pm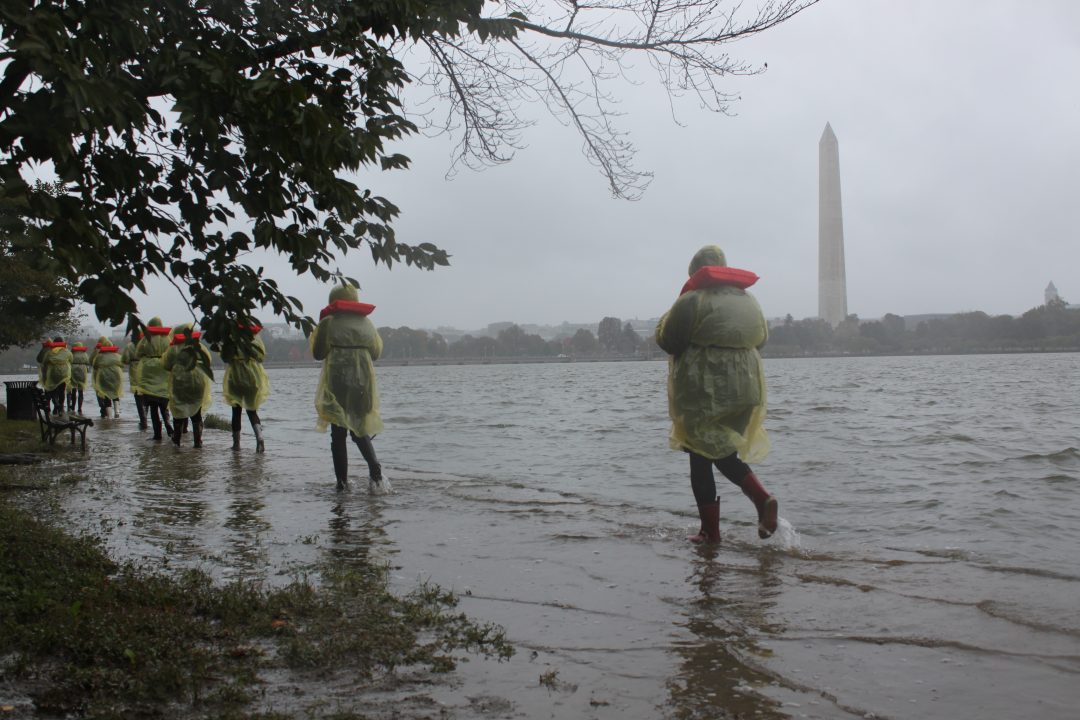 FREE
Join artist Katie Kehoe to experience and discuss her approach to considering and responding to climate change through her practice as an artist. The program will begin with a brief performative introduction inspired by Harbinger, a performance organized by Kehoe which took place around the Tidal Basin in Washington, DC on October 20, 2019. The introduction will begin in the museum's lobby and move to the Lerner Room, on the third floor. It will be followed by a conversation between Kehoe and Blair Murphy, Curator of Exhibitions at Arlington Arts Center, focused on the artist's use of performance and public engagement to encourage conversations about the ongoing impact of climate change and sea level rise. The program will conclude with an opportunity for audience members to experience Kehoe's approach to cultivating dialogue in public space.
Seating in the Lerner Room is first-come, first-served.
About the Artist
Katie Kehoe creates object-based performances and site-specific installations, often incorporating duration, social engagement, and adaptive reuse of materials. Embracing the absurd to engage the everyday, Kehoe produces scenarios that invite conversation and dialogue with the public. Her performance series Provisions for Buoyancy: on the East Coast, involved producing eighteen durational performances in ten US states and two Canadian provinces, drawing attention to areas that would be flooded if sea levels rise by six feet. Raised in Cape Breton, NS and currently living in Fredericksburg, VA, Kehoe teaches at Virginia Commonwealth University and George Mason University. Her work has been exhibited across the US and Canada, highlights include: The Contemporary Museum (Baltimore, MD), Center for Maine Contemporary Art (Rockland, ME), RedLine Contemporary (Denver, CO), Emerge Art Fair (Washington, DC), SummerWorks Festival – LiveArt Series (Toronto, ON) as well as solo exhibitions at VisArts (Rockville, MD), Verso Gallery and Type Books Gallery (Toronto, CAN). Kehoe holds an MFA from the Maryland Institute College of Art (Baltimore, MD) and a BA Hons from Saint Mary's University (Halifax, NS).
Image credit: Katie Kehoe, Harbinger, 2019. Photo by Susanna Lee