Laurie Anderson Presents Lou Reed's Drones with Stewart Hurwood
June 3, 2022 | 3:00 pm

–

7:00 pm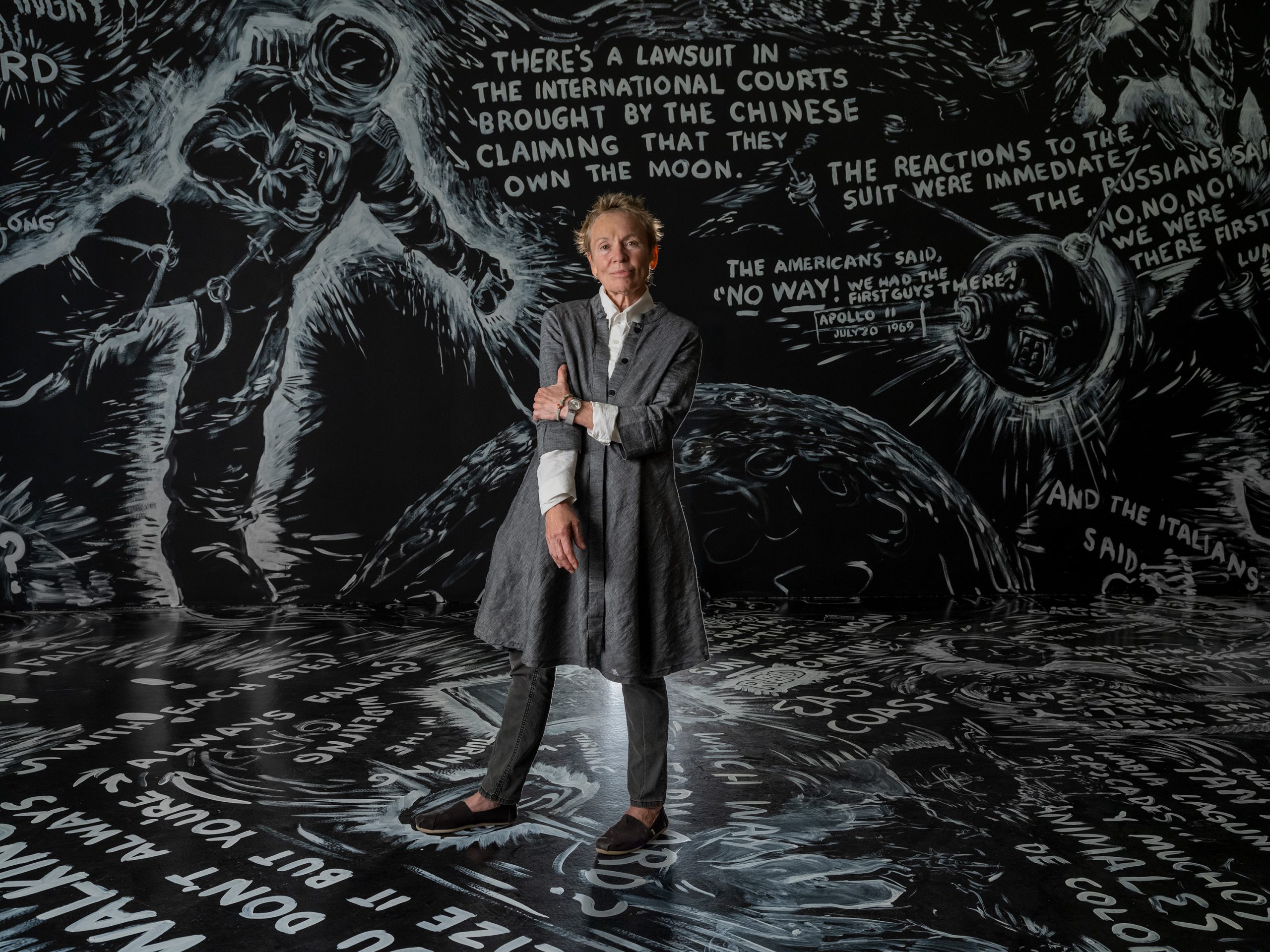 FREE
All advance tickets for this program have been claimed. Don't worry! This four-hour performance is designed for attendees to drop in and out of throughout its duration, and we will save a select number of spots for walk-ups, on a first-come, first served basis. Attendees can arrive any time during the program and enjoy the experience for as long as they like.
Standby will be located on Jefferson Avenue.
Questions? Email Hirshhornexperience@si.edu
Hirshhorn Insiders, email HMSGdevelopment@si.edu
---
For one night only, Grammy award-winning musician and multimedia artist Laurie Anderson presents a drone-based sonic experience as part of the yearlong celebration of Lou Reed's 80th birthday. Anderson and special guests will perform live throughout the afternoon alongside an installation of guitars from her late husband's collection that will be curated by Reed's former guitar technician Stewart Hurwood. Reed's instruments are arranged with a group of amplifiers to create an enveloping drone of harmonics that shifts as the sound waves and the audience move through the space.
Please note that the performance will be loud.
This performance will be presented as part of Sound Scene, an annual sound festival presented in partnership with DC Listening Lounge.
---
ABOUT THE PERFORMERS
As a Grammy Award-winning musician, performer, writer, and artist, Laurie Anderson has an international reputation as an artist who combines the traditions of the avant-garde with popular culture. Anderson's theatrical works combine a variety of media, including performance, music, poetry, sculpture, opera, anthropological investigations, and linguistic games, to elicit emotional reactions. As a visual artist, Anderson has been shown at the Guggenheim Museum, SoHo, and extensively in Europe, including the Centre Georges Pompidou in Paris. She has also released seven albums for Warner Brothers, including Big Science, featuring the song "O Superman," which rose to No. 2 on the British pop charts. She is currently Charles Eliot Norton Professor of Poetry at Harvard University.
Guitar technician Stewart Hurwood started experimenting with sounds and building elaborate guitar rigs early in his life. After moving from London to New York City, he took a position at a prominent New York music studio. Hurwood's technical skills were quickly noticed and he began to work in many New York venues and pretty soon found himself on tour with Duran Duran. It wasn't long after his return home, Hurwood received the call to work with Lou Reed. Reed too noticed Hurwood's skills and started to rely more upon his sound judgement. With studio work, one-off gigs and a few tours under his belt, Hurwood finally won the trust of Mr. Reed and was elevated to the position of Lou Reed's Right Hand Man. Over time, and with an increasing workload, their relationship went from strength to strength. Much of their work was musically diverse and included collaborations with The Killers, Renée Fleming and The Czech Philharmonic Orchestra, The Strokes, The Gorillaz, Laurie Anderson, Metal Machine Trio, Metallica and various benefit gigs with Pete Townsend, Martha and Rufus Wainwright, Yoko Ono and Sean Lennon, Jimmy Fallon, Hal Willner, and the list goes on! Hurwood worked with Lou Reed until Lou's death on October 27, 2013. Hurwood continues to carry the baton for Reed by promoting "The Drones." Initially, the idea was the backbone for Mr. Reed's 1975 album "Metal Machine Music." However, the idea was expanded in preproduction for "The Metal Machine Trio Live Tour."  Hurwood's clientele reads like a veritable Who's Who in Rock and Roll. This long, distinguished list includes: Duran Duran, Lou Reed, The Cult, Coldplay, Scissor Sisters, Steely Dan and numerous others. He continues to thrive and is sought after by prominent private and public artists who have a desire to own unparalleled musical rigs and explore their sonic palette. Stewart Hurwood currently resides in New York City.
FEATURING
Acclaimed composer and instrumentalist Kaoru Watanabe's melodic, authentic and engaging music focuses on points of connection: the joints between Western jazz and Eastern traditional, Japanese theater and political action, the ancient and the all-too-contemporary. Born into a musical family, Watanabe began his training at a young age, eventually graduating from the Manhattan School of Music, then devoting a decade overseas performing with and ultimately leading the world-renowned Taiko drum performance group KODO. His ten years in Japan deeply influenced Watanabe's practice and his signature skill of infusing Japanese culture to disparate styles has made him a much in-demand collaborator. Watanabe's impressive list of creative work across different media reflects his ever-curious ear and wandering eye. He advised and contributed to film director Wes Anderson's Oscar-nominated score for Isle of Dogs; tours regularly with Yo-Yo Ma's Silkroad; has supported numerous dance companies and movement artists, including Mikhail Baryshnikov; and has composed with and performed alongside Jason and Alicia Hall Moran, Eva Yerbabuena, Bando Tamasaburo, Sydney Symphony Orchestra and Zakir Hussain, among many others. As a composer, Watanabe writes for various, often unconventional instrumentation, utilizing a wide variety of techniques. Thematically, he regularly explores issues of social justice, history, and heritage. Watanabe's newest pandemic-era creation, INCENSE, uses live-recorded sample loops of flute, drums and vocals, providing him the technical means to perform ensemble compositions as a solo artist.
---
This project received support from the Smithsonian American Women's History Initiative.