Matmos Plays the Sounds of Folkways Records
September 9, 2023 | 1:00 pm

–

4:00 pm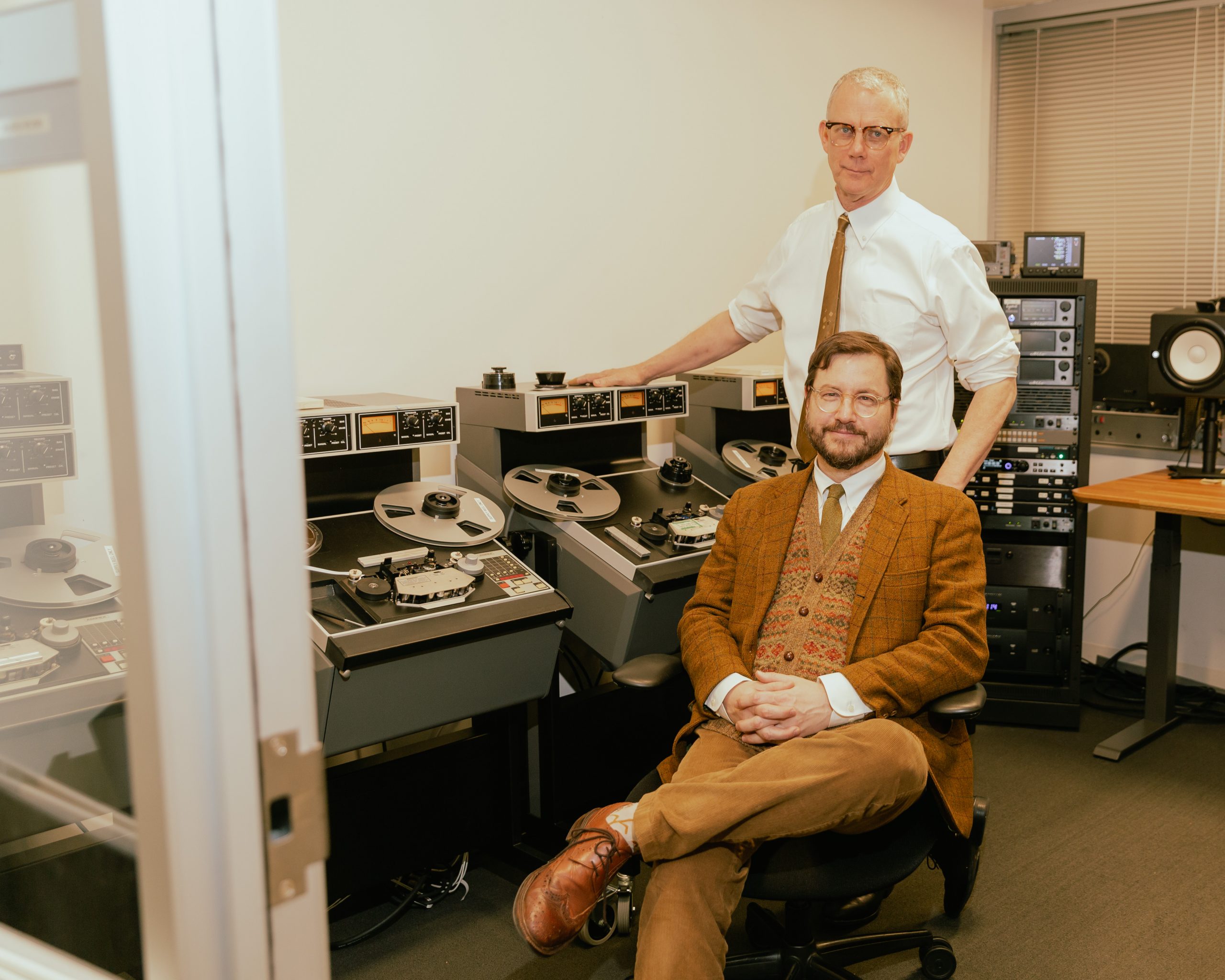 Matmos' forthcoming album, Return To Archive—sourced from Smithsonian Folkways Recordings LPs— will be out Nov. 3.  Preorder:  Return To Archive
From the sounds of the natural world to the noise of bustling city life, the Folkways Records catalog is overflowing with recordings fantastic and familiar. To celebrate the label's 75th anniversary, Smithsonian Folkways and the Hirshhorn Museum present a commissioned performance in octophonic sound by the innovative electronic music duo Matmos, who will dice, loop, stretch and recontextualize many "non-musical" sounds released by Folkways since the 1950s.
In a three-hour demonstration of audio alchemy, sounds extracted from the grooves of LPs like Sounds of North American Frogs, Sounds of the Junk Yard, Speech After the Removal of the Larynx, and Science of Sound will be expanded into original electronic compositions that probe the boundary between music and noise. Expect beating insect wings tessellating across the audio field, cut-ups made from self-hypnosis tutorials, beats constructed from the sounds of infants learning to speak, and many other sonic metamorphoses.
Matmos will create an immersive sound environment by positioning eight speakers around the Hirshhorn Plaza on Saturday, Sept. 9, 1-4pm. Visitors can engross themselves in the entire three-hour duration or wander in and out of the performance. This event is free and open to the public. Stay tuned for more from Matmos and Smithsonian Folkways this fall.
---
---
ART CART: MAKE SOME NOISE, SAT. SEPT. 9, 10 AM–1 PM
Come early to experiment with your own sonic production at a special Hirshhorn Art Cart inspired by Laurie Anderson from 10 am – 1 pm. Artists of all ages can look closely at Anderson's Four Talks and use sounds and science to create their own art. Hide a noise, play with the science of vibration, or perform to the beat of your own drum.  Find our more here.
---
ABOUT MATMOS
Based in Baltimore, Matmos is Drew Daniel and M.C. Schmidt. The two have been making music as Matmos since 1997, first in San Francisco, and then relocating to Baltimore in 2007 when Daniel began to teach at Johns Hopkins University. They are respected, innovative auteurs in the world of electronic music and sampling culture whose very first album was hailed as "entering electronics Valhalla" by the WIRE magazine for sampling highly unusual sound sources such as the amplified nerve tissue of crayfish. Ever since, they have made music out a wildly heterogeneous set of objects and sources, including the sound of the pages of bibles turning, water hitting copper plates, liposuction surgery, cameras and VCRs, chin implant surgery, contact microphones on human hair, rat cages, tanks of helium, a cow uterus, human skulls, snails, cigarettes, cards shuffling, laser eye surgery, whoopee cushions, balloons, latex fetish clothing, rhinestones, Polish trains, insects, life support systems, inflatable blankets, rock salt, solid gold coins, the sound of a frozen stream thawing in the sun, a five gallon bucket of oatmeal, snails interrupting the path of a laser and altering the pitch of a light sensitive theremin, a PVC police riot shield, silicon breast implants, and their own washing machine. These raw materials are manipulated into surprisingly accessible forms, and often supplemented by traditional musical instruments played by internationally celebrated guest musicians from their circle of friends and collaborators. The result is a model of electronic composition as a relational network that connects sources and outcomes together; information about the process of creation activates the listening experience, providing the listener with entry points into sometimes densely allusive, baroque recordings that have the direct sensory immediacy of pop music.
Matmos have collaborated with a wide array of artists across media and distinct disciplines. A partial list of musical collaborators includes: Bjork, The Kronos Quartet, Terry Riley, Marshall Allan (Sun Ra Arkestra), So Percussion, Anohni, Yo La Tengo, The Rachel's, Oneohtrix Point Never, Jefferson Friedman, Zeena Parkins, J.G. Thirlwell, Jeff Carey, Wobbly, David Tibet, and Mouse On Mars. The diversity of this list, comprising internationally celebrated pop stars, minimalist composers, giants of jazz and indie rock and innovative improvisers and electronic musicians, indicates the range across genres and musical scenes that has been the hallmark of Matmos' varied and mercurial career. Matmos have made musical soundtracks to films by acclaimed filmmakers such as Daria Martin and John Cameron Mitchell (on "How to Talk to Girls at Parties", written by Neil Gaiman and starring Nicole Kidman and Elle Fanning). Matmos has collaborated with theatrical directors such as Young Jean Lee (on "The Appeal" and "We're All Gonna Die") and Robert Wilson (on "The Life and Death of Marina Abramovic", starring Willem Dafoe, Anohni, and Marina Abramovic). The band has released over twelve albums, and numerous EPs for the labels Matador and Thrill Jockey. Matmos have been electronic music tutors at the distinguished and highly selective Darmstadt Ferienkurse, guest artists at the Ruskin School of Art at Oxford University, visiting faculty at Harvard University in the "Learning from Performers" series and presented their work at music departments such as Princeton, U.C. Berkeley, UVA, SciArc, Indiana University, and the San Francisco Art Institute. Matmos have performed all over the world, including key performances at Carnegie Hall, Zankel Hall, Walt Disney Hall, Orchard Hall in Tokyo, Santa Cecilia in Rome, MUTEK in Mexico City, Radio City Music Hall, the Sydney Festival in Sydney, Australia, and the Centres Georges Pompidou in Paris, and have had residencies at the INA/GRM in Paris, and at the Civitella Ranieri Foundation in Tuscany. In 2022 Thrill Jockey released "Regards / Uklony dla Boguslaw Schaeffer", a manipulation of the Polish electroacoustic composer's works.
---
May 2023 marked 75 years since the iconic independent label Folkways Records was founded by Moses Asch and Marian Distler in New York City. In that time, it has become one of the world's most iconic collections of music and sound, spanning thousands of albums from foundational American folk music to the sounds of everyday life around the world.
Since 1948, the music released on Folkways has defined and redefined the fabric of American music many times over: Woody Guthrie sang the nation into our collective imagination with "This Land Is Your Land," the Anthology of American Folk Music played a pivotal role in defining '60s counterculture, the ecstatic swing of Mary Lou Williams predicted spiritual jazz, the groundbreaking chance-based music of John Cage upended classical music, Ella Jenkins's music has nurtured generations of children to adulthood, we heard the first glimpses at the genius of Lucinda Williams, and countless more. The label also steadfastly documented the sounds of the entire world, with hundreds of recordings to be found from every populated continent. After Asch's death and the label's acquisition by the Smithsonian Institution in the late 1980s, Smithsonian Folkways Recordings has continued the mission of Folkways to record music of, by, and for the people, releasing acclaimed albums by Elizabeth Mitchell, Our Native Daughters, Dom Flemons, Kronos Quartet, and many more.
---
Photo: Farrah Skeiky