Postponed – Performance: Open Dimension (On Vanishing)
June 6, 2020 | 6:30 pm

–

7:30 pm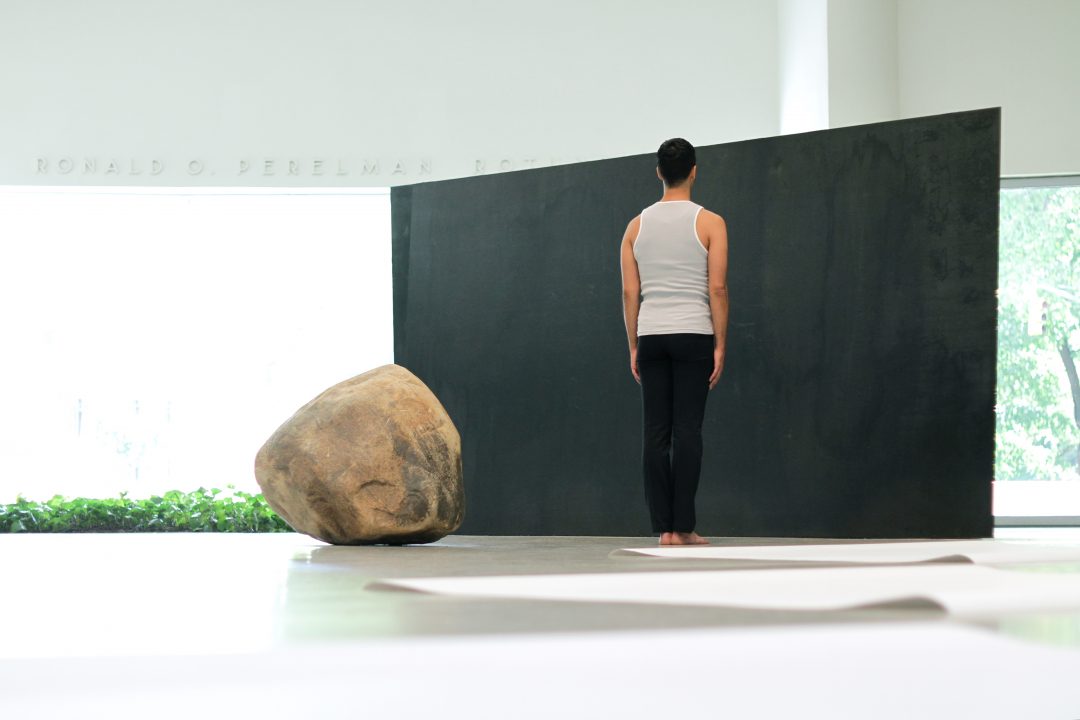 This event has been postponed. Check back for more information.
"Choreography is an act that vanishes." – Jonah Bokaer
For one night only, acclaimed choreographer Jonah Bokaer will present a new performance in conversation with the Hirshhorn's landmark exhibition Lee Ufan: Open Dimension. An ambitious site-specific commission by the celebrated Korean artist Lee Ufan, Open Dimension is an expansive installation featuring 10 new sculptures from the artist's signature and continuing Relatum series. The exhibition marks Lee Ufan's largest single outdoor sculpture project to date in the United States, the first exhibition of his work in the nation's capital, and the first time in the Hirshhorn's 46-year history that its outdoor plaza has been devoted to the work of a single artist.
At the Hirshhorn, Jonah Bokaer Choreography will stage an encounter with Lee's sculpture and the surrounding site, offering an original adaptation of his 2011 work On Vanishing, based on the Relatum series. A Rotunda Commission—originally developed in conjunction with the artist's 2011 retrospective at the Solomon R. Guggenheim Museum, New York—On Vanishing took shape as an exploration of the concept of "reconstitution" of Things and Words (1969) by Lee, through embodied interrelation between movement, sculpture, and architecture. In 2020, Jonah Bokaer will revisit elements of On Vanishing in reimagining the work for the Hirshhorn, overlaying fresh choreography and exploration of movement in dialogue with the Museum's unique architecture and Lee's new, site-specific sculptures. Catalyzed by Lee's work in specific relation to Gordon Bunshaft's iconic architecture, Jonah Bokaer Choreography's presentation will amplify both the sensations and reflections called forth by the singular presentation of Open Dimension at the Hirshhorn.
As both the youngest dancer to be recruited to the Merce Cunningham Dance Company, and the youngest choreographer with Robert Wilson for some of his most iconic recent productions, Bokaer has had an extensive international career creating a wide range of performances. Choreography for his own works often occurs in direct relationship to objects of visual art, media, or design. For Open Dimension (On Vanishing), the performance will refer to a multidimensional process of physical, psychological, and social use of space in the work of Lee. Some dimensions of space grow and expand over time, while other dimensions decline. Reaction time and speed, for example, may slow with longer passages of time, while powers of perception might expand. With a score by John Cage and streamlined staging, the movement of bodies in relation to Lee's works on view will create a monumental gesture that is not likely to vanish from memory.
This performance is presented in partnership with the Jonah Bokaer Arts Foundation and with generous support from Helen Little.
We encourage you to arrive early. Seating is limited. Any open seats may be released to walk-up visitors 10 minutes before the program.
Please email hirshhornexperience@si.edu if you would like to request ASL interpretation for this event.
About Lee Ufan
Lee Ufan is widely acclaimed for his substantive and highly refined body of work in both painting and sculpture, in which the artist generates complex aesthetic situations using the barest of means. A founder and principal theoretician of the Mono-ha ("school of things") movement in Tokyo in the late 1960s and early 1970s, Lee's practice in the years since has developed into a highly refined practice of creating complex aesthetic situations using minimal means. Together, the ten sculptures Lee has developed for the Hirshhorn—all part of the artist's Relatum series—emphasize his vision of art as an opportunity to experience an "open dimension": a space in which we can consider relationships among humans, things made by humans, and the broader natural world. The sculptures respond to the Hirshhorn's unique cylindrical architecture and continue Lee's characteristic practice of placing contrasting, minimally worked materials—stone, steel, water—in dialogue with one another in order to heighten the viewer's encounter with art as it unfolds in time and space, and to generate an awareness of the world, in Lee's own words, "as it is."
About Jonah Bokaer
Jonah Bokaer has cultivated a new form of choreography merged with visual art and design. American and Middle Eastern, he has deeply interwoven an international career as an exhibiting museum artist; with a touring multi-ethnic dance company; with a nonprofit practice that has succeeded in delivering three permanent arts facilities for younger artists.
Jonah Bokaer Choreography has authored 63 original works, produced in 34 nations, 27 of the United States, and 292 cities, including 41 Museum Exhibitions worldwide. The impact of earned, contributed, and granted funds between 2002-2019 have realized 3 permanent Artspaces, 14+ diverse jobs, $11M+ in revenue, and a City-Wide Festival. Bokaer is Tunisian-American, is an LGBTQIA leader, and is currently exhibiting and touring worldwide with 8 international dancers. The company is among the few to tour to the Middle East, MENA, MENASA, and Israeli regions equally: before, during, and after the regional events of 2011. Openly gay since the 1980s, Bokaer's innovations consistently receive prizes, philanthropic support, and humanitarian acknowledgment world-wide.
Jonah Bokaer Arts Foundation is a 501(c)3 nonprofit organization which oversees the choreography, visual art, and artspaces of Jonah Bokaer. Through the support of its Board, generous donors, foundation grants, and government leveraging, the organization has triumphed in crafting and fulfilling a dual mission: to foster the development, research, and presentation of new performance works across disciplines, while establishing affordable artspaces for other artists, notably Chez Bushwick (2002) & CPR (Co-Founded 2008), adjacent affordable studios in Brooklyn, and Space 428 Hudson (2016): incubator of The Hudson Eye. The nonprofit serves a community of 1,500+ diverse artists, supporting and impacting next generations of performing arts talent, while remaining one of the only Middle Eastern founded dance organizations in the United States. The fastest growing department of the organization is arts education, often in areas of urban revitalization.