Sound Scene 2021: Emerge
June 27, 2021 | 11:00 am

–

8:30 pm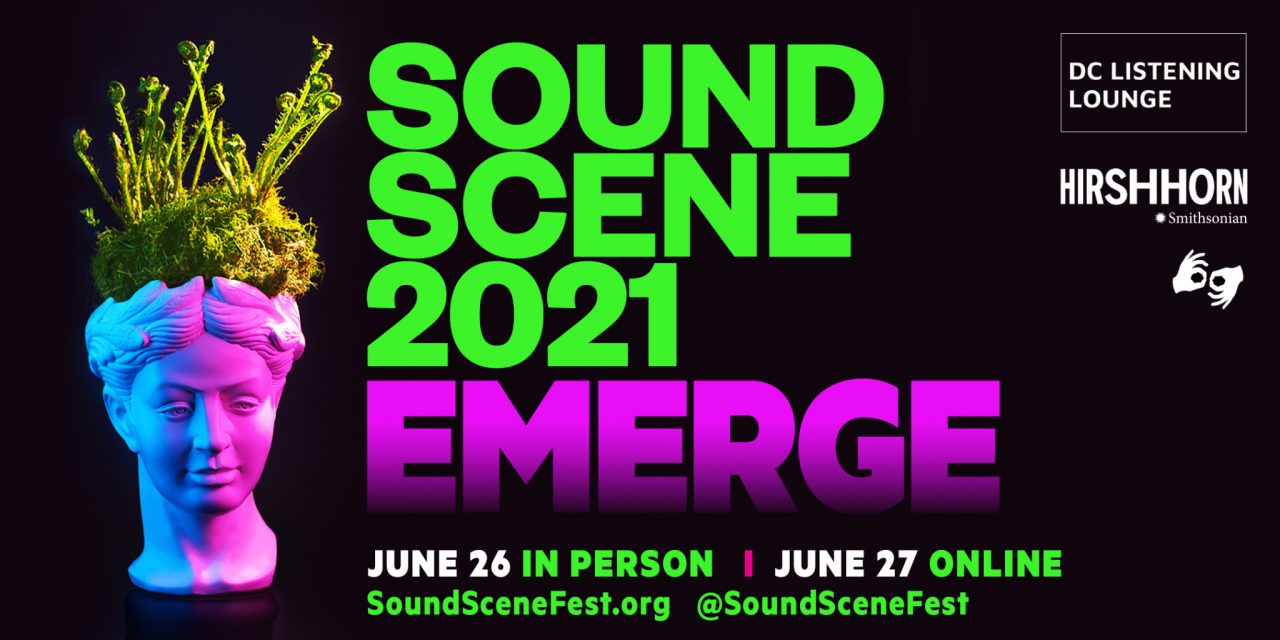 FREE
Register in advance now!
All programming on June 27 will take place online via Zoom. RSVP is required in order to receive a link.
Now in its 14th year, Sound Scene  is a free, all-ages sound festival that celebrates the creative audio community in Washington, D.C. and around the world. Tune in from wherever you are to access some of the most innovative projects in the world of sonic art. This online component of Sound Scene 2021 will occur the day after an in-person presentation of installations and programs at Union Market's Dock 5 on Saturday, June 26. More information and a full schedule of events are available here.
American Sign Language (ASL) will be provided by Joyful Signing throughout all of Sound Scene.
This program was organized in partnership with DC Listening Lounge.
ONLINE SCHEDULE
11 am EST Workshop, Crystal Radio and other weird ways to be heard with Sonia Herrero
12 pm EST Planetary Resilience: a conversation with artists whose work explores themes of suffering and strength, with Kelsey Bosch, David Exume, Kathleen Ma. Screening/exhibition follows.
1 pm EST Spatial Garden by TWC, an introduction to an audio field trip app (for your next visit to the Smithsonian Hirshhorn Museum and Sculpture Garden)
1:15 pm EST DC Music Map Upload-A-Thon, a step-by-step session about how to upload your favorite music hot spots.
1:30 pm EST Identity and Emergence: a conversation with artists Hyenaz, Shayok Misha Chowdhury and Kameron Neal. Followed by a screening.
[BREAK]
5 pm EST  Un(re)solved by FRONTLINE PBS: a look behind the scenes into the making of this multi-platform multi-media interactive installation.
5:30 pm EST  Ecology Fieldwork and Sound: a conversation with artists Barry Schmetter, David Mordini, Ben Pagac, Ana Maria Kleymeyer, Pablo Sanz. Followed by exhibitions.
6:15 pm EST Composing Emergence: a conversation with artists Mike Khoury, Ben Hall, Tanya Thielke a.k.a.Tantroniq, Matthew Tomkinson, Josh Hite, Rosemary Holliday Hall. Exhibition/screening followed by conversation and Q+A with artists.
7:30 pm EST Physical Spaces: a conversation about how space impacts sound and sound impacts space with Madona Tyler LeBlanc, Layne Garrett, Manny Arciniega (plus select Gestalt artists). Screening followed by Q+A with artists.