Sound Scene 2022: Trust
June 4, 2022 | 10:00 am

–

5:30 pm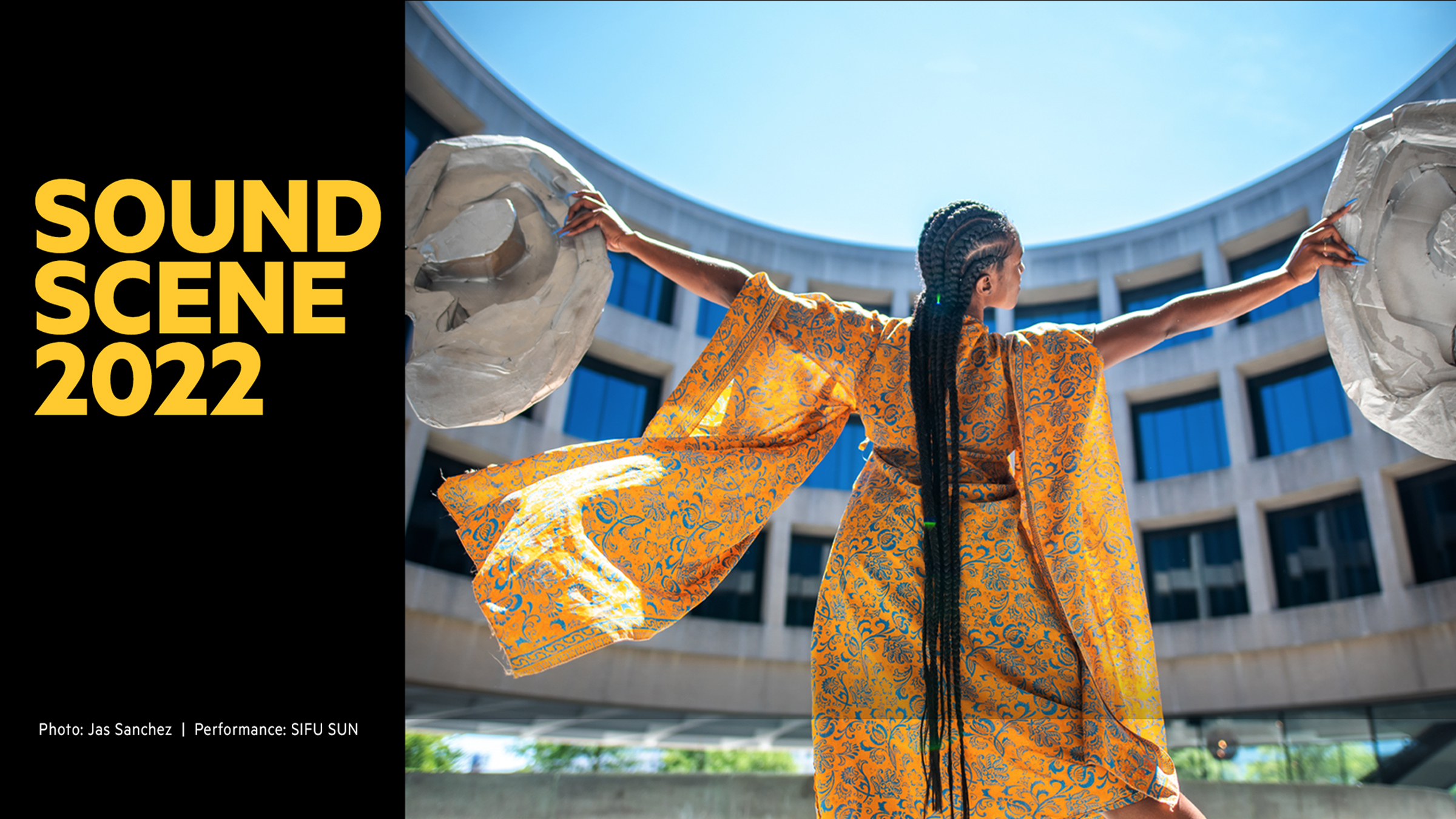 FREE
Registration recommended. Sign up to receive updates about the event.
---
Trust Me. Trust Each Other. Trust No-one.
For better or worse, people are more entwined than ever before. This year, Sound Scene will feature new performances, installations, workshops, and more to interrogate and/or celebrate this trust.
Sound Scene is the region's largest interactive audio art event. It is a free, all-ages celebration of sonic and sensory artists from Washington, DC and around the world.
Sound Scene began in 2001 and is organized by the DC Listening Lounge, an audio collective of Washington, DC-based sound artists and enthusiasts and produced in partnership with the Smithsonian Hirshhorn Museum and Sculpture Garden and with support from the DC Commission on the Arts and Humanities.
---
SCHEDULED ACTIVITIES
All events are first-come, first-served unless otherwise noted.
10 AM – 1 PM
Sculpture Garden
Maker Mornings: Summer Sounds
Make some noise for a special Maker Morning exploring sound at our hands-on activity stations throughout the Museum and Sculpture Garden. Build noise-makers, play in the tot "sound space," and create a collaborative sound sculpture.
10:30 AM
Level 3, Lerner Room
Listening Session: Laurie Anderson's Songs from the Bardo
Come for a few minutes or settle in for a special opportunity to listen to Laurie Anderson's celebrated album Songs from the Bardo, released by Smithsonian Folkways in 2019.
Songs from the Bardo, from internationally renowned multimedia artist Laurie Anderson, instrumentalist Tenzin Choegyal, and composer and activist Jesse Paris Smith, guides listeners through an introspective 80-minute investigation of the text of the Tibetan Book of the Dead. Like a guided meditation, this album suspends time, allowing listeners to fully lose themselves in the piece, as well as bringing to a new light the ideas expressed in the text, connecting the past and the present by illuminating death, the one constant in the impermanent human experience. The album is a transporting experience, meant to draw the listener into the present moment and provide a framework for inner exploration.
12 PM
Hirshhorn Plaza
Workshop: Liberation Chant by Freedom Futures Collective
Chants can be a meaningful tool for the movement of ideas and usher in cultural transformation. Join this workshop to learn more about liberation chants and to develop your own. Artists from the Freedom Futures Collective will outline foundational vocabulary including rhythm, beat and lyrics. Then, working in small groups, participants are invited to craft their own liberation chants to transform the Hirshhorn Plaza into a stage for trusting connections and positive social change.
Duration: 40 minutes
1 PM
Plaza
Workshop: Theremin by Dorit Chrysler
Advanced registration is encouraged.
The theremin is an intriguing and unique electronic instrument that uses electromagnetic fields to generate sound. Participants will learn to draw out the haunting sounds from renowned composer and thereminist Dorit Chrysler. Trust the invisible! Bring only your hands and the music will follow.
Duration: 40 minutes
With support from the Goethe Institut Washington, DC and the Austrian Cultural Forum.
3 PM
Lerner Room, Level 3
Workshop: When the Others Lick Underneath Your Tongue by Ivetta Sunyoung Kang
Advanced registration is encouraged.
This small group workshop will be a creative, hands-on, demonstration of how the installation piece, When the Others Lick Underneath Your Tongue, was created. Led by artist Ivetta Sunyoung Kang, participants will learn about visual sonography and generate original scores from personal speech. Participants are invited to produce (and keep!) their own small music boxes as a part of the workshop.
Duration: 1 hour
4 PM
Scupture Garden
Yoko Ono's Wish Tree plays Theremin by Dorit Chrysler
Trust in your wishes. They have more strength than you may realize. Several Theremin Instruments will interact with the "Wish Tree" –  an installation by Yoko Ono.  Positioned in the Hirshhorn's sculpture garden, the movement of the sculpture's tree branches and hanging paper sheets containing wishes, will be translated into sound, creating a sonic dialogue between natural elements, hope, sculpture and electromagnetic fields.
With support from the Goethe Institut Washington, DC and the Austrian Cultural Forum.
---
ONGOING
10 am – 5:30 pm
SCULPTURE GARDEN (Across Jefferson Ave.)
Rainmaker by Dave Greenfieldboyce
Trust the rain. Rainmaker creates a three-dimensional rainstorm soundscape with you as the conductor. Tune the effect to be the rain that  you want or need at the moment, from a fine mist to a thunderous downpour to the gentle drips of a storm gone by. Galoshes optional.
Sound Scapers by Art Clay
Explore original instruments crafted by Arthur Clay and sound scape the Hirshhorn's Sculpture Garden. Through the combination and manipulation of acrylic, piezo electronics, mobile amplifiers, tension springs and your creativity, sound and space are transformed.
Spatial Garden by TCW
An on-location musical journey through the history of the Hirshhorn Museum Sculpture Garden, "Spatial Garden" delivers a different kind of spatial music—composed to change depending on your movement, and evolving to reflect significant eras of the Garden's past and future. After premiering at last year's Sound Scene, the app has been updated with historical photos, facts, and even speeches from the Museum's groundbreaking for you to explore. Just download the free app for iOS or Android (at home, on your data, or on the Hirshhorn's WiFi) and begin walking through the Sculpture Garden for the full experience. Headphones are highly recommended for the full sound spatialization effects.
PLAZA
Spirit Houses for the Living by Barry Schmetter
Spirit Houses for the Living is a sculptural interactive sound installation that invites the viewer/listener to meditate on the broken trust of houselessness.  A community is obligated to provide food, shelter and care for its residents, but those broken trusts have worsened during the global pandemic.  The sound sculptures in this installation represent the polarized state of housing by incorporating field recording compositions of the divergent acoustic ecologies of living on the street vs. safe and secure housing. The compositions include recordings made in the Tenderloin district in San Francisco, a luxury hotel, a large homeless encampment in DC, and a beachfront community in south Florida. The sound in each sculpture is mechanically processed to reflect the disorientation or calm associated with these extremes of living conditions.
Trust in Response by Kelsey Bosch and Reuben Houser
Audience members are invited to work in pairs to create a chain of unique improvised sonic events using a keyboard midi controller, which will directly affect a series of lights. The presence and quality of the sounds and light emitted describes the connection and interaction between them. By working together to create their sonic composition, the participants will engage in the collaborative aspect of building trust.
Trust Your Voice by KDC Guild
Step up and trust your voice to create a soundtrack for Sound Scene. Facilitated by the KDC Guild, audiences are presented with a question, and the invitation to respond into the mic by saying/singing/rapping/or expressing their answer however they feel best (example: When was the last time you were really surprised? What is your hope for the future of DC?). Fully formed concepts, abstract or poetic language, are all welcome. Backing tracks provided by KDC and if guests choose not to participate in recording their personal audio, they can support other guests' participation in the performance, and/or write or draw their own responses on the community board.
LOBBY
Fruit Salad Collaboration by Jocelyn Frank
It's ok to play with your food – in fact bring a friend! By connecting with others and trusting that connection, you can bring forward new music – with the help of oranges, bananas, pears and maybe a spritz of lime.
Trust Metric by Zara Karschay
Are you a trusting person? On what do you base your trust? Is the digital world to be trusted because of, or in spite of, the human hands that played a part in building it? And how fragile is judgment, when it is based on so many variables including image, text and sound? "Trust Metric" asks the audience to reflect on their experience of gauging and awarding trust online by participating in the same exercise as the subject of the piece. Viewers can mark their trust along a sliding scale from 0 (no trust) to 5 (absolute trust) and they are then invited to modify their responses over the course of the experiment.
LEVEL 2
Conversations with the Material World by Catherine Monahon, Elizabeth de Lise, Selena Loomis, Dominique Tutwiler, Deborah Czeresko
Conversations with the Material World invites audiences to explore the intimate topographies of four sculptures made of clay, glass, fiber and wood in an experiential installation that braids together soundscapes, narration and touch. Conversations can include observation, practice and learning. When we allow meaningful conversations to unfold with a material, we rebuild trust in our own tactile experiences and creative impulses; we create opportunities to better understand who we are, where we feel belonging and what our role in the world can be. In celebration of the queer, non-binary nature of the world around us, Conversations with the Material World is created by five queer and non-binary artists.
Video Credits: Stephanie Chiri, Glass Hand Studios, Chibueze Crouch, Char McCutcheon, Jeffery Strausser
Handphone Table by Laurie Anderson
The idea for The Handphone Table came to Anderson when she was writing on an electric typewriter and, in a moment of frustration, put her head in her hands, elbows on the table. She heard the sound of the humming typewriter transferred through the wooden table via the contact points of her elbows. The vibration traveled by bone conduction through her arms and into her inner ear. The Handphone Table was originally made for the Projects series at the Museum of Modern Art, New York, in 1978. This version was made by Anderson and the Exploratorium in cooperation with MASS MoCA, North Adams, Massachusetts. The music was composed by Anderson.
Up to two visitors at a time may interact with The Handphone Table. To experience the work, place your elbows in the depressions on the table and put your hands over your ears.
Trust Me I'm a Doctor by Katie Semro
Women are disproportionately affected by chronic illnesses, with one in every four women having an autoimmune disease. Daily life for these women can be a struggle, but their symptoms are often hard to treat. Walk in the shoes of nearly ¼ of all women by journeying through a sonically sculptured corridor. Through the layering and fragmentation of real-life stories from women across the country, Trust Me I'm a Doctor examines the struggles these women face in their search for healing.
Two Subtle Bodies (2022) by Yeseul Song with sound design collaboration from Jesse Simpson and Greg Halleran.
Two Subtle Bodies is an interactive auditory experience where two strangers walking inside a space experience the other person's peripersonal space through sound coming from bone conduction headphones. The subtle body is a concept that appears in Taoism and Dharmic religions to indicate bodies that are neither solely physical nor solely spiritual, in contrast to the mind-body dualism that has dominated western thought. In neurology, the space surrounding a body is called Peripersonal Space and enabled by visuo-tactile senses. By recognizing and perceiving this soft and fluid space between us, we can unlock new ways of connecting with each other by extending the sense of self and others. Imagine you can hear a stranger's subtle body through sound. Will this bring us closer? After the experience, participants are invited to make a drawing of each other's subtle body on paper, which will become a collective perception of the aura of Sound Scene visitors.
This artwork is supported by the Korean Cultural Center in Washington, DC, Embassy of the Republic of Korea.
LEVEL 3
Nicola Talkback by Jess Shane
Jess Shane's first radio documentary seemed like a great success. It was a non-narrated piece that followed gymnast Nicola, then 16 years old, as she was forced to retire from a sport she loved due to an unexpected injury. But then Nicola listened, and said she hated it. Nicola Talkback is a piece about what it means to be in, and to tell, someone else's story. It's based around a conversation between Nicola and Jess about the process of making the original documentary, and features outtakes from the original documentary.
In Which to Trust? by Jay Afrisando
"In Which to Trust?" invites us to rethink our understanding of sound. This work comprises videos and sound captions by five aurally diverse people that reveal how the sonic sources—the acoustical energy—actually "sound" according to their diverse hearing apparatuses. These differences between the sonic sources and the various captioners' interpretations leave us a choice of what we should refer to when talking about sound: the objects triggering the sensations, our hearing apparatuses, or both? In which will you trust?
This artwork is supported by the Jerome Foundation through the Jerome Hill Artist Fellowship 2021-22.
Soothing Sounds of Superfund Sites by N.D. Austin, Jeremy S. Bloom, and Danielle Butler
Relax to the dulcet soundscapes of New York City's often overlooked urban waterways. Too often cast in a misunderstood shadow of decay and toxicity. These waterways are actually teaming with life and beauty. Soothing Sounds of Superfund Sites leverages the classic popular genre of relaxation-oriented ambient field recording to decontextualize these urban spaces and capture the beauty that flows in their waters.
This artwork is supported by the Tideland Institute, which builds infrastructure, tools, and opportunities to help New Yorkers engage with water through creative interventions.
When the Others Lick Underneath Your Tongue by Ivetta Sunyoung Kang
When the Others Lick Underneath Your Tongue is an installation & participation-based work that consists: (1) thirteen sets of music boxes and music note sheets and (2) thirteen vinyl prints of the waves sharing the same musical notes with music boxes, and (3) thirteen sculptural bodies that mimic the personalized bodily apparatus of the artist's stuttering. The work generates an imaginary realm where socially, culturally and linguistically aphasic "tongues" can become musical instruments that score sounds to fill the space. It also is where opened vowels within the sculptures become lyrics for the musical dissonance of the scores. Audiences are invited to forget the mistreatments in response to "allegedly wrong" utterances in historically colonial languages. The installation creates a world where the idea of imperfection and perfection in English pronunciations and utterances does not exist, and instead is transformed into a collective scoring activity.
This artwork is supported by the Korean Cultural Center in Washington DC, Embassy of the Republic of Korea and the Canada Council for the Arts and the Ontario Arts Council, an agency of the Government of Ontario.
ASL Interpretation will be available throughout Sound Scene 2022. For more information, please email hirshhornexperience@si.edu in advance or visit the Sound Scene welcome desk in the Hirshhorn Lobby during the event.