Sounds Like Home: Music Makers Table Talk
May 26, 2020 | 6:00 pm

–

7:30 pm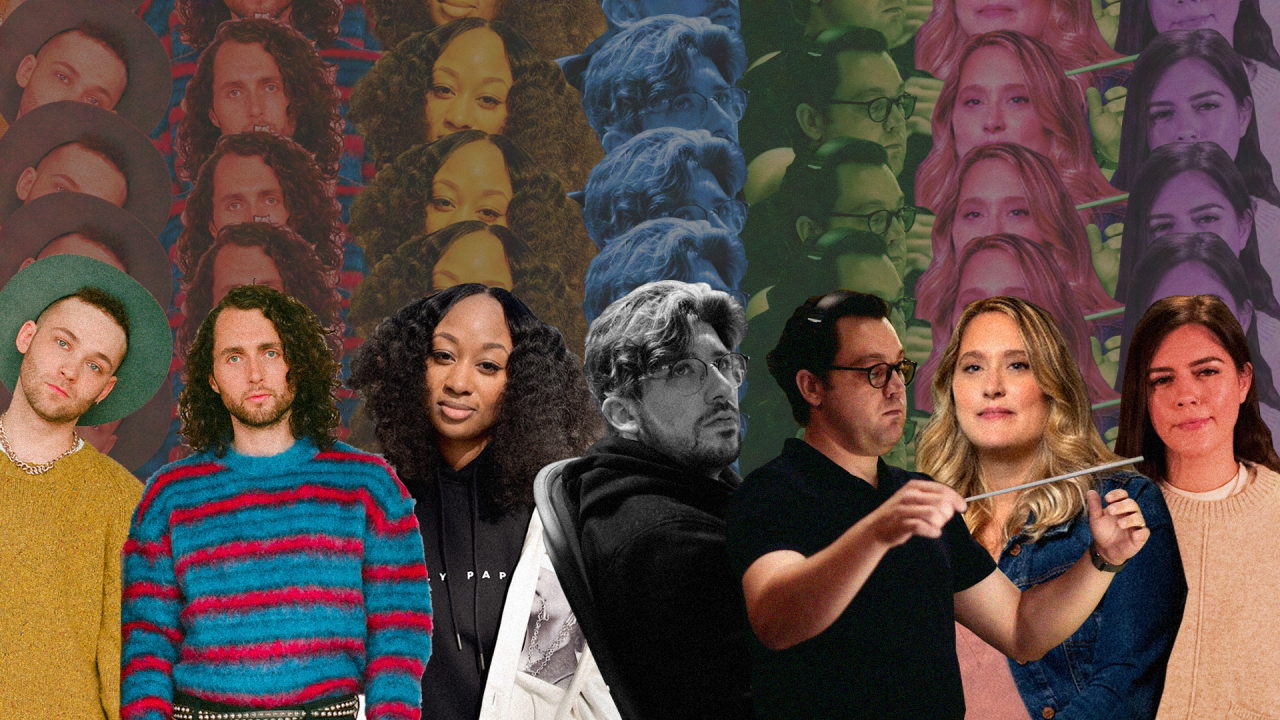 This live workshop is offered via Zoom. Register now!
Do you miss recording in the music studio? Are you curious to learn more about the music production process or just a lover of great music? Join ARTLAB for Sounds Like Home, an exclusive, five-part virtual music making series. 
First up, join us live for our Music Makers Table Talk! During this virtual Q&A seminar, you'll have the chance to hear directly from a Grammy Award-winning sound engineer and some of the entertainment industry's top producers. ARTLAB's star-studded table talk will include:
Brasstracks
Brasstracks is a Brooklyn-based duo that produces music with elements from big band, jazz, hip hop, and electronic styles using horns, synths, and drums. Ivan Jackson (trumpet) and Conor Rayne (drums) produced arguably the biggest hip hop record of 2016 with Chance The Rapper's "No Problem" featuring Lil Wayne and 2 Chainz. This led to a Grammy Award for Best Rap Performance, and a nomination for Best Rap Song to add to Jackson's nomination for his writing contribution to Anderson .Paak's "Am I Wrong."
Lola Romero
Lola Romero is an audio engineer from the Bay Area. Starting as an assistant engineer at Dr. Dre's Aftermath Entertainment, Romero quickly became the lead engineer on more frequent sessions, including Anderson .Paak's "Bubblin'," which won the Grammy Award for Best Rap Performance in 2019. Romero won a Grammy for being a lead mix engineer on Anderson's second album, "Ventura," which was awarded for Best R&B Album.
Sidney Swift
Sidney Swift is a writer, producer, director, and entertainment venture capitalist. He is the founder of Swift Songs Publishing, DefiEnt, and Syrini Capital. As a songwriter & producer, he has co-written & produced songs with Future, Nicki Minaj, Big Sean, and Lil Dickey, among others. He has contributed to such hits as Beyoncé's "7/11," Jason Derulo's "Don't Wanna Go Home," and Major Lazer's "Light It Up."
TRAKGIRL
Shakari "TRAKGIRL" Linder brings a versatile and dynamic dimension to the music industry through a variety of genres. A music producer, songwriter and entrepreneur, TRAKGIRL is "born to do music." Her skill within multiple genres as well as melody alignment makes her a highly sought-after collaborator and an influencer in the industry. Recent collaborations include Andra Day, Belly's "MAINTAIN," (featuring NAV), Jhene Aiko's "Overstimulated," and Luke James's "Bad News", "Pearls," and "Black Jesus." 
Cheryl Ottenritter
Senior Mixer and founder of Ott House Audio, Cheryl Ottenritter has over twenty years of audio post-production experience. With her love of music, she earned degrees in Jazz Studies and Theory & Composition at Auburn University. Since, she has been honored to mix in the most prestigious audio studios on both coasts, working on projects for PBS, National Geographic, Smithsonian Channel, and Discovery Channel. She considers innovation and creative collaboration the cornerstones of her craft.
Noah Sorota
Noah Sorota is a Los Angeles based composer, conductor, and orchestrator who has worked on a wide variety of films, television, and games since moving to L.A. in 2002. Some of his recent work includes the series Tommy for CBS Studios; documentary The River and the Wall by filmmaker Ben Masters; Amazing Stories for Amblin Television and Apple; the television series Reverie for NBC, a reboot of Sid and Marty Krofft's classic children's show from the 1970s, Sigmund and the Seamonsters, for Amazon Studios; and the television series Falling Skies for TNT.
Join the conversation to gain unique insight on creating industry quality sounds and connect with a community of producers, creators, and music lovers!
This workshop series is a part of the Hirshhorn's ARTLAB NO LAB initiative, providing a virtual space for all creators to receive live technical instruction, and create at home. It's geared toward teens, and open to all. Want more? Stay updated on upcoming creative learning opportunities and follow ARTLAB on Instagram.