WAKE UP: Liberation Call at Dawn
October 15, 2021 | 7:30 am

–

8:15 am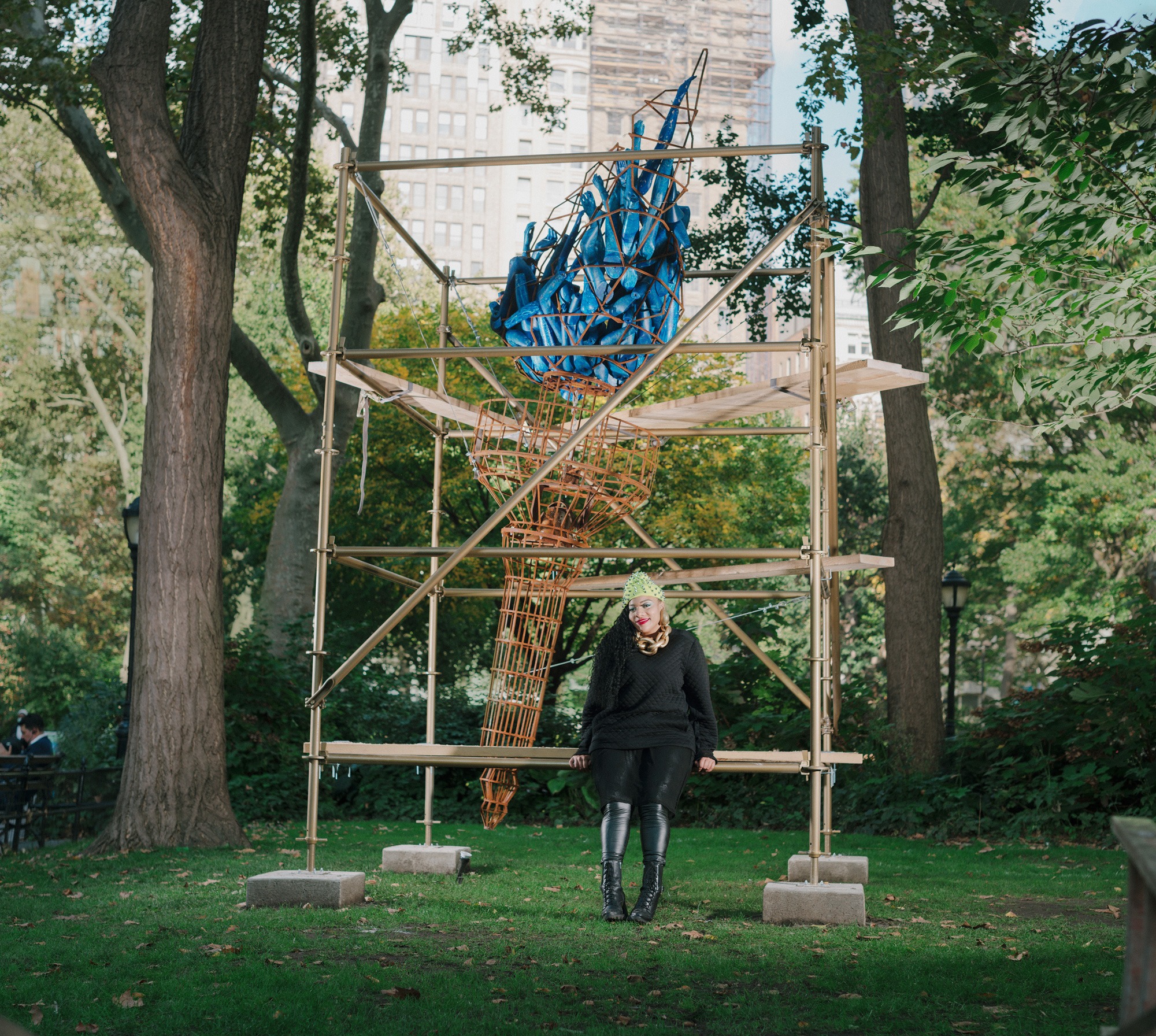 FREE
Get tickets
Almost every American schoolchild is taught the origins of the nation's ideals through a prescribed set of Revolutionary-era folktales. These cornerstone dramas include the Boston Tea Party (whose insurrectionists adopted brownface to appear as "Indians" to distance themselves from their British sovereigns); the battles at Lexington and Concord; and Paul Revere's midnight ride, when, the story maintains, he alerted sleeping colonists to the imminent arrival of their British enemy with the now indelible portentous cry "The British are coming!" In the 21st century, it is increasingly apparent that these dominant narratives obscure many voices. Revisiting America's origin fables invites a question: What was the sound of liberation for those at the margins, those who were not recognized or protected by law at the moments when the ideals of American liberty were forged?
Abigail DeVille's new performance, WAKE UP: Liberation Call at Dawn, calls citizens to attention on the National Mall at sunrise on October 15, 2021. Through a procession rooted in drumming, the artist references various cries of protest and action throughout American history, a narrative that includes both lesser-known events such as the Stono Slave Rebellion of 1739 and well-known ones such as the events of January 6, 2021, at the nearby National Capitol Building.
As a counter to the calls for insurrection that occurred at the Capitol on January 6, join DeVille as she gathers with other artists to sound a collective call for freedom, to insist upon the rejection of lies propagated as truth, and to embrace new and vital tellings of the American story.
The performance comprises original contributions by artist-scholar Jadele McPherson, West African Percussion Orchestra Farafina Kan and The JoGo Project.
A recording of this performance will be available on the Hirshhorn YouTube channel.
---
SCHEDULE
7 am EST | Sculpture Garden opens
7:30 am EST | WAKE UP: Liberation Call at Dawn
Jadele McPherson will debut Invocation, a meditation on the ideas of freedom sung and chanted by Black and Indigenous ancestors.
Farafina Kan West African Percussion Orchestra
Musical arrangement by Kweku Sumbry
The JoGo Project
---
MEET THE PERFORMERS
Jadele McPherson is a vocal-sound artist focused on the intersections of sound and healing, mutual aid, and performance who has performed throughout the U.S. and internationally. Jadele began her musical journey at a young age playing Violin and Oboe, and then as a vocalist rooted in Afro-Cuban sacred music, guided by akpón Naivis Angarica. Jadele curated the Mind, Body & Soul: Afrofuturist Sacred Sounds series from December 2020-April 2021 as a fellow working with the Seminar on Public Engagement and Collaborative Research at the CUNY Graduate Center. Jadele was an artist in residence at JACK in May 2021 where she worked on a forthcoming film inspired by poet-actor Eusebia Cosme's legacy in New York City. McPherson released her solo debut EP entitled "Peace & Quiet" (2019) and some of her most recent performance work includes: Runaway: Maroon Meditations at the Living Away Festival (2020), A Woman's Body is Her Nation (Feminist Hero) by Yali Romagoza (2021), Yemaya: Rebirthing to Existence by Beatrice Capote (2021), Freedom Now! by Karma Mayet Johnson and Shake Loose: A Celebration of Sonia Sanchez at the Schomburg Center for Research in Black Culture (2019), the Word, Rock & Sword concerts curated by Toshi Reagon; and the James Baldwin tribute Can I Get a Witness? at Harlem Stage (2016) and No More Water/The Fire Next Time at Park Ave Armory (2018) co-created by director Charlotte Brathwaite and bassist Meshell Ndegeocello.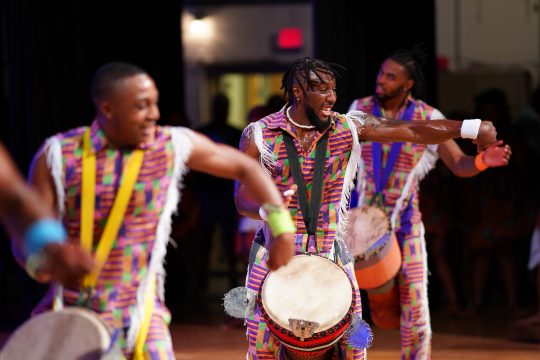 Farafina Kan is a professional West African Percussion Orchestra and dance troupe dedicated to maintaining the history and integrity of traditional African music and dance. Farafina Kan means the sound of Africa in the Malinke language. Under the tutelage of international performing arts legends like Mamady Keita, Famadou Konate, and Djimo Kouyate, Farafina Kan seeks to sustain the work initiated by these legends through professionalism, artistry, continual learning, and proactive intergenerational transmission of African culture through music and movement. Farafina Kan was founded in 2004 by Mahiri F. Keita and is now under the direction of Mahiri's son and nephew; Agyei Keita, and Kweku Sumbry, respectively. With their predecessors' blessing and vision, this next generation of musicians and dancers is carrying the culture to higher heights across the world.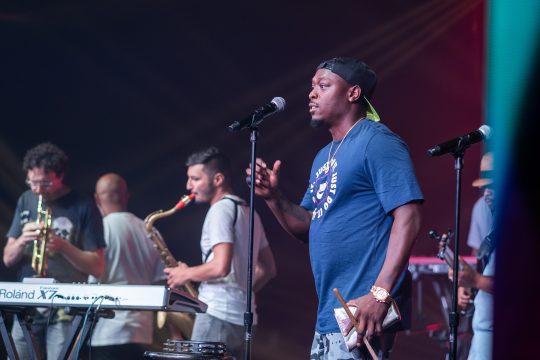 The JoGo Project is a fusion ensemble with Jazz and Go-Go at the core. Founded in 2014 by DC native Elijah Jamal Balbed, the band is dedicated to keeping Go-Go music alive while also exploring new sounds. Elijah performed with the late Chuck Brown (The Godfather of Go-Go) for the last year of Mr. Brown's life. That year instilled in Elijah a new-found love for Go-Go music, which would forever influence his sound and approach to music. When it was time for Elijah to start a band of his own – he knew it had to be something bringing his Jazz and Go-Go worlds together. Hence, The JoGo Project. JoGo has branched outside of the DMV with performances at Club Bonafide (NYC), Silvana (NYC), Beyu Caffe (Durham, NC), The Vagabond (Richmond, VA), and many venues in and around the DC area such as Blues Alley, The Kennedy Center, The Soundry, and DC Jazz Festival (to name a few). In 2018 the band went on a cultural diplomacy tour to 3 cities in Russia for the U.S. State Department, where the musicians conducted educational masterclasses and participated in radio interviews and performances ranging from intimate Jazz clubs to massive concert halls. In 2019, the band won a WAMMIE Award in the category of Best Go-Go Song for "Dear Draylen" composed by Elijah, with lyrics by JusPaul Spires and featured artist Wes Felton.
---
Abigail DeVille: Light of Freedom was commissioned by Madison Square Park Conservancy, New York, and was first exhibited in Madison Square Park. Its exhibition at the Hirshhorn Museum and Sculpture Garden is made possible through support from the Hirshhorn International Council and the Hirshhorn Collectors' Council. This performance WAKE UP: Liberation Call at Dawn is generously supported by Kera and Bennie F. Johnson.
---
Image: Abigail DeVille with her Light of Freedom, 2020. Welded Steel, cabling, rusted metal ball, painted mannequin arms, painted metal scaffolding, wood. 156 x 96 x 96 inches. Collection the artist, courtesy the artist. ©2020 Abigail Deville. The exhibition was organized by Madison Park Conservancy, New York, and was on view from October 27, 2020 through January 31, 2021. Photograph by Tonje Thilesen.