Directions: Jim Hodges
Aug 19, 2005–Apr 13, 2006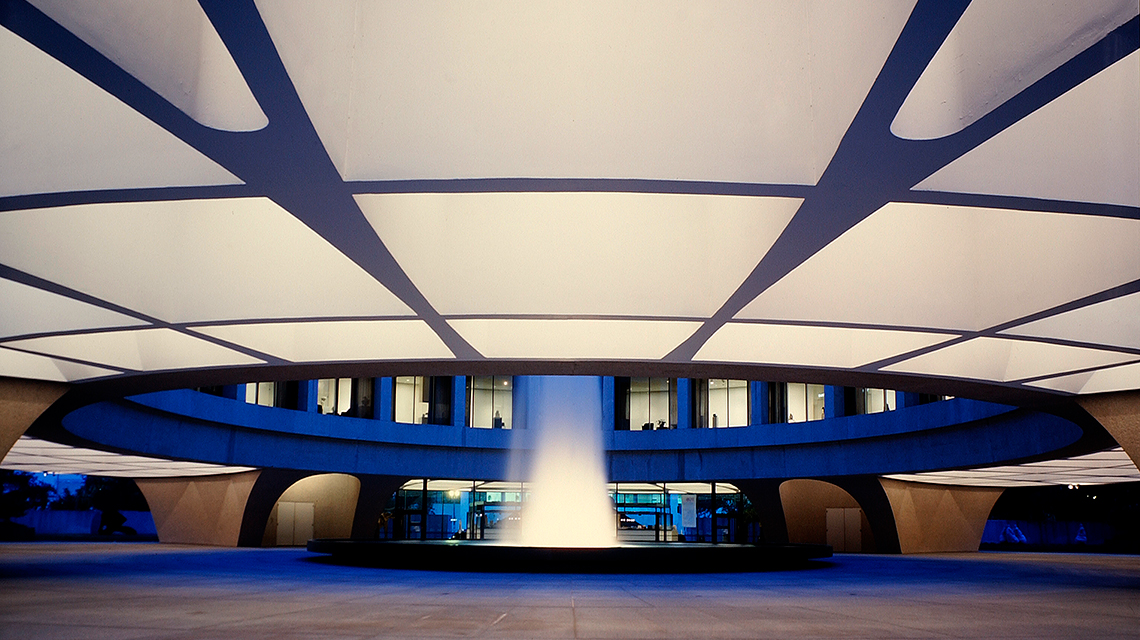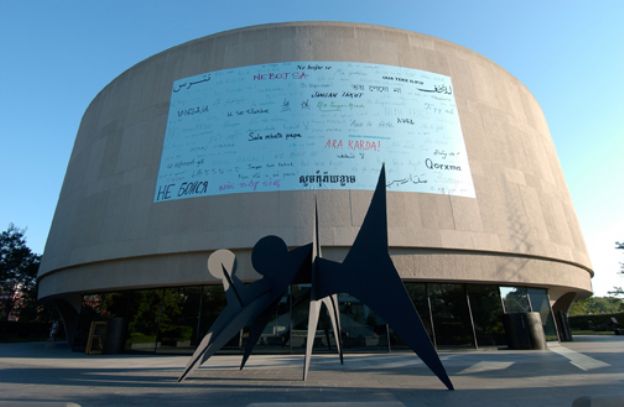 Installation view of Jim Hodges' Directions work at the Hirshhorn Museum and Sculpture Garden
August 19, 2005 to April 13, 2006
As part of the Hirshhorn's ongoing Directions series, a billboard by New York-based artist Jim Hodges (American, b. Spokane, Washington, 1957) will be installed on the façade of the building from Aug. 19 through the spring of 2006. Hodges invited international delegates to the United Nations to translate in their own language and handwriting the phrase "don't be afraid." The artist then reproduced and combined the many versions of the phrase in a large-scale, commercially printed billboard, which can be re-sized and re-printed to fit multiple venues. The version at the Hirshhorn stretches 35 by 70 feet across the building above the museum's main entrance on Independence Ave. Visitors are invited to view a documentary of the artist and reflect upon the work of Jim Hodges in our new contemplation space in the lobby.
The artist first incorporated the phrase "don't be afraid" in a small, three-dimensional drawing in 2000 in which it had the highly personal connotation of reminding the artist to have courage in making his own work. The words reappeared in the more public format of a bumper sticker produced by Hodges in conjunction with the catalogue accompanying the 2004 Whitney Biennial. In its present incarnation, a "global chorus" (the artist's words) expresses the reassuring phrase in response to an unspecified distress, allowing viewers to develop interpretations of its meaning that might range from the personal to political. Given Washington DC's role in international affairs, the placement of "don't be afraid" at the Hirshhorn uniquely reflects and connects to the diverse group of people living in the city and offers a message to guide thinking about the United States' relationships with other nations.
Directions-Jim Hodges is made possible by Ray Graham III, Trellis Fund, Glenn Fuhrman, and Cindy and Howard Rachofsky, with additional support from an anonymous donor and friends. Hodges Contemplation Space is courtesy of Apartment Zero.