Marcel Duchamp: The Barbara and Aaron Levine Collection
Reopening August 20th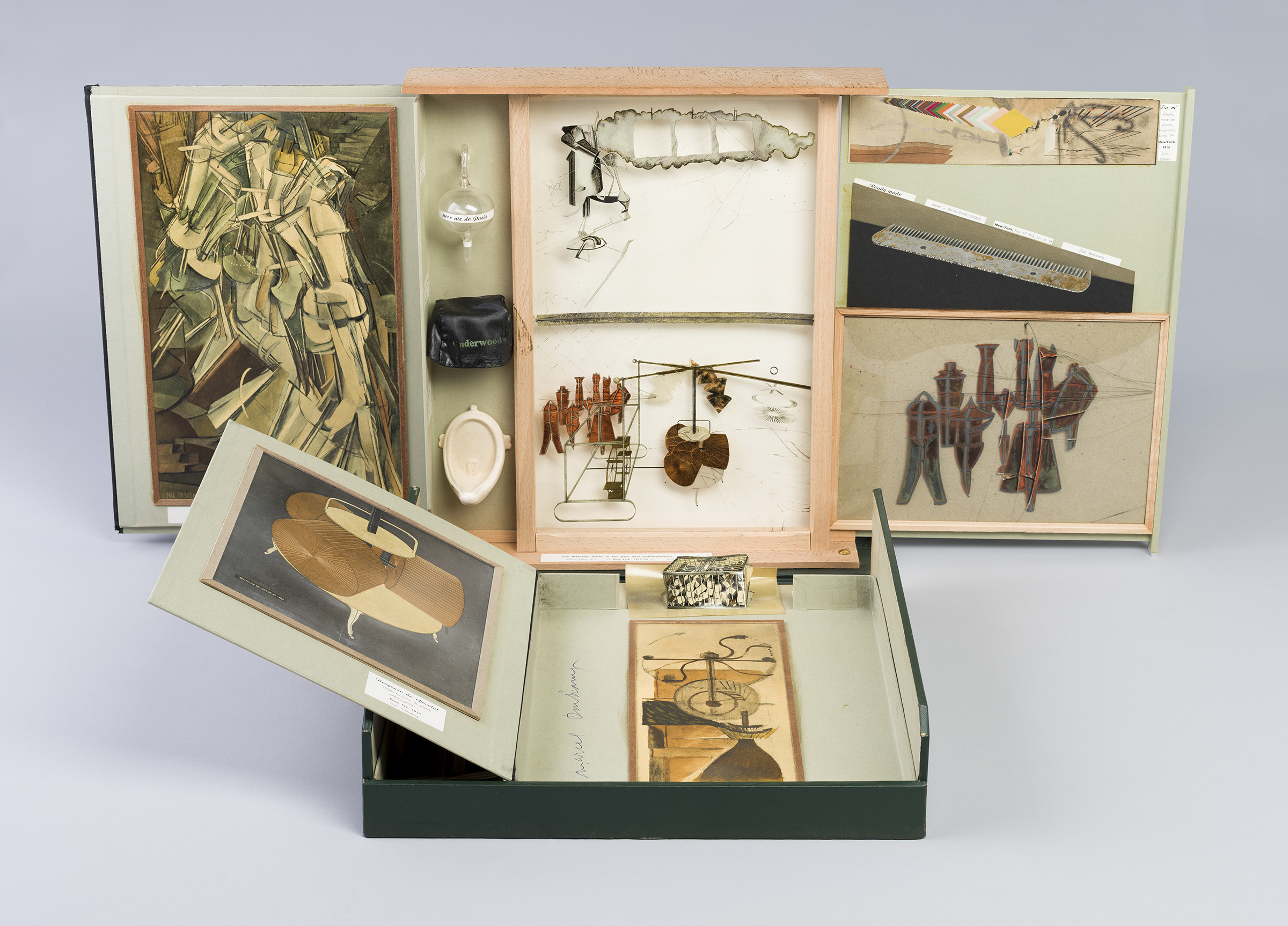 While our museum and plaza are currently closed in response to COVID-19, please explore #HirshhornInsideOut. Engage with living artists; meet our curators; explore our world class permanent collection online and create with our educators who set weekly challenges for art lovers of all ages.
Marcel Duchamp: The Barbara and Aaron Levine Collection will feature the recent gift of over fifty major historical artworks, including more than thirty-five seminal works by Marcel Duchamp, promised to the museum by Washington, D.C., collectors Barbara and Aaron Levine. The exhibition comprises an unparalleled selection of artworks, thoughtfully acquired over the course of two decades and offering a rarely seen view of the entire arc of Duchamp's career.
The exhibition will showcase a number of Duchamp's most famous readymades, including Hat Rack, Comb, Apolinère Enameled, With Hidden Noise, L.H.O.O.Q., and Why Not Sneeze?, which together embody Duchamp's then-radical idea that an artist's ideas are more important than craft or aesthetics. Also prominently featured will be a number of Duchamp's unique drawings and prints related to his magnum opus, The Bride Stripped Bare by Her Bachelors, Even (The Large Glass), including Pendu Femelle, Studies for the Bachelors in the Cemetery of Uniforms and Liveries, No. 2, Bride, and Nine Malic Moulds. Further insight into his unique working process is revealed by The Bride Stripped Bare by Her Bachelors, Even (The Green Box) and In the Infinitive (The White Box), which contain more than 150 facsimiles of Duchamp's working notes for The Large Glass. His forward-thinking mindset can be seen in his later kinetic works, such as the Rotoreliefs (Optical Disks) and Cover of S.M.S. (Esquivons les ecchymoses des esquimaux aux mots exquis), which demonstrate the artist's interest in creating works that call upon the brain to enhance, instead of merely process, the information received by the eye, deftly anticipating future experiments in film and Op art. The exhibition will also include portraits of Duchamp, as well as works by his contemporaries and those he influenced, including Man Ray, Tristan Tzara, Henri Cartier-Bresson, Diane Arbus, and Irving Penn, among others. An educational resource room for visitors of all ages will be included at the end of the exhibition, featuring books about Duchamp and his practice and hands-on making activities inspired by the artist's work. An interactive chess table will also be included at the end of the exhibition—a nod to one of the artist's favorite pastimes.
Marcel Duchamp: The Barbara and Aaron Levine Collection is the first stage of a two-part exhibition on the life and legacy of Duchamp. The second stage of the exhibition, on view June 19–Oct. 15, 2020, will examine Duchamp's lasting impact through the lens of the Hirshhorn's permanent collection, including significant works by a diverse roster of modern and contemporary artists.
Both exhibitions are organized by Evelyn Hankins, the Hirshhorn's senior curator, and accompanied by a 224-page publication.
---
Images
Marcel Duchamp: The Barbara and Aaron Levine Collectionhas been made possible with support from the Hirshhorn International Council and the Hirshhorn Collectors' Council.