Mark Bradford: Pickett's Charge
Nov 08, 2017–Ongoing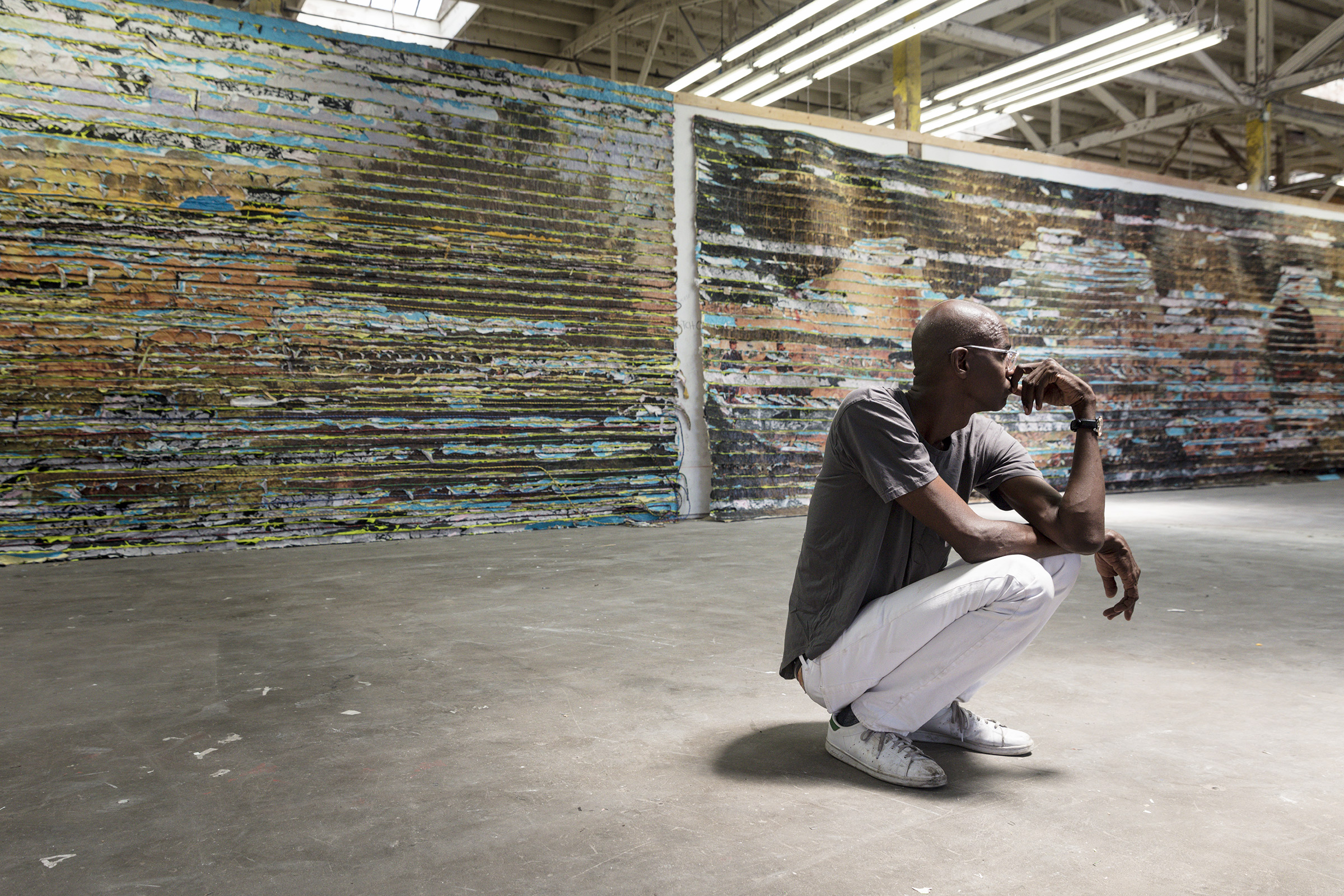 "Politically and socially, we are at the edge of another precipice. I'm standing in the middle of a question about where we are as a nation."—Mark Bradford
Internationally renowned artist Mark Bradford (b. 1961) has debuted one of his largest works to date with Pickett's Charge, a monumental new commission that spans nearly 400 linear feet.
Bradford drew inspiration for this new work from French artist Paul Philippoteaux's nineteenth-century cyclorama, currently on view in Gettysburg National Military Park, Pennsylvania. Philippoteaux's cyclorama depicts Pickett's Charge—the final charge of the Battle of Gettysburg, which historians cite as the critical turning point of the Civil War and, consequently, of American history (view 360 video of the 1883 original). Working with a combination of colored paper and reproductions of the original, Bradford transformed the historic Gettysburg imagery into a series of eight powerful abstract paintings. By cutting, tearing, and scraping through the layers, Bradford reveals the hidden textures and complexities lurking just beneath the surface. Each painting is more than forty-five feet long, and together they encircle the entire Third Level inner-circle galleries.
The resulting work weaves together past and present, illusion and abstraction, inviting visitors to reconsider how narratives about American history are shaped and contested. Posed with his trademark fearlessness, Bradford's open questions—or, rather, the deliberations his work elicits—are particularly timely in contemporary America. And considering that the Hirshhorn is situated on the National Mall, these questions are made even more apt.
Pickett's Charge builds upon the Hirshhorn's continued commitment to showcasing the ways that artists respond to the unique political and cultural climate of their time. Through its free exhibitions and public programs, the Hirshhorn is dedicated to fostering conversation around the forces that shape creative expression in the twenty-first century.
Bradford is a Los Angeles–based artist whose work addresses sociopolitical issues such as race, class, and gender while also engaging art history. For more than two decades, he has expanded the language of abstraction by incorporating personal experience and historical significance into his works. In 2009, Bradford was awarded the MacArthur Genius Grant, and in 2016, he was awarded the US Department of State's national Medal of Arts.
Pickett's Charge is Bradford's first solo exhibition in Washington, DC, and his first major American solo show following his presentation as the US representative for the 57th Venice Biennale, a selection made possible by the US Department of State.
Curated by Evelyn C. Hankins, Senior Curator, and Stéphane Aquin, Chief Curator, with curatorial assistance from Betsy Johnson, Assistant Curator.
---
IN THE NEWS
---
Videos
View more videos featuring Mark Bradford on our YouTube channel
---
FOR KIDS
Hirshhorn Kids connects art lovers ages 0-12 with art, artists, and ideas.
---
Images
---
Thank you to our partners at the Gettysburg Foundation and the Gettysburg National Military Park, which preserves, protects, and interprets for this and future generations the resources associated with the 1863 Battle of Gettysburg during the American Civil War, the Soldiers' National Cemetery, and their commemorations. Thank you also to the Civil War Trust.
Mark Bradford: Pickett's Charge is organized by the Hirshhorn Museum and Sculpture Garden and has been made possible through generous lead support from Altria Group, the Emanuel/Addington Living Trust, and Hauser & Wirth. Major support has been provided by the Glenstone Foundation, Agnes Gund, Marie-Josée and Henry R. Kravis, Harold J. and Ruth Newman, Eileen Harris Norton, and Chara Schreyer. The Museum is also grateful for the additional funding provided by the Hirshhorn International Council and the Hirshhorn Collectors' Council.