The Hirshhorn has been collecting the prolific work of Yayoi Kusama since 1996. Our 2017 survey of her work traveled to five North American art museums, introducing Kusama's spellbinding visions to record audiences. Next up: an exhibition of her five works in our permanent collection, including two of the artist's transcendent Infinity Mirror Rooms, sculptures, an early painting, and photographs of the artist. One with Eternity: Yayoi Kusama in the Hirshhorn Collection is a tribute to the life and practice of this visionary artist.
One with Eternity will showcase the Hirshhorn's permanent collection of works by Kusama, including two of her Infinity Mirror Rooms—her first and one of her most recent—that create a dazzling sensation of never-ending space. These transcendent rooms will be exhibited alongside an early painting; sculptures, including Pumpkin (2016) and Flowers—Overcoat (1964); and photographs of the artist. This exhibition honors Kusama's distinctive vision of self-obliteration by exploring its development across media while also underscoring the Museum's mission: to present the most exciting art and ideas of our time.
Among the additions to the Hirshhorn's permanent collection is Kusama's milestone, Infinity Mirror Room—Phalli's Field (Floor Show) (1965/2017), the first of the artist's immersive installations to transform the intense repetition of her earlier paintings and works on paper into a perceptual and participatory experience. The exhibition will also debut one of Kusama's most recent rooms to Washington, DC, audiences.
Follow along @hirshhorn on Instagram, Facebook, or Twitter, and sign up for our email newsletter for the latest on projects, and programs.
---
---
Yayoi Kusama was born in Matsumoto, Nagano, in 1929. Today, she continues to produce paintings at her studio in Tokyo. She studied traditional Nihonga (Japanese-style) painting in Kyoto and moved to New York City in 1958. There, she was active in avant-garde circles during the formative years of pop art and minimalism, exhibiting her work alongside such artists as Andy Warhol, Claes Oldenburg, and Allan Kaprow—figures who have cited Kusama as influential to the development of assemblage, environmental art, and performative practices.
Kusama exhibited widely in Italy, Germany, and the Netherlands in the mid-'60s, participating in exhibitions with artists associated with Nul, ZERO, and the New Tendency in Europe, where she began developing her interest in the optics and interactive elements of mirrors, electric lights, sound, and kinetics. The artist's fame grew in the late 1960s through her radical antiwar happenings, which espoused nudity and polka dots in the streets of New York. Kusama returned to Japan in 1973, where she has since resided. In recent years, Kusama has achieved tremendous critical respect as well as celebrity status.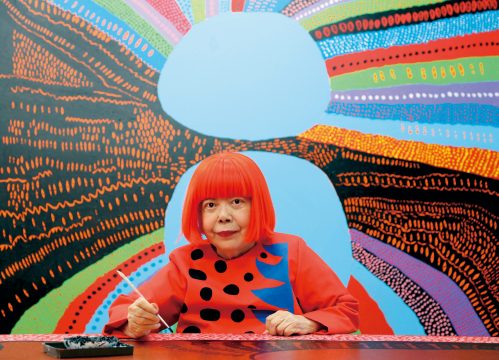 Image credit: Yayoi Kusama in her studio, 2017 © YAYOI KUSAMA. Courtesy Ota Fine Arts, Victoria Miro, David Zwirner
---
Images
---
For Kids
Hirshhorn Kids connects art lovers ages 0-12 with art, artists, and ideas.
---
In the news
The Washington Post: A glimpse of eternity
NPR: Dots all folks—at the Hirshhorn, artist Yayoi Kusama immerses visitors in infinity"
Washington City Paper: Kusama's One with Eternity is Designed for Gaggles of Visitors