Tino Sehgal: This You
Sep 01–Oct 14, 2018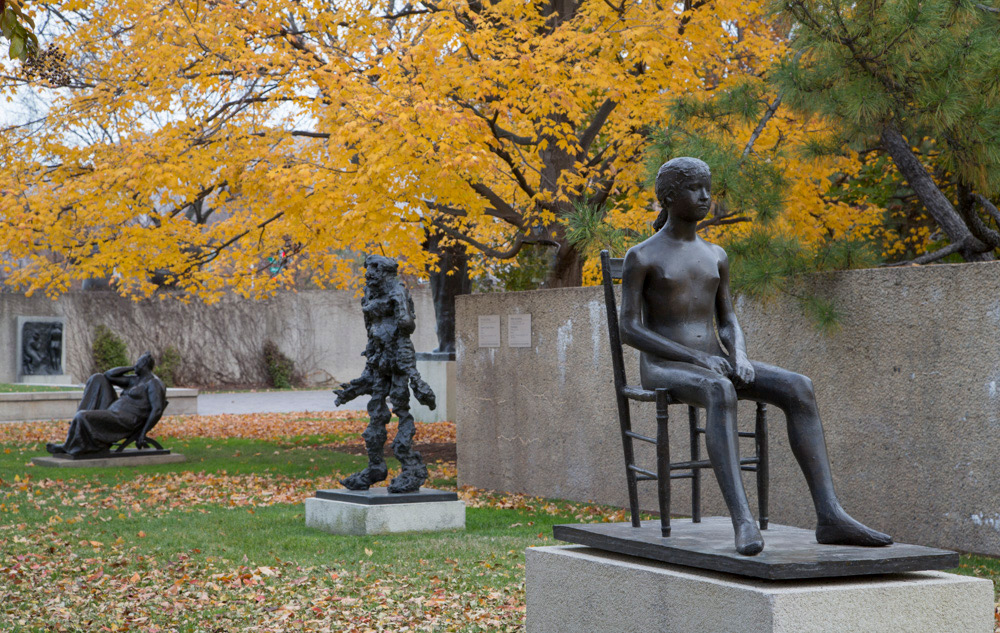 On view September 1 through October 14, 2018.
Beginning September 1, and running for six weeks, the Hirshhorn will feature a work by acclaimed contemporary artist Tino Sehgal. This You—the first exclusively live work acquired for the Museum's permanent collection in its forty-four-year history—will feature a solo female singer who will connect with visitors to produce intimate and memorable experiences. Expanding on the work of Conceptual artists, Sehgal employs the body, voice, and movement to create his works rather than traditional art materials.
This outdoor piece by Seghal will occur on the Hirshhorn's Plaza and in the Sculpture Garden. Created in part as a response to the over-proliferation of objects, these intimate encounters will leave behind only personal memories. Referred to as "constructed situations" by the artist, they will not be documented through recordings, photographs, or videos but remain ephemeral.
Sehgal says his artwork raises the complex question, "Can something that is not an inanimate object be considered valuable?" In This You, the art is held in that moment between viewer and interpreter—not in a frame in a gallery. And the value of that interaction lies solely with the viewer, upending traditional notions of the art object and the art experience.
Sehgal has investigated the meaning and value of art in several other groundbreaking works, including This is So Contemporary (Venice Biennale, 2005), Kiss (Museum of Contemporary Art, Chicago, 2007), This Progress (Guggenheim Museum, New York, 2010), and These associations (Tate, 2012).
For its presentation at the Hirshhorn, This You will feature Tattiana Aqeel, Erin Frisby, Arielle Goodman, Briona Jackson, Sadie Leigh, Christiana Lyra, Jahnel Daliya, and Lara Supan. An interpreter will be present and performing any time the Museum is open during the work's entire run.
Curated by Mark Beasley, Robert and Arlene Kogod Secretarial Scholar, Curator of Media and Performance Art, with Betsy Johnson, Assistant Curator.
---
tino sehgal
Sehgal (b. 1976, London) lives and works in Berlin. His work has been the subject of several solo exhibitions, including Officine Grandi Riparazioni, Turin; Kunsten, Aalborg, Denmark (2018); V-A-C Foundation, Moscow; Fondation Beyeler, Switzerland (2017); Jemaa el-Fna, Marrakesh; Palais de Tokyo, Paris (2016); Stedelijk Museum, Amsterdam (2015); Martin-Gropius-Bau, Berlin (2015); Art Gallery of New South Wales, Sydney (2014); Ullens Center for Contemporary Art, Beijing (2013); Tate Modern, London (2012); Solomon R. Guggenheim Museum, New York (2010); and Kunsthaus Bregenz (2006) among others. Sehgal has been selected to participate in notable group exhibitions, such as 12th Havana Biennial (2015); 55th Venice Biennale (2013); Documenta 13, Kassel, Germany (2012); 9th Shanghai Biennale (2012); 8th Gwangju Biennale (2010); 4th Berlin Biennale (2006); and Manifesta 4, Frankfurt (2002). He represented Germany at the 51st Venice Biennale (2005) and was the recipient of the Golden Lion at the 55th Venice Biennale (2013).
---
Support for this presentation is provided by the "Year of German-American Friendship" initiative in 2018/19. The "Year of German-American Friendship" is a comprehensive and collaborative initiative of the Federal Foreign Office, the Goethe-Institut and with support of the Federation of German Industries, highlighting the decades-long relationship grounded in common values, interests and goals.