ARTLAB+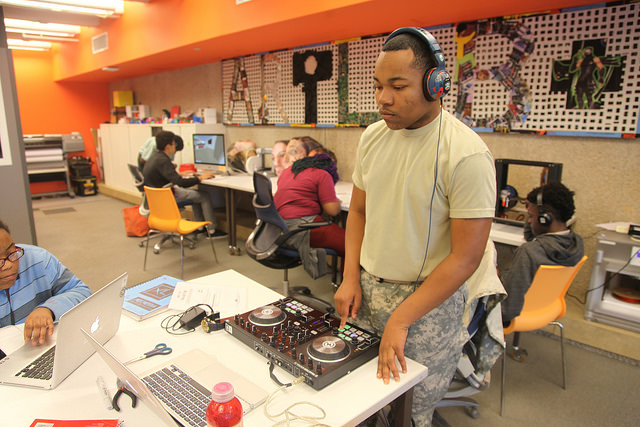 ARTLAB+ at the Hirshhorn is a radically inclusive, free after-school digital arts program for teenagers between 13 and 19. In addition to providing access to professional technology equipment, art-making tools, and art materials, ARTLAB+ connects teens to artist mentors who support them in their creative pursuits. Through collaboration and a range of special programs, participants strengthen their critical thinking skills and learn to express themselves creatively. The mission of ARTLAB+ is to give teens the opportunity to develop the marketable technological skills they need to lead the next generation of innovators. Participants explore, tinker, and experiment with a variety of media and are given the chance to use professional video and photo gear, music and recording equipment, and other resources to produce video games, graphic designs, and 3D designs, as well as other creative projects.
---
JOIN US!
Teens can hang out during our drop-in hours, join production teams, or apply to be an ARTLAB+ Studio Assistant.
---
Contact Information
We would love to hear from you! For questions about ARTLAB+ programs, sign up for regular updates regarding programs, workshops, and production team opportunities. For answers to specific questions about ARTLAB+ programs, contact Amy Homma at HommaA@si.edu or (202) 633-4005.
---
Currently ARTLAB+ does not provide programs or tour for school visits. Interested teens may visit us during our after school drop-in hours.
ARTLAB+ thanks its generous funders for making this programming possible.