Advance Exhibition Schedule Fall/Winter 2017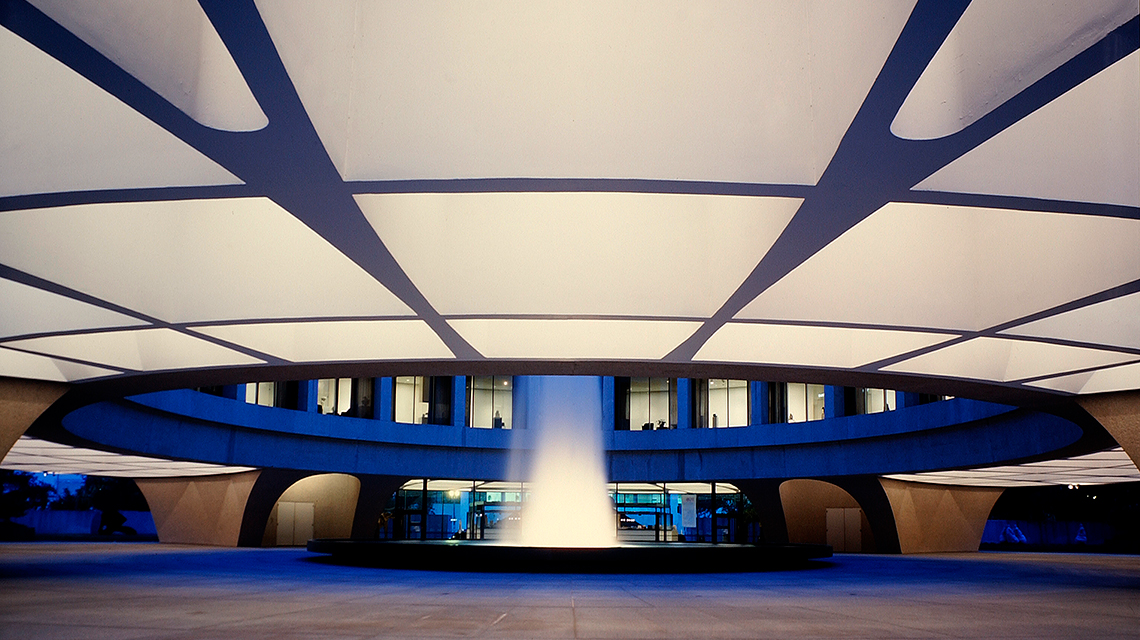 Upcoming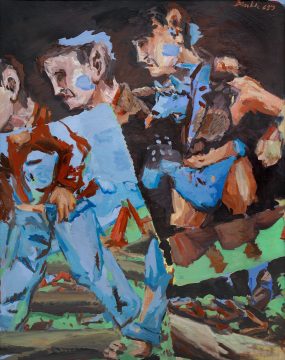 JUN 21–SEP 16, 2018
Curated by Stéphane Aquin
Organized in partnership with Fondation Beyeler – Second Level
Baselitz: Six Decades is the first major U.S. retrospective in more than twenty years of one of Germany's greatest living artists, marking the artist's eightieth birthday. With more than one hundred works highlighting every phase of Baselitz's six-decade career from the 1950s to today, this milestone exhibition features work never before seen in the U.S. and cements Baselitz's reputation as one of the most original and inventive figurative artists of his generation.
For the first time, U.S. audiences can experience the full scope of Baselitz's powerful explorations of the human figure, as well as the influence of American artists on his early work and his continued impact on contemporary American painting and sculpture. Baselitz's creative genius, combined with his message about the inherent strength of the everyday human condition, make this exhibition particularly compelling.
Organized chronologically, Baselitz: Six Decades will feature iconic paintings, works on paper and wood and bronze sculptures. The show will include one of Baselitz's most notable works of that period, The Naked Man (1962), in which the artist used a shocking image of a male figure to express the pervasive discontent with Germany's socialist politics. Additional highlights will be the celebrated paintings from his iconic Helden (Heroes) and Fracture series (1965–1966), which underscore the strength of the German people following World War II.
Organized in partnership with the Fondation Beyeler, the exhibition is curated by Hirshhorn chief curator Stéphane Aquin and the Beyeler curator-at-large Martin Schwander. It opened at the Beyeler in Basel, Switzerland on January 21, before traveling to D.C. The Hirshhorn hosted Baselitz's first-ever career retrospective in 1996, and this new exhibition builds on that milestone with an expanded look at his exceptional career.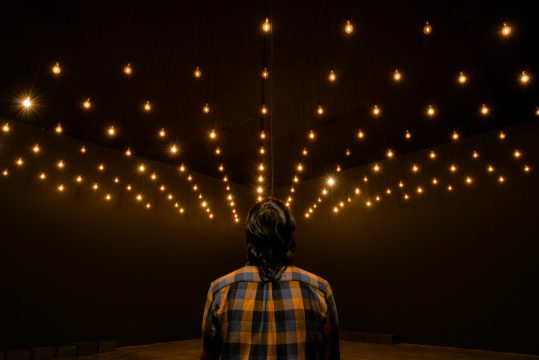 NOV 2018–SPRING 2019
Curated by Stéphane Aquin
Organized by the Fondation Beyeler – Second Level
Three major interactive installations from Mexican Canadian artist Rafael Lozano-Hemmer's Pulse series and six public-art documentaries come together for the first time in Rafael Lozano-Hemmer: Pulse, which will fill the museum's galleries with evocative, immersive environments that use heart-rate sensors to create kinetic and audiovisual experiences from visitors' own biometric data. Rafael Lozano-Hemmer: Pulse will animate the vital signs of hundreds of thousands of participants in the Hirshhorn's largest interactive technology exhibition to date.
With Lozano-Hemmer's trademark sensitivities to audience engagement and architectural scale, each artwork detects the biometric signatures of each visitor, registering and recording them as repetitive sequences that are visualized as flashing lights, panning soundscapes, waves in ripple tanks and animated fingerprints. These "portraits" or "snapshots" of the visitor's intimate electrical activity then gets added to a live archive of other recordings, creating a landscape of syncopated rhythms. At a time when biometry is increasingly used for identification and control, here agglomerated data presents a new form of anonymity.
The exhibition begins with Pulse Index (2010), which records participants' fingerprints at the same time as it detects their heart rates, displaying data for the last 10,000 users on a Fibonacci-sequenced grid of massive projections. The second work visitors will encounter is Pulse Tank, featuring illuminated water tanks that show participants' pulses through ripples on the water's surface, reflected in shadow patterns on the gallery walls. The last installation, Pulse Room (2006), is an otherworldly space filled with hundreds of clear, incandescent light bulbs hanging from the ceiling in even rows, pulsing with the heartbeats of past visitors. Visitors add their heartbeat by touching a sensor near the beginning of the installation, transmitting their pulse to the first bulb, which then flickers to its rhythm.
Six short documentaries of Pulse works will also be exhibited, showing biometric public-art interventions in Abu Dhabi, Toronto, Hobart, New York and Urdaibai, Spain (2007–2015).
On View
BRAND NEW: ART AND COMMODITY IN THE 1980S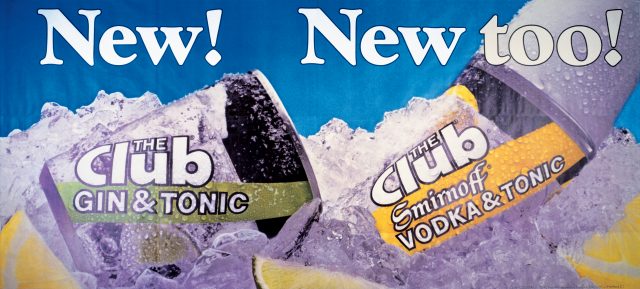 THROUGH MAY 13, 2018
Curated by Gianni Jetzer
Organized by the Hirshhorn – Second Level
t's the '80s as you've never seen it before. Explore the iconic decade when artwork became a commodity and the artist, a brand. Razor-sharp, witty, satirical and deeply subversive, these nearly 150 works examine the origins and rise of a new generation of artists in 1980s New York who blurred the lines between art, entertainment and commerce, a shift that continues to define contemporary art today.
This expansive exhibition presents a fresh and focused history of the decade, bringing rarely displayed works from U.S. and European collections together for the first time since the '80s. The artists feature some of today's most renowned figures: Ashley Bickerton, Sarah Charlesworth, Jessica Diamond, Peter Halley, Jeff Koons, Barbara Kruger, Joel Otterson, Richard Prince, Erika Rothenberg, Haim Steinbach, Meyer Vaisman and Julia Wachtel, as well as artist collectives and projects such as ACT UP Gran Fury, The Offices, General Idea, Fashion Moda and Guerrilla Girls. Three major installations will be recreated for the first time in thirty years, including seminal works by Gretchen Bender, Barbara Bloom and Krzysztof Wodiczko.
Brand New offers a fascinating alternative history of art in the 1980s by tracing how a pioneering group of young downtown artists appropriated the tools and psychology of growing consumer culture—advertising, logos, products, even cable TV—to change the landscape of the art world. Manufactured objects, such as vacuum cleaners and clocks, became vessels with complex meanings. Advertising and television emerged as rich new mediums for expression, and artworks themselves became branded products. Like today's celebrity influencers, artists crafted branded personas to both market themselves and as a form of creative expression.
Year by year, Brand New parallels major artistic developments with the corresponding events that shaped the '80s, such as the introduction of MTV, Reaganomics, financial crisis, gentrification, and height of the AIDS crisis. It also documents new collaborations taking place during this period, when artists came together to form their own complex commercial entities. These artist-run consultancies, aesthetic "service providers," and pop-up storefronts redefined how art could be made, and sold.
ILYA AND EMILIA KABAKOV: THE UTOPIAN PROJECTS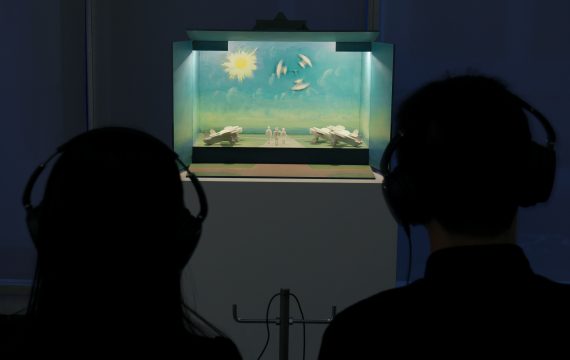 THROUGH MAR 4, 2018
Curated by Stéphane Aquin
Organized by the Hirshhorn – Second Level Inner Ring
Acclaimed Russian artists Ilya and Emilia Kabakov have been working collaboratively for nearly 30 years, creating installation-based works of unbridled imagination and optimism in direct response to the hardships, surveillance and suspicion they endured while living in the Soviet Union. Spanning 1985 through present day, The Utopian Projects features more than 20 of the Kabakovs' maquettes, whimsical models, for projects realized and unrealized, including monuments, allegorical narratives, architectural structures and commissioned outdoor works.
These elaborate creations are brought to life by the eccentric, imaginary cast of characters that inhabit them, inviting the viewer into a surreal world in miniature and offering a rare glimpse into the duo's artistic process. Lights, motors, text and music enhance the whimsy and theatricality of each miniature environment, which Ilya uses to reinforce the metaphorical meaning of each work.
Opening nearly 30 years after the Hirshhorn hosted Ilya Kabakov's first major U.S. exhibition, The Utopian Projects includes the working studio models of such quintessential artworks as The Man Who Flew Into Space From His Apartment (1985)—which was presented fully realized at the Hirshhorn in 1990—and The Ship of Tolerance, a global public art project in the form of a 60-foot wooden sailboat, which will be next realized May 25 at the Vatican under the patronage of Holy See and Vicariate.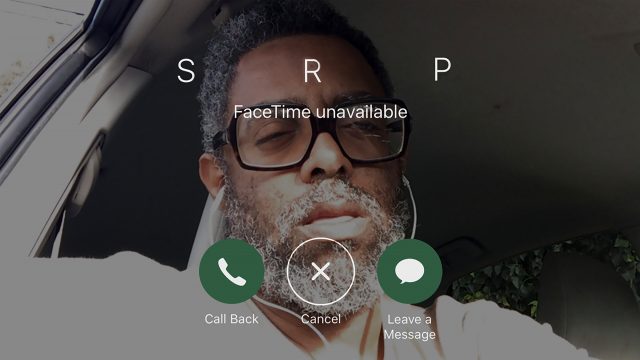 THROUGH APR 22, 2018
Curated by Mark Beasley
Organized by the Hirshhorn – Lower Level
Drawing primarily from the Hirshhorn's recent film and video acquisitions, The Message features works that rewire popular modes of address—namely the public lecture, the concert, the music video, and the online sex chat room. Language is at the root of each work from the redeployment of pop verse and the operatic libretto to the repurposing of the pedagogic lecture and online messaging. Through the juxtaposition and collage of existing classical and pop forms, each of the assembled artists seeks to rethink dominant narratives and ideologies and assess the impact of history on the present moment.
In Grosse Fatigue (2013), Camille Henrot searches the Smithsonian archives for creation tales that she weaves into an endless wash of anthropological, philosophical, and literary beginnings. Hito Von Steyerl's film essay-cum-performance lecture How Not to be Seen (2013) explains how one can remain invisible and avoid detection in an age of constant surveillance. C.T. Jasper and Joanna Malinowska's Halka/Haiti (2015) delivers opera to the tropics through their public staging of a Polish love story in a Haitian village populated by citizens of Polish descent. Kanye West provides the soundtrack for Arthur Jafa's Love is the Message, The Message is Death (2016), a filmic essay of triumph, tragedy, and resilience. Lastly, in France Stark's My Best Thing (2011) an encounter with a young man in a sex chat room leads to an unlikely basis for creative collaboration in the face of performance anxiety.
MARK BRADFORD: PICKETT'S CHARGE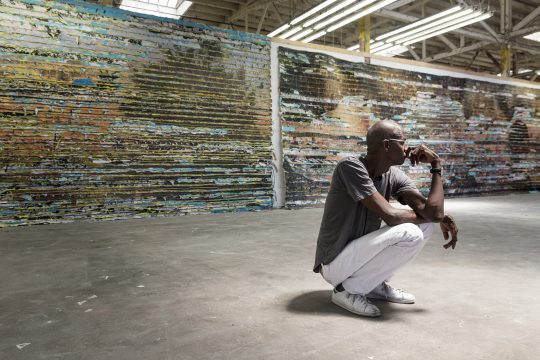 THROUGH NOV 12, 2018
Curated by Evelyn Hankins and Stéphane Aquin
Organized by the Hirshhorn – Third Level Inner Ring
Internationally renowned artist Mark Bradford will debut Pickett's Charge, a monumental new, site-specific commission inspired by the immersive form of the cyclorama as well as the Museum's distinctive architecture. The installation, which comprises a series of eight powerful, abstract paintings, each more than forty-five feet long, will encircle the entire Third Level, creating an immersive, 360-degree experience. Drawing directly from artist Paul Philippoteaux's landmark nineteenth-century cyclorama depicting the final charge of the Battle of Gettysburg, Pickett's Charge invites visitors to interrogate conventional historical narratives. Weaving together reproductions of the original 1883 painting with multiple layers of colored paper, Bradford transforms the historic imagery to reveal the hidden textures and complexities lurking just beneath the surface.
Bradford (b. 1961) lives and works in Los Angeles. Bradford has achieved wide acclaim for a technically inventive and uniquely powerful abstraction that is steeped in a personal exploration of history and the sociopolitical issues shaping the world. Pickett's Charge will be Bradford's first solo exhibition in Washington, DC, and his first major American solo show following his presentation as the U.S. representative for the 57th Venice Biennale.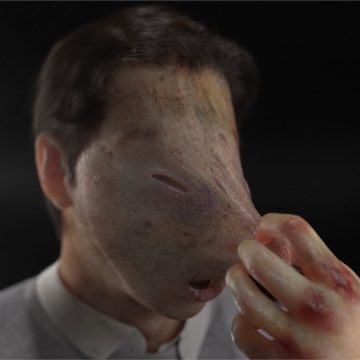 THROUGH SUMMER 2019
Curated by Gianni Jetzer
Organized by the Hirshhorn – Third Level
What Absence Is Made Of presents artworks from the last 65 years that investigate the space between the tangible and the intangible. Selected from the Hirshhorn's permanent collection, the exhibition highlights new acquisitions by Annette Lemieux, Ed Atkins, and Huang Yong Ping, as well as collection favorites by Ana Mendieta, John Baldessari, Fred Sandback, and Ann Hamilton. The artists featured utilize absence as a powerful component in their work, employing such methods as reduction, erasure, negative space, and monochrome. Focusing on prominent themes in art since the 1960s, the exhibition charts the rising appeal of immateriality in reaction to an increasingly material world.
BARBARA KRUGER: BELIEF AND DOUBT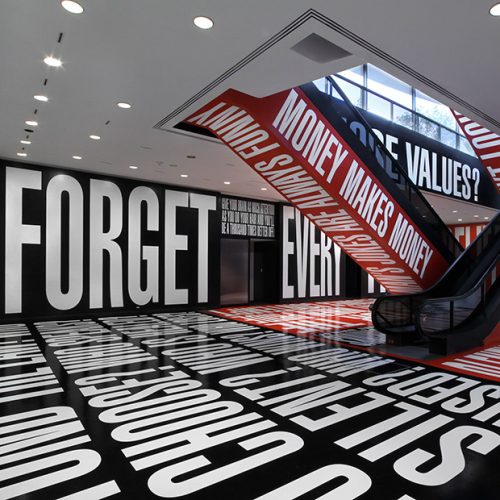 ONGOING
Curated by Melissa Ho
Organized by the Hirshhorn – Lower Level
Part of an initiative to bring art to new sites within and around the building, this installation by Barbara Kruger fills the Lower Level lobby and extends into the newly relocated Museum bookstore. Famous for her incisive photomontages, Kruger has focused increasingly over the past two decades on creating environments that surround the viewer with language. The entire space—walls, floor, escalator sides—is wrapped in text-printed vinyl, immersing visitors in a spectacular hall of voices, where words either crafted by the artist or borrowed from the popular lexicon address conflicting perceptions of democracy, power, and belief.
At a moment when ideological certitude and purity seem especially valued, Kruger says she's "interested in introducing doubt." Large areas of the installation are devoted to open-ended questions, while the section occupying the bookstore explores themes of desire and consumption. At once addressing the individual, the museum, and, symbolically, the country, Kruger's penetrating examination of the public sphere transforms one of the Hirshhorn's key public spaces.