Arthur M. Sackler Gallery and Hirshhorn Museum and Sculpture Garden Present Cai Guo-qiang: Traveler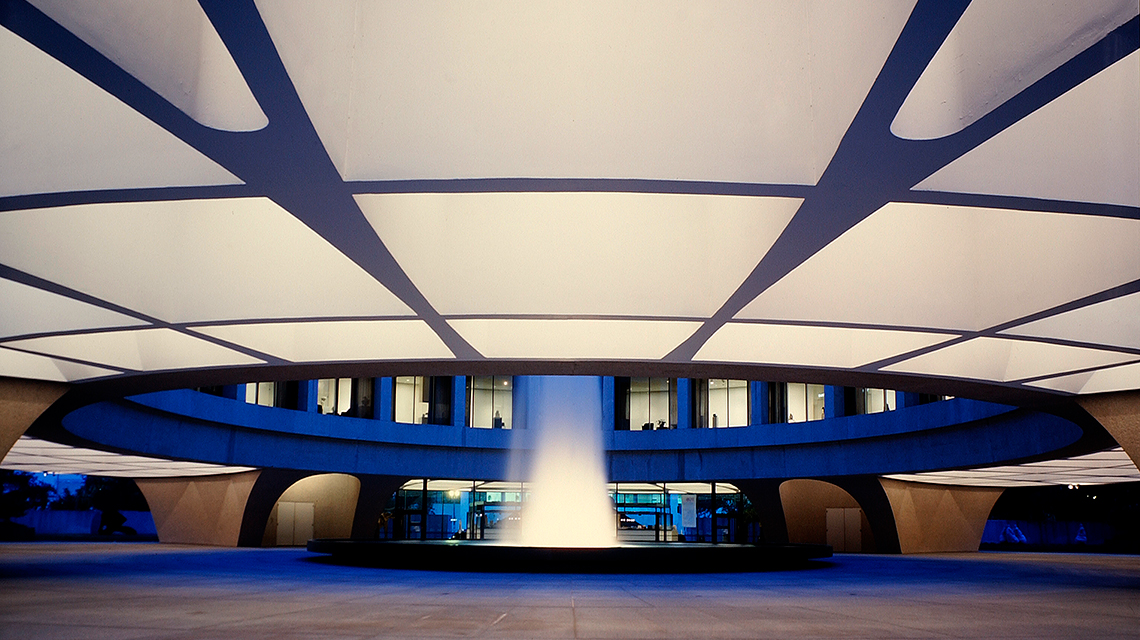 Sunday, August 1, 2004
The Smithsonian's Arthur M. Sackler Gallery and the Hirshhorn Museum and Sculpture Garden are collaborating on "Cai Guo-Qiang: Traveler," a two-part exhibition representing major projects developed by the New York-based, Chinese-born Cai Guo-Qiang, an artist who has come to international prominence by fusing Eastern and Western history and visual culture. Site-specific installations at both museums reflect Cai's meditations on physical and intellectual travel. The Sackler installation "Reflection" and the Hirshhorn installation "Unlucky Year: Unrealized Projects from 2003-2004" open on Oct. 30 and remain on view through April 24, 2005.
Visitors entering the Sackler's spacious Pavilion will immediately encounter "Reflection," the weathered hull of a 50-foot long wooden fishing boat excavated off the coast of Japan, which rests upon an imaginary beach of gleaming white fragments of porcelain deities from Dehua, China. "Reflection's" monumental arcs and delicately-realized sculptures resonate directly with a concurrent Sackler exhibition, "China and Iraq" —exploring the transformative effect of imported luxury Chinese goods on 9th-century Iraqi ceramics. Visitors are also encouraged to consider the interplay of ancient and modern art by the location of a contemporary installation within a museum that is largely dedicated to the preservation of the past. "Reflection" is the third installation in the Sackler Gallery's "Perspectives Series" of contemporary art.
The Hirshhorn's third-floor installation, "Directions–Cai Guo-Qiang," features the gunpowder drawings "Unlucky Year: Unrealized Projects from 2003–2004," a series created by igniting gunpowder on paper, highlighting Cai's interest in using a seemingly destructive material as a tool for creation. The imagery of the works relates to a series of unrealized projects, for which Cai sought to set off large-scale explosions in prominent sites around the world. These explosion events are intended both for human audiences and unseen, "alien" beings who occupy a heavenly vantage point. Like these event-based works, the enigmatic markings of the drawings–charred black to hazy gray and smoldering gold–encourage viewers to shed earthbound perspectives and consider our world from a different place in the cosmos. The Hirshhorn's "Directions" is an on-going series of exhibitions bringing the innovative work of today's artists to Washington audiences.
Now a New York resident, Cai Guo-Qiang was born in 1957 in the subtropical port city of Quanzhou, which borders the Strait of Taiwan on China's southeast coast. Visited by Marco Polo, Quanzhou was the cosmopolitan gateway to the medieval maritime Silk Road and has been associated with international travel to this day. Superbly potted, ivory-white Dehua porcelain has been produced nearby since the Song dynasty (960 – 1279) and reached a golden age, beginning in the late Ming dynasty (1368 – 1644), with peak exports reached during the 17th century. Cai's use of gunpowder and screen formats also have integral connections to Chinese history.
The son of a historian and painter, Cai Guo-Qiang was trained in stage design at the Shanghai Drama Institute before moving to Japan, where he lived from 1986 to 1995. The artist has been working in New York since 1995. Both Smithsonian projects represent Cai's use of repeated motifs in his work—he has used both excavated skeletal boats and gunpowder drawings in projects elsewhere. "Reflection" symbolizes Cai's roots and his life experience, as well as the physical and metaphorical journey between Asia and the United States traveled by the works in the Sackler collections. "Unlucky Year" is a more focused look at the artist's intellectual travels and challenges during the past year.
Organized by Hirshhorn assistant curator Kristen Hileman and Sackler assistant curator of South and Southeast Asian Art Debra Diamond, the exhibition will be accompanied by a joint exhibition brochure, which is available at both museums, free to the public. "Cai Guo-Qiang: Traveler" is supported in part by the Annie Wong Art Foundation and Shiseido. The Hirshhorn installation is made possible in part by Kitty and Tom Stoner; the Jim and Barbara Demetrion Endowment Fund; Trellis Fund; and contributions to the Hirshhorn's Curators' Circle. The Sackler installation has received additional funding from the Mary Kirby Bequest and the Rattray Kimura Foundation.
The Freer Gallery of Art (12th Street and Independence Avenue, S.W.) and the Arthur M. Sackler Gallery (1050 Independence Ave. S.W.) together form the national museum of Asian art for the United States. The Freer also houses a major collection of late 19th and early 20th-century American art. Hours are from 10 a.m. to 5:30 p.m. every day except Dec. 25, and admission is free. Public tours are offered daily. The galleries are located near the Smithsonian metrorail station on the blue and orange lines. For more information, the public may call (202) 633-1000 or TTY (202) 357-1729, or visit the special, exhibition-related section of the galleries' Web site at www.asia.si.edu.
The Hirshhorn Museum and Sculpture Garden, the nation's museum of modern and contemporary international art, celebrates its 30th anniversary this year and serves an estimated 700,000 visitors annually. The museum's collection encompasses some 11,500 paintings, sculptures, mixed media installations and works on paper. The Hirshhorn maintains active exhibition and educational programs, examining and informing the public about the art of our time. The museum, open seven days a week from 10 a.m. to 5:30 p.m., is located at Independence Avenue and Seventh Street S.W. Admission is free.