(At Home) On Art and Healing: Artist Talk with AA Bronson and Adrian Stimson
This program was online only.
I have no apology for genocide:
my words make no difference.
I care about the living and the dead.
And, here and now,
we are the living and the dead;
We are the living and the dead;
We are a community
of the living and the dead.
And the dead are with us still. – AA Bronson, A Public Apology to the Siksika Nation
Artists AA Bronson and Adrian Stimson join Hirshhorn assistant curator Betsy Johnson for a discussion on their work and recent collaboration to address the fundamental role that art can play in helping us to face unspeakable atrocities, rebuild relationships and trust, and find healthy ways to heal and move forward together. Through this conversation, the artists approach the unanswerable question—one posed by Bronson in his work A Public Apology to Siksika Nation—of how one can apologize for genocide, if at all.
As an artist, healer, curator, and educator, AA Bronson has spent over five decades developing work through collaboration. A founding member of artist collective General Idea, he spent 25 years working alongside co-founders Felix Partz and Jorge Zontal presenting projects that embodied the spirits of punk protest, queer theory, and AIDS activism; he has also worked to promote and celebrate otherness. Since 1994, after the deaths of Partz and Zontal, Bronson has carried on his practice through solo and collaborative projects, many of which incorporate his practice as a healer such as his 2008–2010 performance series, Invocation of the Queer Spirits. Formerly the director of Printed Matter, Inc., Bronson founded the NY Art Book Fair in 2005; the Institute for Art, Religion, and Social Justice at Union Theological Seminary in 2009; and the LA Art Book Fair in 2013.
Interdisciplinary artist Adrian Stimson works across painting, performance, sculpture, and video to explore and challenge cultural fragility, identity construction, history, and loss. Stimson, who identifies as two-spirit and Siksika (Blackfoot), weaves together humor and whimsy with pointed commentary on social justice as he addresses genocide and resilience stemming from his personal experiences attending residential schools, exploring conflicted histories of colonialism, and reflecting on the disparities in representations of First Nations people. Addressing identity, Stimson explores what it means to be both Indigenous and two-spirit through two recurring personas, Buffalo Boy and the Shaman Exterminator, which are hybrids of the Indian, the cowboy, the shaman, and the two-spirit being.
In recent years, Bronson and Stimson discovered a complicated shared history through their ancestors: Bronson is the great-grandson of Reverend John William Tims, an Anglican missionary to Siksika Nation of the Blackfoot confederacy. Stimson is the great-grandson of Old Sun, perhaps the most famous and admired of the Blackfoot chiefs and medicine men, and the arch-enemy of Rev. Tims. In 1883, Tims founded the Old Sun residential school, which separated Siksika children from their parents, dressed them as British children, and forbade them to speak their own language, in an attempt to destroy Siksika culture. The situation exploded into the Siksika rebellion of 1895, during an epidemic of diphtheria, and Tims and his family fled. In collaboration for a 2019 gesture of atonement, Bronson and Stimson, with support from the Siksika Nation community, created simultaneous installations addressing these histories, and Bronson delivered A Public Apology to Siksika Nation, in a book and a performance. The two artists have vowed to continue working together to explore a shared interest in listening with an open heart, rebuilding trust, and working toward healing.
"It is not so much about the apology, it's about recognition that someone is listening"…"How often is it that an individual comes to the nation in this way? Stimson asked. "We have to pay attention." – Adrian Stimson, The Globe and Mail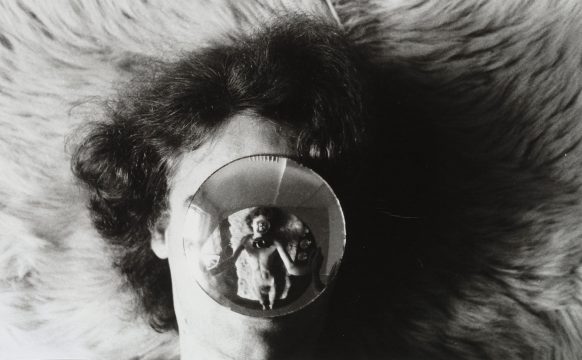 Bronson's photographic series Mirror Sequences was recently on view in the Hirshhorn's exhibition What Absence is Made Of: New Views on the Hirshhorn Collection.
SCHEDULE 
1:50 pm EDT | Zoom broadcast opens
2–3 pm EDT | AA Bronson and Adrian Stimson in conversation with Betsy Johnson
CART (real-time captioning) will be provided for this program. If you have any questions about accessibility for this program, please email hirshhornexperience@si.edu.
This virtual event is part of Talking to Our Time, the Hirshhorn's online series of free, live artist talks featuring a diverse group of artists and collectives. View all events! The project is also in conjunction with #HirshhornInsideOut, the Museum's initiative to bring art into your home.