Balance Build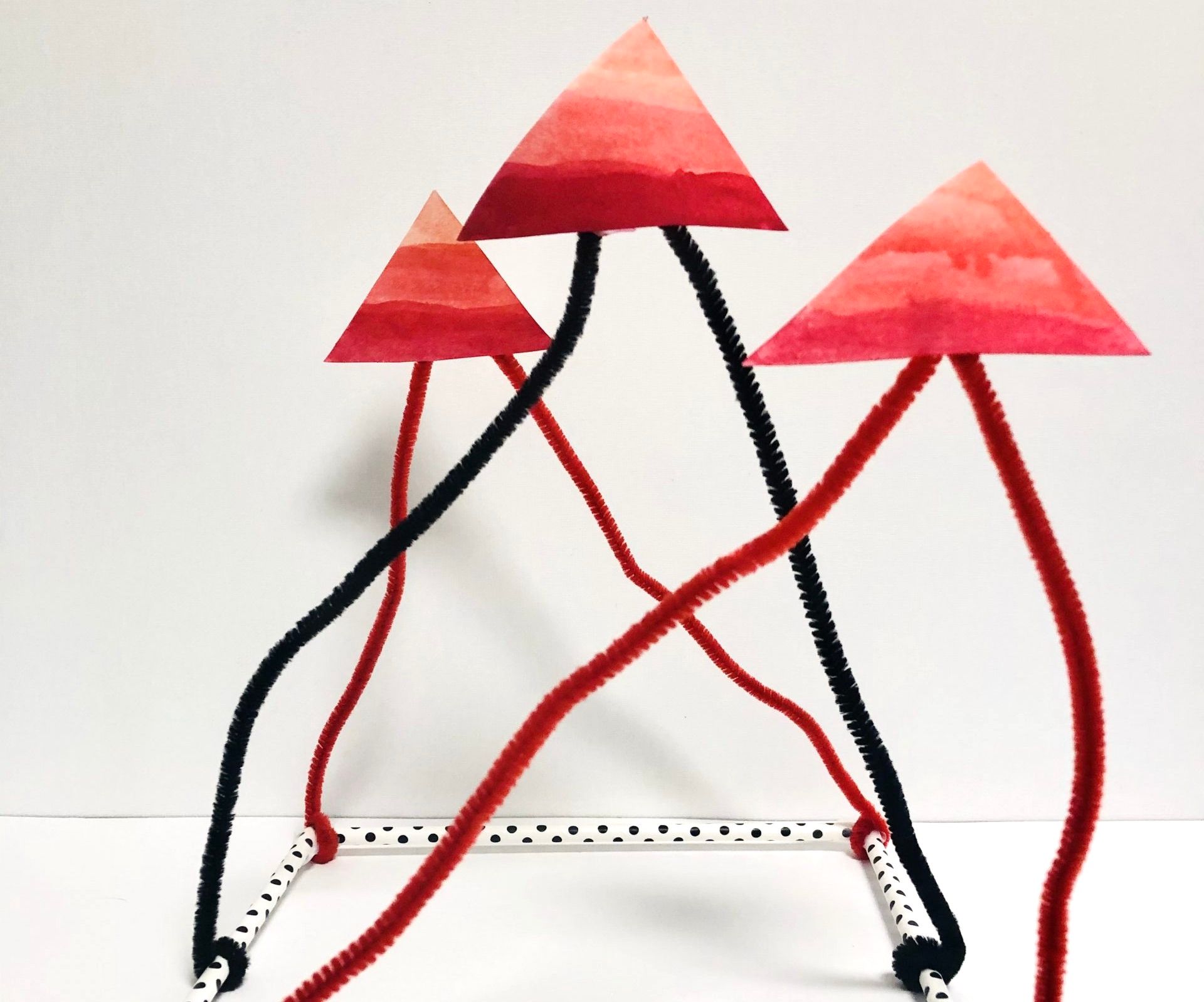 We want to see your creations! Share on social media @hirshhorn with #HirshhornInsideOut.
Make your own mobile inspired by Alexander Calder! 
Time: 30–45 minutes
Skill Level: Intermediate
Topic: Display Design
---
LOOK CLOSELY
Talk about lines, shapes, and colors. What do you see?
How do you think the artist made this?
Examine these details. What do you think these parts do? Talk about your ideas.
What materials do you think the artist used?
You probably noticed that this sculpture has a red wire frame. Inside the frame is a windy black wire and a black metal disc. The disc is attached to a pulley system. Did you guess that this sculpture moves?
This artwork is called Mobile (Motorized Mobile). This mobile is made of wood, paint, wire, sheet metal, and string. The original sculpture had a motor, which was lost and replaced by a hand-crank. Some of the parts move when someone turns the hand-crank.
The artist, Alexander Calder, made many sculptures with moving parts. Some parts move naturally and other parts could be moved with a motor. The artist and his friend Marcel Duchamp gave this new kind of sculpture the name "mobiles." 
MEET ALEXANDER CALDER
Alexander Calder was an American artist (1898-1976) who had a fun imagination, a playful curiosity, and a desire to try new things. 
Alexander Calder grew up in an artistic family that encouraged his creativity from a young age. While attending the Stevens Institute of Technology, he studied engineering, not art. After graduating in 1919, he worked as an automotive engineer and later as a fireman in the boiler room of a ship. Calder had an inspiring experience standing on the ship's deck where he saw the moon and the sunrise at the same time. Calder felt that engineering did not allow him enough creative freedom, and after four years of working as an engineer, he enrolled in art school.   
While attending school at the Art Students League of New York, he worked as an illustrator. One of his assignments was to go and sketch circus performances. He was enraptured with the way the performers moved with life and energy. He began using wire to create sculptures that mimicked the performers' fast movements. Calder thought that sculpting with wire felt a lot like drawing lines on paper, and called it "three-dimensional line drawing." 
Calder was friends with a number of artists, including Marcel Duchamp, Joan Miró, and Fernand Léger. In 1930, Calder visited Piet Mondrian's studio and left with a very exciting idea that would shift his artistic style to being almost entirely abstract. Mondrian had cut out rectangles from colored paper and placed them on his studio wall. When Calder saw all of these pieces of paper on the wall divided by black lines, he had the idea to create abstract art that moved. "I thought at the time how fine it would be if everything there [in Mondrian's studio] moved."
---
MAKE IT!
"These new studies in wire…are more simple than before and therein lie the great possibilities."
– Alexander Calder, statement on wire sculpture, manuscript, Calder Foundation archives, 1929.
Gather some planning materials. Start by finding a piece of paper and a pencil, crayon, or other drawing tool.

Gather building materials. You'll need:

Scissors
Sturdy materials such as cereal or cracker boxes, magazines/newspapers.
Kinetic materials such as wire, pipe cleaners, straws, or string. Kinetic means that something is "of or relating to motion." Kinetic art is art that moves!
Materials to help hold it all together such as tape or glueFor our model project, we used straws, pipe cleaners, scissors, tape, and a piece of paper.


Play with the possibilities. Explore your building materials. Are they hard or soft? Do they bend? Can your materials be combined in some way? Use your scissors or a piece of tape to transform your materials. Try cutting the paper or cardboard into different shapes you like, then combining them with the other materials.

Sketch! Alexander Calder made sketches to work out his ideas. What ideas do you have for your sculpture?

Build your mobile. Use your glue and scissors to alter and combine your materials. For our model project, we taped our straws in the shape of a square to create a mobile base. Next, we attached the pipe cleaners to our base. Then we cut triangles out of our piece of paper and taped the triangles to the ends of the pipe cleaners.

Decorate the surface. You might use markers, paint, or other decorative materials to enhance your mobile. We painted our pieces of paper with orange, red, and maroon watercolors.

Title your work. We named ours Setting Triangles.