Before the Museum Lesson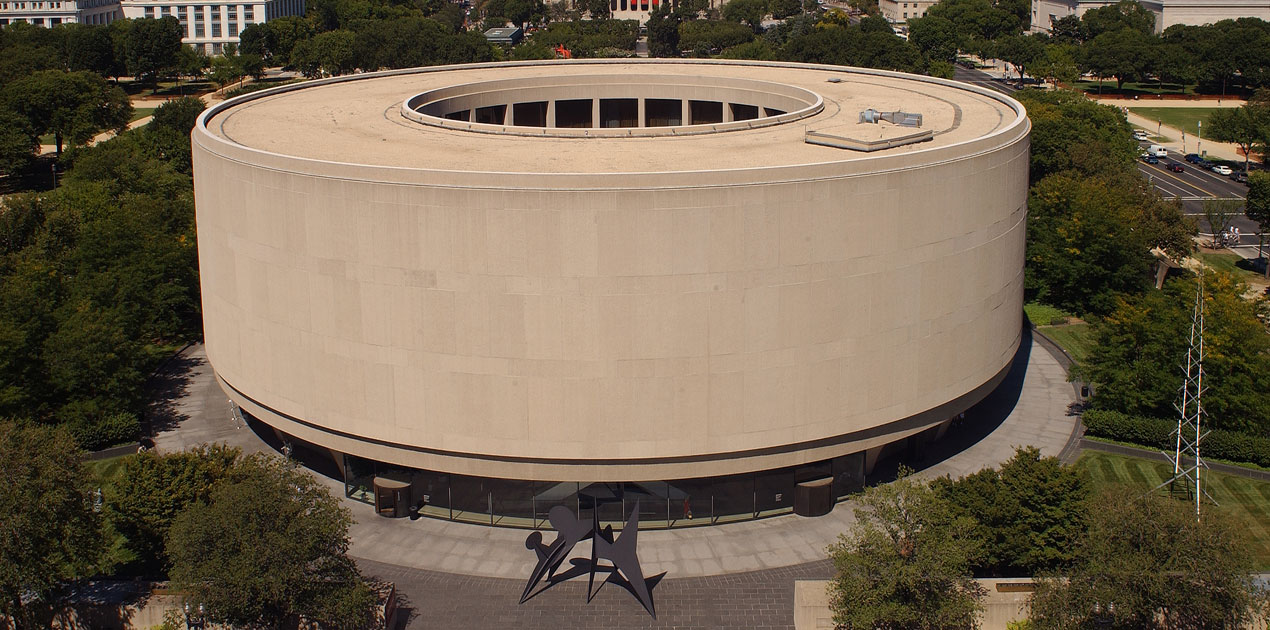 Get to know the Hirshhorn Museum and Sculpture Garden before your visit. Below you will find answers to questions about the Hirshhorn Museum. Scroll to the bottom for downloadable slides to introduce your students to the Hirshhorn!
---
WHERE DID THE HIRSHHORN GET ITS NAME?
The Hirshhorn Museum and Sculpture Garden is named after Joseph H. Hirshhorn (1899–1981), who was a wealthy banker and well-known art collector. Born in Jelgava, Latvia, he was the twelfth of thirteen children. When he was eight years old, he immigrated with his widowed mother and siblings to Brooklyn, New York. In big cities during the 1910s it was common for children to work to help support their families. At the age of thirteen, Joseph Hirshhorn left school to sell newspapers in New York City. Two years later, he started working on Wall Street earning $12 a week. He invested his money in uranium mining and became very wealthy.
When Mr. Hirshhorn was eighteen, he purchased his first artworks. Eventually, Mr. Hirshhorn started to collect art by living painters and sculptors. He often visited artists in their studios and talked with them about their art. In the 1960s, Mr. Hirshhorn decided to give his collection to the Smithsonian so the American people could enjoy it.
What do you collect?
---
WHY IS THE MUSEUM SHAPED LIKE A DOUGHNUT?
The architect who designed the Hirshhorn Museum and Sculpture Garden was named Gordon Bunshaft (1909–1990). He wanted to create a unique building for holding Mr. Hirshhorn's art collection, which was famous for including many sculptures. The Museum was designed to feel like "a large piece of functional sculpture on the National Mall. To do this, he designed a cylinder-shaped building atop four large pillars with a hole near the center (like a doughnut!) so that visitors could see a continuous circular gallery showing all of Mr. Hirshhorn's art collection. The perfectly geometrical cylindrical building was built using concrete mixed with crushed pink granite that sparkles in the sun. At the center (or doughnut hole) consists a continuous wall of windows overlooking a circular fountain. There is only one window on the outer wall of the building, and it overlooks the National Mall. Interested in learning more?
The building seemingly floats on top of a large plaza and garden for displaying sculptures.The raised museum allows visitors to see onto the National Mall. Today, artists are inspired by the unusual shape of the Hirshhorn Museum, and many have created site-specific works on the inside and outside of the building. The curved walls of the galleries allow for larger-than-life artworks to be displayed for everyone to see.
How do you show off your collection?
---
WHAT TYPE OF ART WILL I SEE AT THE HIRSHHORN?
The Hirshhorn is the National Museum of Modern and Contemporary Art and is a place for people to encounter the art, artists, and ideas of our time! Not quite sure what the words "modern" and "contemporary" art mean? For some people these words mean the same thing! For art experts, these words have some differences. Modern art began in France around 150 years ago. The first modern artists wanted to make art in an entirely new way, so they experimented and came up with new ways of making art through their process, materials, and subject matter. Contemporary is a word used to describe art made by living artists.
Every time you visit the Hirshhorn, you will find something new to see! Some artworks like Pickett's Charge and Belief + Doubt were made specifically for the galleries they are in! This kind of art is called installation art. You might also find exhibitions that look back at many works an artist produced over their career (sometimes called a retrospective) or an exhibition of artworks that share something in common. During your visit, you can also expect to see art made from interesting materials or ideas.
Joseph Hirshhorn collected art made by his peers, which meant that what he donated to the Museum was art made by European and American male artists. Today, the Hirshhorn's art experts, called curators, are working together to fill the gaps in the collection to more accurately reflect the diversity, cultures, and ideas of our time.
Check out our current exhibitions to see what will be on view during your visit!