Collage For Change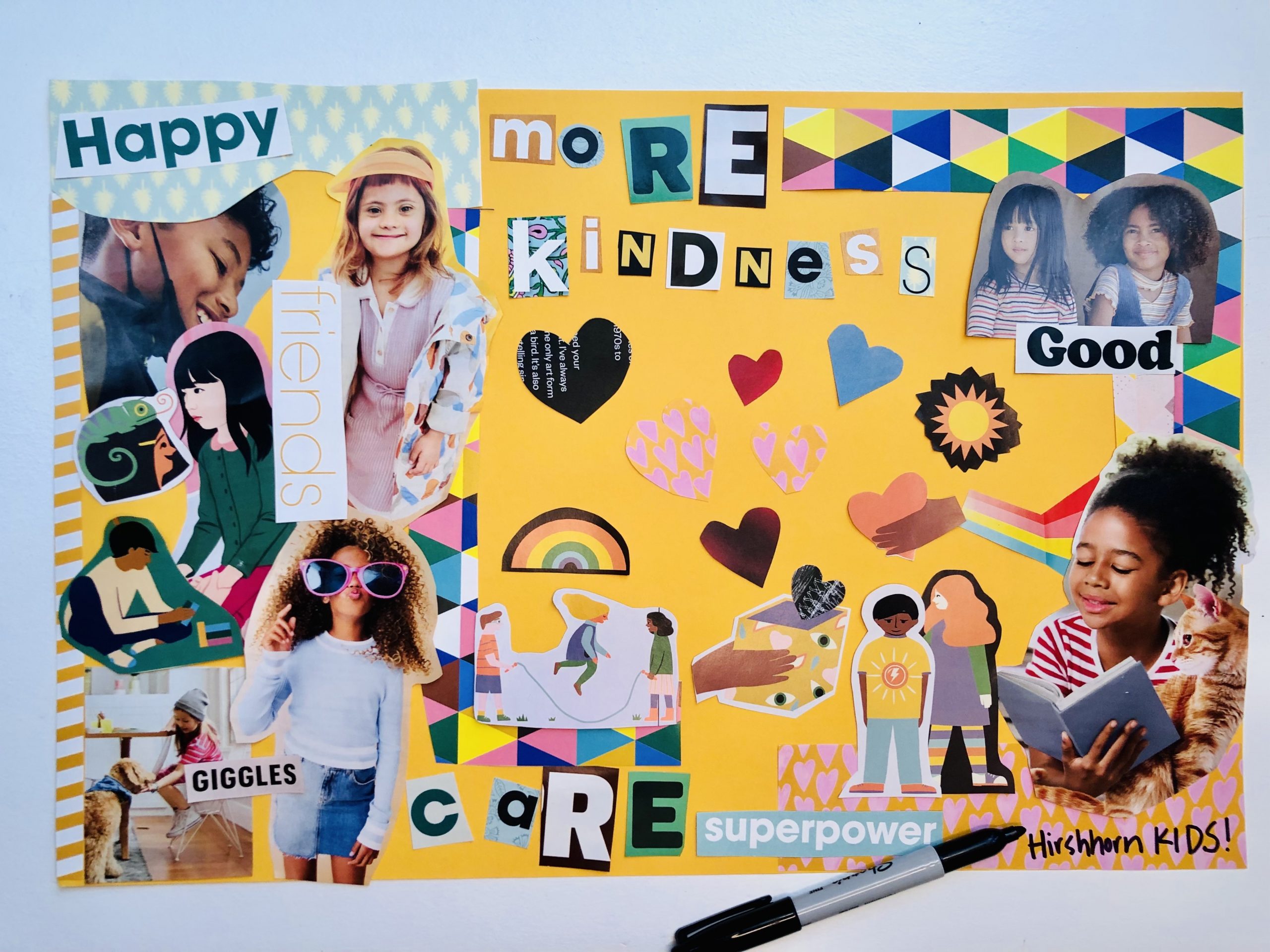 What do you want to change? Assemble a collage inspired by Loïs Mailou Jones's Challenge—America. Choose a cause that you care about, and then arrange and rearrange images to create a collage that inspires change in your community!
Time: 45 minutes + 
Grade Level: grades 3-5, adaptable for older students
Art Speak: collage, activist art
---
LOOK CLOSELY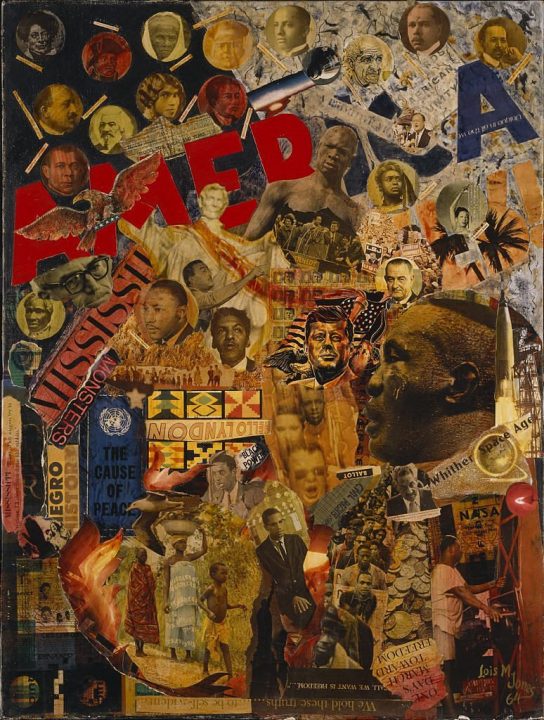 Look Closely. Let your eyes zigzag across Challenge—America, pausing on faces and words you recognize. Share 5 things you notice with a friend.
The artist, Loïs Mailou Jones, attended the 1963 March on Washington and sketched as she listened to Martin Luther King Jr. talk about his dream for the future of the United States. Later, in her studio, Jones made several watercolors and this collage from newspapers and magazines to remember the event. A collage is a type of art made by combining different two-dimensional materials, such as paper, magazines, and/or newspapers, together. What do you see in Challenge—America that reminds you of Martin Luther King's "I Have a Dream" speech?
What else do you think this collage is about? What makes you say that? You may have noticed that the artist added in rocket ships and words relating to space travel! The artist added these details to show that while there was great effort and thought put towards space travel in the 1960s, there needed to be even greater effort to change the way people treated each other on earth. How might Challenge—America be related to events that are happening in the United States today? What makes you say that?
Here, Loïs Mailou Jones uses collage—not paint—as a way to show the many diverse cultures that make up the United States of America. Challenge—America includes images of Americans who fought for racial equality in the United States. Why do you think she titled this collage Challenge–America?
---
ABOUT LOÏS MAILOU JONES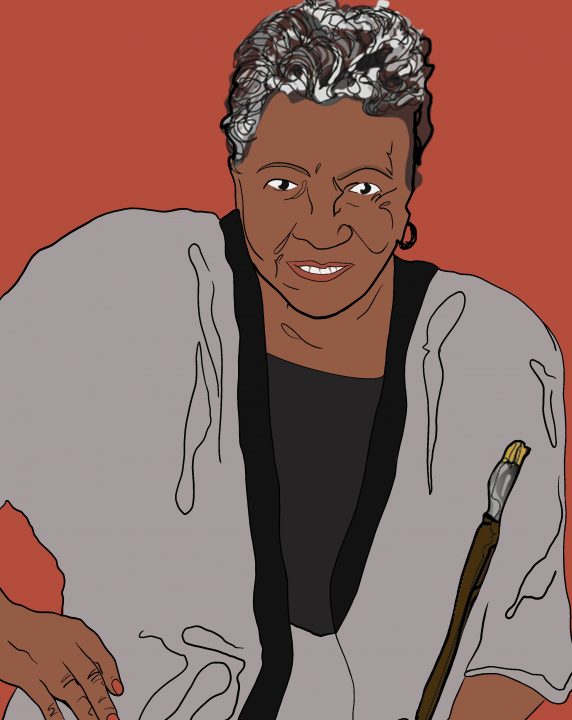 Loïs Mailou Jones (b. Boston, 1905–1998) was an influential American artist, designer, and educator. Over her seven decade long artistic career she designed fabrics, painted the world around her, assembled collages, and created bold paintings about African American history and culture. Jones's art was influenced by her many travels to France, Haiti, and many African countries! During her 47 years as a professor at Howard University in Washington, DC, Jones taught thousands of artists and inspired many generations of Black artists.
Jones was a talented artist, and yet museums refused to exhibit her work in the mid-twentieth century because she was a Black woman. Later Jones reflected, "women artists, white or black, have had it hard and it was doubly hard for the [B]lack woman. I know I have had to work twice as hard to make it because of that barrier." Jones was determined to become an artist and she did. Today, her work is found in museums all over the world.
Want to learn more? Read more about Loïs Mailou Jones's life and work.
---
MAKE IT!
Loïs Mailou Jones glued images of Black American activists, space travel, and books to show the changes she wanted to see happen in the United States during the 1960s. For this project, you will make a collage about a change you want to see in the world through pictures and words in found images.
Gather your materials. To begin you will need a piece of paper, pencil, scissors, and a glue stick. Next you will need found images, we recommend magazines, images, newspapers, photographs, or greeting cards. (Please make sure to check with an adult if your found images are safe to use!)

Brainstorm. What changes do you want to see in the world? In Challenge—America, Jones wanted to see a positive change in how African Americans were treated. Maybe, like Jones, you want people to treat others with more kindness; or to inspire your community to take care of the ocean; or an entirely different change! Once you have chosen the change you want to see in the world, write it on your paper with a pencil.

Search and snip.  In her collage, Jones chose to include words and pictures of influential people, including presidents and African American leaders; cut-outs of eagles; and images of space travel to symbolize the changes in equality she wanted to see in the United States. What kinds of pictures and words would show the change you want to see in the world? Search through magazines, newspapers, and/or any other paper you have for pictures and words for your collage. Once you've found an image or word, carefully cut it out with scissors. If you can't find a word, try cutting out separate letters just like Jones did with Challenge—America in her collage. 

Arrange and rearrange! Place your cut-out words and pictures on your piece of paper or cardboard and explore the different arrangements you can make. Just as Jones did, you can layer your images and words! We recommend filling your entire page.

Glue it down. Once you have found an arrangement you like, glue down your pictures and words.

Title and sign your work. Like Jones, will part of your title be found in the words of the artwork? Will your title be a command, or will it inspire change? Don't forget to sign your work—Jones made sure everyone knew she was the artist!

Exhibit your art. Put your collage in a place where people can see it so they can be inspired to create positive change in the world!

---
We want to see your creations! Share on social media @hirshhorn with #HirshhornInsideOut.