Directions: Ernesto Neto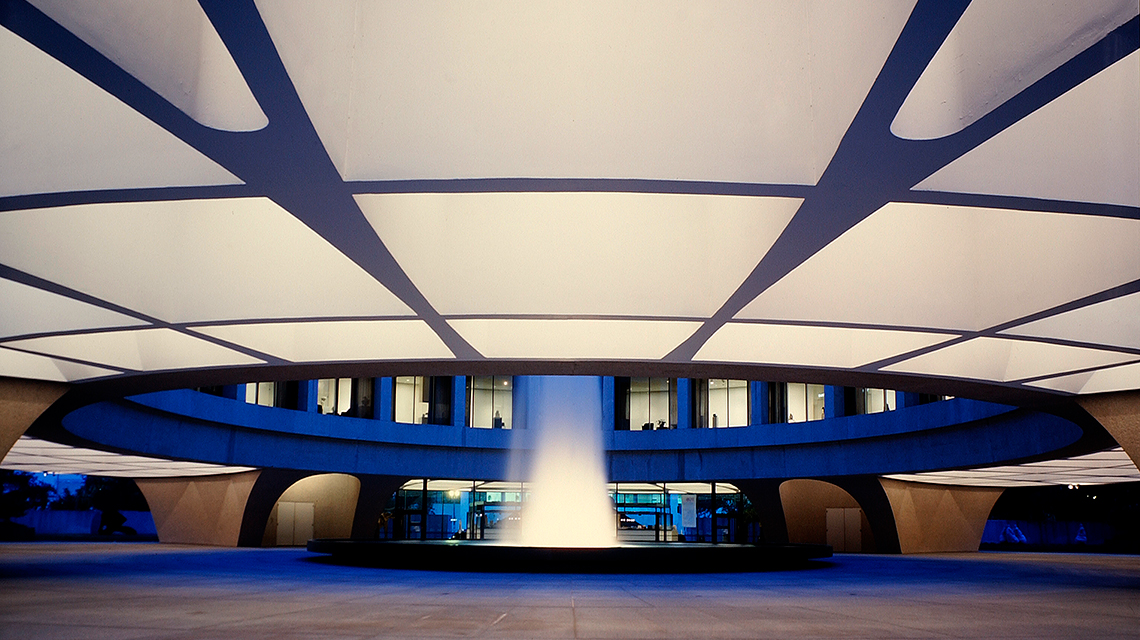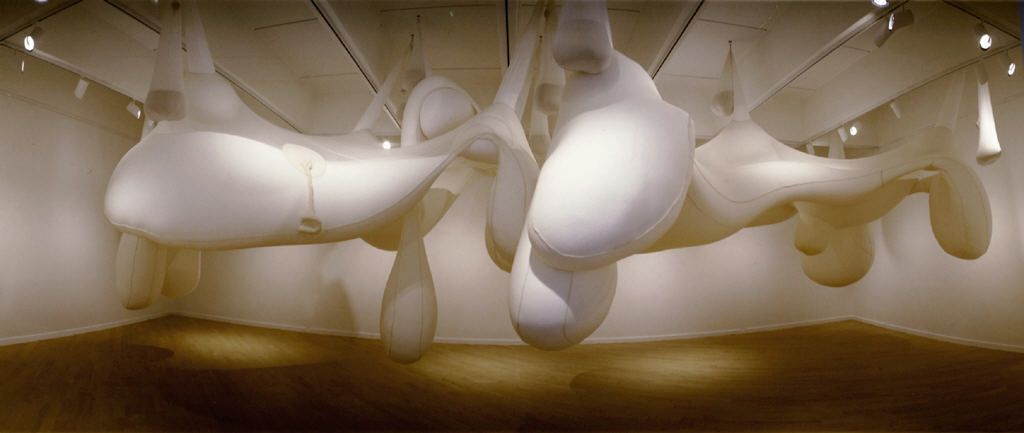 Installation view of Directions: Ernesto Neto, 2002, at the Hirshhorn Museum and Sculpture Garden
March 21 to June 23, 2002
Directions – Ernesto Neto presents a new site-specific installation, made from more than 100 yards of sheer, stretchable polyamide fabric, by the Brazilian artist (b. 1964), known for engulfing viewers in sensuous environments of organic forms and cushiony surfaces. Neto, who lives and works in Rio de Janeiro, has exhibited at the prestigious international biennials of São Paulo (1998) and Venice (2001) and a number of American museum venues, from the Guggenheim Museum's traveling show, Brazil: Body and Soul, to installations at the Carnegie International in Pittsburgh and The Baltimore Museum of Art.
Neto's works are provocative, light-filled, and participatory. The suspended Directions gallery piece, titled The Dangerous Logic of Wooing, consists of two large interlocked forms, filled with over 1000 cubic feet of tiny Styrofoam pellets and counterbalanced in the air by nearly 1000 pounds of white rice distributed in twelve sacks. The monumental shapes, with their dangling "arms" and "legs," suggest biological entities. The marriage of these forms, one with a feminine character and the other with more masculine traits is as much architectural as it is corporeal.
Neto further evolves a trend in Brazilian art, associated with Hélio Oiticica and Lygia Clark, that is concerned with stimulating the senses and encouraging communal exploration. The modernist sculpture of Constantin Brancusi and Alexander Calder, modern ballet, astronomy and quantum mechanics, and Stanley Kubrick's 1968 film 2001: A Space Odyssey have also influenced Neto's vision.
Curator of Contemporary Art Olga Viso organized the exhibition, which is supported through the generosity of Carlos and Rosa de la Cruz, Eugenio López-JUMEX Collection, Sherry and Joel Mallin Family Foundation, Trellis Fund, contributions to the Hirshhorn's Annual Circle, and the assistance of staff from The Fabric Workshop and Museum. In-kind support is provided by McCormick & Company, Inc. A free illustrated brochure is available. Directions Gallery, third floor.