Directions: Terence Gower, Public Spirit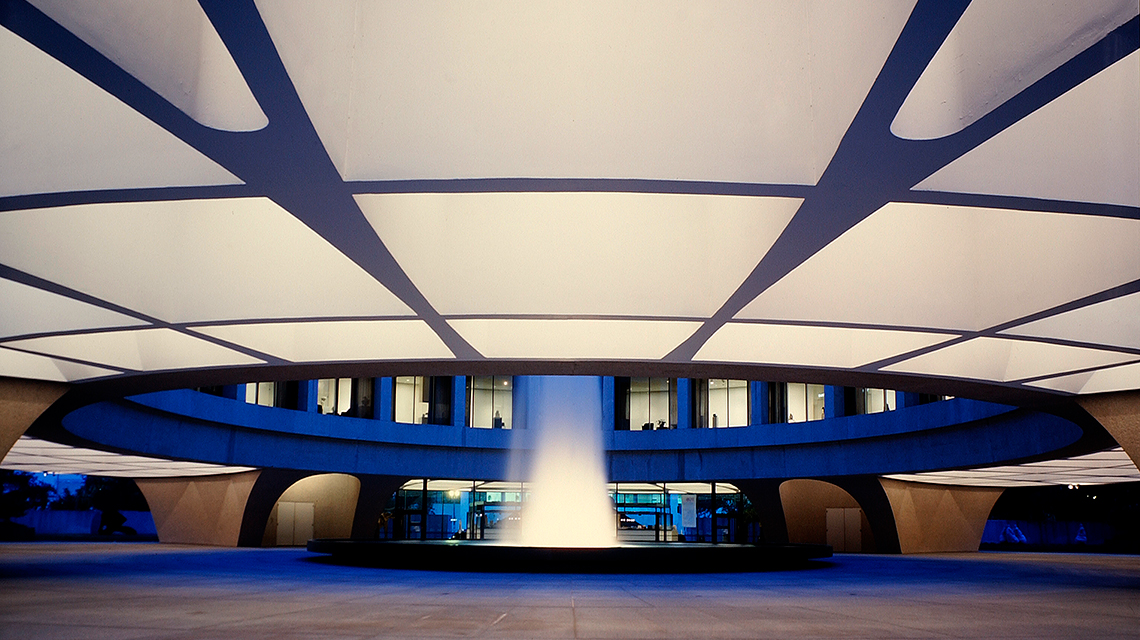 Friday, October 10, 2008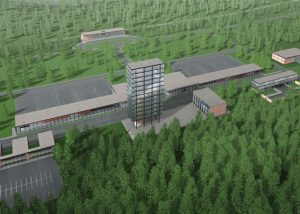 This fall, as the Hirshhorn devotes its galleries to its collection and new acquisitions, it also delves into its history with "Directions: Terence Gower, Public Spirit," on view from Nov. 5 through March 22, 2009. The Canadian artist considers a little-known period in the history of founding-donor Joseph H. Hirshhorn's quest to find a home for his collection. Gower's research-based multimedia installation reveals Hirshhorn's plan in the 1950s to build a town with art and culture at its core in the wilderness of Ontario, Canada. The original designs for the community were never realized, thus Hirshhorn was compelled to continue his pursuit of a permanent home for his art.
Based on materials uncovered by Gower as a Smithsonian Artist Research Fellow in 2007, the project presents an animated video "tour" of the town, aluminum sculptures derived from original models of the museum and office tower buildings and an installation of four cases of archival materials. The cases feature a number of materials Gower discovered during his research, texts written by the artist and a selection of works on paper from the Hirshhorn's collection dating from the 1930s to 1950s by artists such as Man Ray, Josef Albers, Irene Rice Pereira and Victor Vasarely. These are works that might have been included in an inaugural exhibition at the museum had Hirshhorn, Ontario, been realized.
In 1953, at the height of the Cold War, Hirshhorn made one of the largest uranium finds in North America. Uranium is the essential ingredient for nuclear fission, and Hirshhorn's timely discovery was essential to U.S. competition in the arms race. He used his newly acquired wealth to build a vast art collection at breakneck speed, and intended to one day make this collection available to the public. He collected the art of living artists compulsively, acquiring an average of two artworks per day after the mid-1950s. However, Hirshhorn made his purchases not for profit but rather for his love of art and for posterity.
In 1955, Hirshhorn set out to build a Utopian "town of culture" near his mines with a museum, library and other essential public and residential buildings. Looking to provide a quality community for the thousands of mining personnel he employed, he also wanted to give something back to the region where he had made his fortune. The town of Hirshhorn, Ontario, was to be a bastion of beauty, culture and education.
The protectionist anxieties of neighboring communities, however, who feared extra competition from the new town for boom-time dollars, prevented Hirshhorn, Ontario, from ever being built. But the sense of public spirit that went into its planning led, 10 years later, to an exchange of letters between Hirshhorn and President and Ladybird Johnson. The result of this exchange was the collector's generous gift that laid the foundation for the Hirshhorn Museum and Sculpture Garden in its present location on the National Mall.
The "Directions" series highlights the vitality, diversity and inventiveness that characterizes contemporary art. It has brought new work by emerging and established artists to Washington, D.C., since 1987. This exhibition is made possible in part by Trellis Fund and the Peter Norton Family Foundation and is organized by Hirshhorn curator Anne Ellegood.
Related Programs
An "In Conversation" public program takes place between the artist and exhibition curator Anne Ellegood on Friday, Nov. 7, at 12:30 p.m. in the Hirshhorn's Ring Auditorium. That evening, the Hirshhorn celebrates After Hours from 8 p.m. until midnight. The entire museum will be open, and Dan Deacon and DJ Gavin Holland will perform.