About Doug Aitken: SONG 1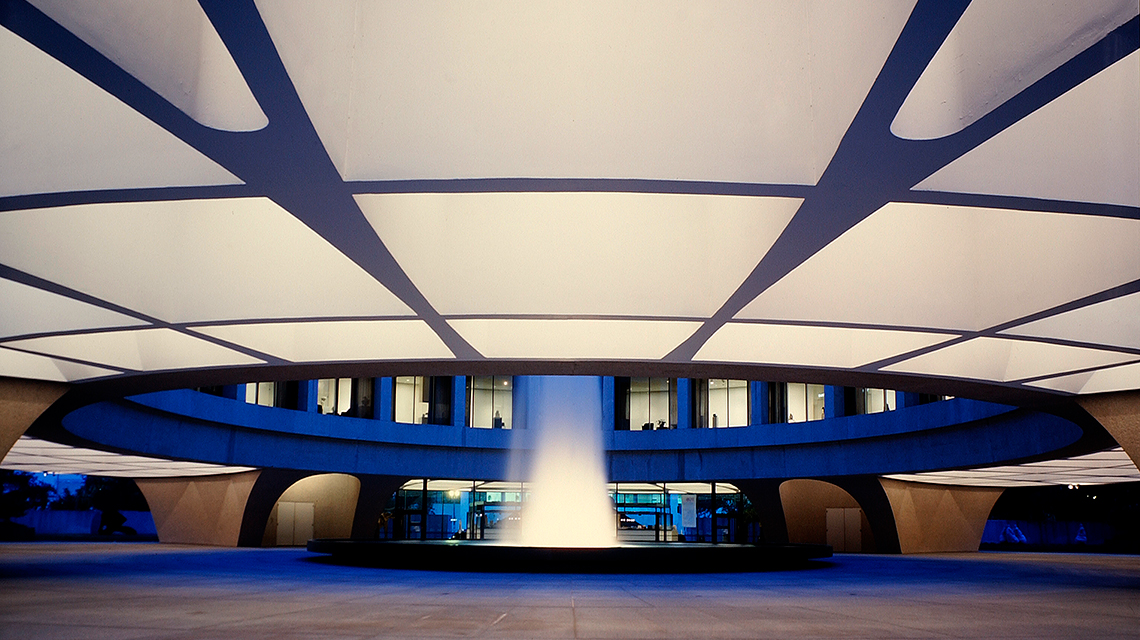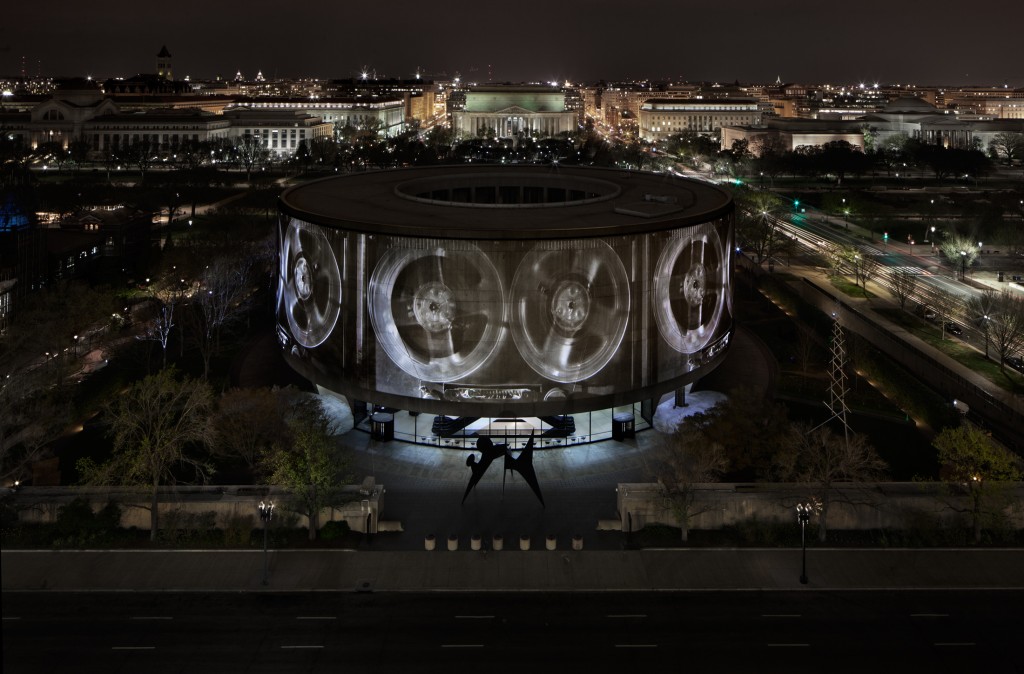 March 22 to May 20, 2012
Sunset to Midnight
For nearly eight weeks this spring, internationally renowned artist Doug Aitken (American, b. Redondo Beach, California, 1968; lives and works in Los Angeles and New York) will illuminate the entire facade of the Hirshhorn's iconic building, transforming it into "liquid architecture" and an urban soundscape. Using eleven high-definition video projectors, Aitken will seamlessly blend imagery to envelop the Museum's exterior, creating a work that redefines cinematic space. A bold commission that will enter the Hirshhorn's permanent collection and enliven its public space, "SONG 1" allows visitors to the National Mall a chance to witness the first-ever work of 360-degree convex-screen cinema.
This work, which Aitken considers "a reflection of contemporary reality," will alter the relationship between the museum building and its urban environment. "The building is at times emphasized and at times disappears completely into the content of the artwork," he writes. At these latter moments, the structure recedes into cinematic space, rotating, rising and evolving into new forms.
The interaction between performance and environment is a central concern of the artist, not merely in the fictional space of the film but in physical space with the viewer. As "SONG 1" is an exploration of the contemporary condition, Aitken has employed a broad cross-section of performers in order to realize this vision, with contributions coming from well-known personalities such as actress Tilda Swinton, musician John Doe, from the Los Angeles punk band X, and avant-folk singer Devendra Banhart, as well as street dancers, members of underground bands, gospel singers, and a host of other non-actors.
Aitken has structured "SONG 1" around "I Only Have Eyes for You," a pop standard written in 1934 that melds an ultraminimal statement of desire and dedication with an unforgettable composition. In order to emphasize the universality of the song, dozens of versions of it have been specially created for "SONG 1" by a stylistically diverse group of musicians, including Beck, James Murphy of LCD Soundsystem, Banhart, Mountains, CFCF, High Places, No Age, and Lucky Dragons.
"SONG 1" is a continuous experience; it is unlikely that anyone will perceive it the same way twice. The piece, which is impossible to see in its entirety from a single vantage point, compels the viewer to walk around it in order to experience different visuals and parts of the related sound mix. Wherever the Hirshhorn is visible, "SONG 1" will be on view.
Organized by Hirshhorn deputy director and chief curator Kerry Brougher, the exhibition is accompanied by a fully illustrated artist's book, containing essays by Brougher, rock critic Barney Hoskyns, author of books including "Waiting for the Sun: Strange Days, Weird Scenes, and the Sound of Los Angeles," 1996, and Dean Kuipers, an editor at the Los Angeles Times who writes often on music and collaborated with Aitken on the book "I Am a Bullet: Scenes from an Accelerating Culture," 2000.
Doug Aitken, SONG 1, 2012. Joseph H. Hirshhorn Bequest Fund and Anonymous Gift, 2012, dedicated in honor of Kerry Brougher's service to the Hirshhorn Museum and Sculpture Garden (2000–2014), 2014.
Doug Aitken: SONG 1 is organized by the Hirshhorn Museum and Sculpture Garden, Smithsonian Institution. Artwork courtesy 303 Gallery, New York; Galerie Eva Presenhuber, Zürich; Victoria Miro Gallery, London; and Regen Projects, Los Angeles. The installation was generously supported by YoungArts, the core program of the National Foundation for Advancement in the Arts, and the Hirshhorn Collections Fund. Photo © Frederick Charles, fcharles.com.
The extension of Doug Aitken: SONG 1 was made possible by the generous support of The American Institute of Architects and WorldStage, Inc.
All images of Doug Aitken: SONG 1 copyright 2012 Doug Aitken Workshop.