Douglas Gordon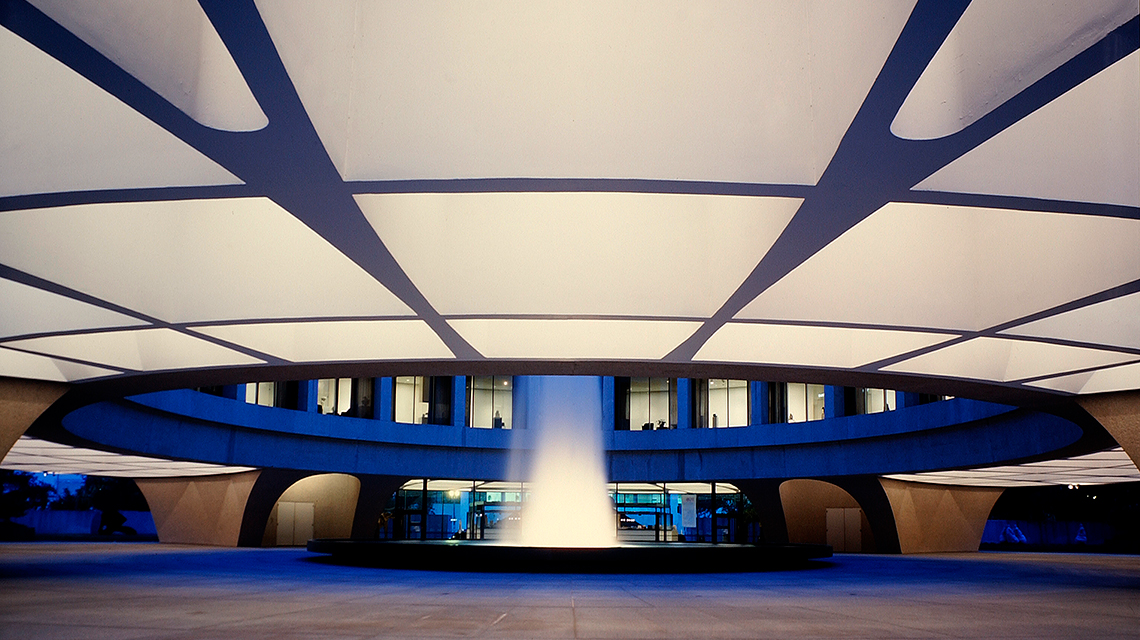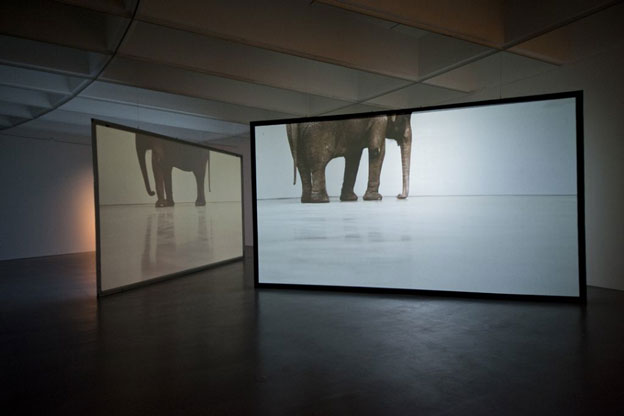 Installation view of Douglas Gordon, 2004, at the Hirshhorn Museum and Sculpture Garden
February 12 to May 9, 2004
The Smithsonian's Hirshhorn Museum and Sculpture Garden will serve as the exclusive East Coast venue for the first North American survey of works by Scottish artist Douglas Gordon (b. 1966, Glasgow, Scotland). On view from Feb. 12 through May 9, the exhibition Douglas Gordon will include large-scale projected video installations, text pieces, still photographs and filmed images on video monitors created by the artist from 1993 to 2002. A highlight of the D.C. installation will be the artist's recent work Play Dead: Real Time (2002), which makes its U.S. museum debut at the Hirshhorn.
Best known for his film and video installations that draw upon classic Hollywood movies, Gordon, 37, studied at The Glasgow School of Art and The Slade School of Fine Art, London. His performance-oriented collaborations became the focus of the Glasgow art scene during the late 1980s and early 1990s. Gordon's work drew international attention with his 1993 piece 24 Hour Psycho, in which a radically slowed version of Alfred Hitchcock's film is projected on a suspended screen.
As in 24 Hour Psycho, much of Gordon's work mines popular culture and alters existing sources — from movies like Rear Window, The Exorcist and Taxi Driver, to obscure documentary footage — to challenge perceptions and recast viewers' expectations. The artist has received three of the most esteemed international accolades in contemporary art: the Guggenheim Museum's Hugo Boss Prize (1998), the Tate's Turner Prize (1996) and the Venice Biennale Premio (1997). Darkness and light, the tension between good and evil, and doppelgänger imagery are key to Gordon's conceptual approach. Best known for projected video installations that "sculpt" time, Gordon often alters existing source material to explore memory, perception and ideas about the human condition.
Douglas Gordon debuted at The Museum of Contemporary Art, Los Angeles, in Sept. 2001 and has traveled to the Vancouver Art Gallery, Vancouver (spring 2002) and Museo Tamayo Arte Contemporáneo, Mexico City (spring 2003).
Douglas Gordon has been organized by The Museum of Contemporary Art, Los Angeles, and was curated by Russell Ferguson, deputy director for exhibitions and programs and chief curator at the University of California, Los Angeles, Hammer Museum and former associate curator at The Museum of Contemporary Art, Los Angeles. The Hirshhorn presentation has been organized by Kerry Brougher and Associate Curator Kelly Gordon. It is accompanied by a 184-page illustrated four-color catalog, which includes an interview with the artist and essays by Russell Ferguson and four other contributors. 
The exhibition is made possible by generous support from Susan Bay-Nimoy and Leonard Nimoy, Catharine and Jeffrey Soros, The Thornton S. Glide, Jr. and Katrina D. Glide Foundation, The Peter Norton Family Foundation, the MOCA Contemporaries and the New Media Project. Additional support for the exhibition catalog has been provided by Art for Arts Sake. The Hirshhorn's presentation of Douglas Gordon is made possible in part by Aaron and Barbara Levine and with special funding from the Holenia Trust in memory of Joseph H. Hirshhorn.