ENVELOPING SITE-SPECIFIC SCULPTURE FEATURED IN HIRSHHORN'S "DIRECTIONS—ERNESTO NETO" MARCH 21 – JUNE 23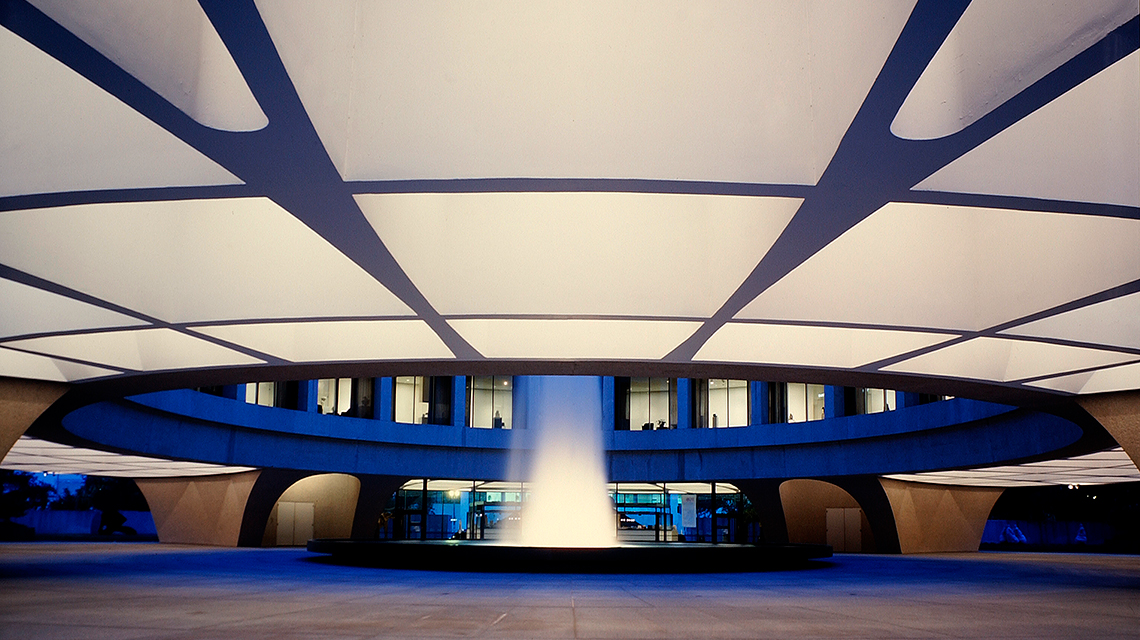 Friday, March 8, 2002
Press preview: Wednesday, March 20, 10 a.m. – noon
Curatorial presentation at 10:30 a.m. Refreshments served. R.S.V.P. to (202) 357-1618 ext. 3.
Note to editors: Interviews and photo ops. during the work's creation may be possible. Please contact: (202) 357-1618
"Directions—Ernesto Neto," featuring a large, amoeba-like sculpture suspended from the ceiling by the contemporary Brazilian artist (b. 1964), opens on Thursday, March 21, at the Smithsonian's Hirshhorn Museum and Sculpture Garden, Independence Avenue at Seventh Street S.W. The show continues through June 23 on the museum's third floor.
Neto, whose large fabric sculptures and participatory environments have received increasing international attention over the past few years, will discuss his new work made especially for the Directions gallery on March 21 at 12:30 p.m. Joining the artist for this on-site talk will be Olga Viso, the museum's curator of contemporary art and the exhibition organizer. Admission is free.
"Neto's sculptures and installations are indeed singular in contemporary art," says curator Viso. "His works, which he describes as a 'kind of body/space/landscape,' not only arrest us visually but also make us keenly aware of the spaces inside, around and between our bodies. We become voyagers in sensorial odysseys."
Measuring 45 by 15 feet, the soft, hovering sculpture almost completely fills the Directions gallery. The artist's project, composed of two overlapping tiers, one raised high and the other dangling lower, suggests biological forms, an architectural shelter or space-age design. His basic material is off-white, translucent Lycra—a textile typically used for women's hosiery—stuffed with more than 1000 cubic feet of tiny Styrofoam pellets.
Neto was born and educated in Rio de Janeiro, which remains his home. His mother, a landscape designer, introduced him to ideas relating to the therapeutic potential of art prevalent in Brazil in the 1970s and developed by conceptual artists Hélio Oiticica (1937-1980) and Lygia Clark (1920-1988). Their groundbreaking work of the 1960s sought to transform behavior by engaging the senses and representing the body in abstract ways. The modernist sculpture of Constantin Brancusi and Alexander Calder, modern ballet, astronomy and quantum mechanics, and Stanley Kubrick's 1968 film "2001: A Space Odyssey" also spurred Neto's vision early in his career.
By the early 1990s, Neto evolved a distinct sculptural idiom. His early works included hand-held objects and suspended polyp-shapes created by filling Lycra with lead or Styrofoam pellets, or aromatic spices, such as lavender, clove and tumeric. In 1998, the artist made his first fabric rooms, stretching membranes of Lycra tulle from gallery walls, ceilings and floors and inviting barefoot visitors to enter into and pass through cavities that evoke the womb, interiors of churches, and sailing vessels or spaceships. During the late 1990s, Neto added soft "huggable" monoliths to his repertoire of body-scaled forms.
In 2001, Neto's installations were featured in the Brazilian Pavilion and international group show at the Venice Biennale; "BodySpace" at the Baltimore Museum of Art; and the Guggenheim Museum's traveling show of Brazilian art through the ages, "Brazil: Body and Soul." Elsewhere in the United States, Neto has had solo exhibitions at the Wexner Center for the Arts, Ohio State University (2000); SITE Santa Fe, New Mexico (2000); and the Contemporary Arts Museum, Houston (1999). His work was also showcased at the "Carnegie International 1999/2000" in Pittsburgh.
The exhibition is accompanied by a free, illustrated brochure with an essay by Viso. "Directions—Ernesto Neto" is supported through the generosity of Carlos and Rosa de la Cruz, Eugenio López-JUMEX Collection, Sherry and Joel Mallin Family Foundation, Trellis Fund, contributions to the Hirshhorn's Annual Circle, and the assistance of staff from The Fabric Workshop and Museum. In-kind support is provided by McCormick & Company, Inc.
The Hirshhorn Museum's hours are 10 a.m. to 5:30 p.m., seven days a week (with hours extended to 8 p.m. on Thursdays May 30 – Aug. 29 as part of Smithsonian Art Night). By Metrorail, take the L'Enfant Plaza Metro stop, exit at Maryland Avenue and Seventh Street. Admission to the museum is free.
FREE PUBLIC PROGRAMS
In addition to the "Meet the Artist" program on Thursday, March 21, at 12:30 p.m., the following free programs are offered in conjunction with "Directions—Ernesto Neto."
"Brazilian Family Day: The Art and Culture of Ernesto Neto"
Saturday, May 11, 11 a.m.—2 p.m.
Celebrate with other families in a festival of traditional Brazilian music, storytelling, arts and crafts, dance, and food. For more information, call (202) 357-3235 ext. 117, or e-mail education@hmsg.si.edu.
"Art Explorers Workshop for Adults: Biomorphic Musings"
Friday, May 17, 1—3 p.m.
The playful, biomorphic works of Ernesto Neto are the creative source for this workshop conducted by artist Michèle Colburn. Using sheer, netted fabric and scented materials, participants will sew or glue their own soft sculptural creations. Pre-registration is required. Call (202) 357-3235 ext. 117, or e-mail education@hmsg.si.edu.
"Improv Art: Sensory Surprises"
Thursdays, June 6, 13, 20, 4:30—6:30 p.m.
Children ages 5 to 11 and their adult companions explore Neto's installation and then make their own sculpture to stimulate the senses. No registration required.
Art Night Gallery Talk
Thursday, June 20, at 7 p.m.
Curator Olga Viso will discuss the exhibition. Meet at the Information Desk.