FREE MUSIC RETURNS TO THE MALL WITH HIRSHHORN'S SUMMER SERIES "JAZZ-O-SCOPE"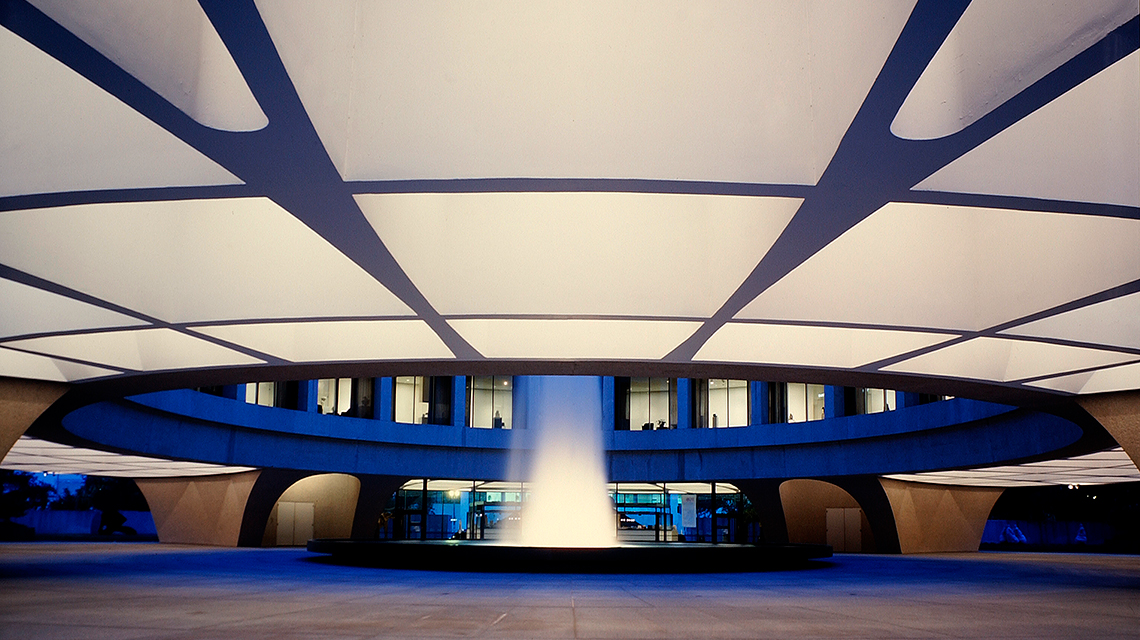 Tuesday, June 10, 2003
"Jazz-o-scope," a weekly series of free evening jazz concerts at the Smithsonian's Hirshhorn Museum and Sculpture Garden, begins Thursday, June 26, and continues through Thursday, Aug. 28 (no event Aug. 21), from 5:30 to 7 p.m., unless otherwise noted. The concerts are held on the museum's outdoor Plaza (weather permitting; otherwise Ring Auditorium), and seating is available on a first-come, first-served basis.
The free music series is part of the Hirshhorn's "Art Night on the Mall" programming, which is presented in conjunction with "Gyroscope," the museum's celebration of its permanent collection.
"Jazz-o-scope" kicks off on June 26 with singer Ericka Ovette and the Larry Eanet Quartet performing songs that evoke the great ladies of jazz, and moves into high gear with a return performance by "Keter Betts' All Stars" on July 17. That concert will mark Betts' 75th birthday, and free cake will be served to honor this Washington jazz legend.
Several concerts will highlight African influences on the world of jazz, including Walter Bell's "Latin Jazz Unit" (July 31) and "Calle Luna con Imani" (Aug. 28). A special musical double-header on Aug. 14 will feature the Yoruba-, conga- and rumba-inspired "Ashè Moyubbá Folkloric Ensemble" (5-6:30 p.m.) followed by the seven-piece ensemble "CuBop's" exploration of the multicultural umbrella of Latin jazz (6:30-8 p.m.).
Latin music is supported by federal funds for the Latino programming, administered by the Smithsonian Center for Latino Initiatives. The music program is also supported by an anonymous donor with additional funding from "America's Jazz Heritage, A Partnership of the Lila Wallace-Reader's Digest Fund and the Smithsonian Institution." Additional support is provided by the Holenia Trust in memory of Joseph H. Hirshhorn.
The museum's galleries and shop will be open until 8 p.m. during "Jazz-o-scope" and other "Art Night" programs, including gallery talks, lectures, films and family activities. The Smithsonian's "Art Night on the Mall" also offers programs at the Arthur M. Sackler Gallery, Freer Gallery of Art and the National Museum of African Art. For an "Art Night" schedule, call (202) 357-2700. For a complete listing of Hirshhorn events, visit the Hirshhorn Web site at https://hirshhorn.si.edu. The museum is located on Independence Avenue and Seventh Street S.W. (nearest Metro: L'Enfant Plaza, Maryland Avenue exit).
Hirshhorn "Jazz-o-scope" Performance Schedule
(All concerts are on Thursdays from 5:30 to 7 p.m., unless otherwise noted)
June 26: Ericka Ovette and the Larry Eanet Quartet
Evoking the great ladies of jazz, New Yorker Ovette presents song as a storytelling medium to the music of the Larry Eanet Quartet (Larry Eanet on piano, Chuck Redd on drums, Tommy Cecil on bass and Paul Piper on guitar).
July 3: Rumba Club
Guests will be able to dance until they drop to the sounds of salsa and Latin jazz.
July 10: Marty Nau Quintet
A tribute to Charlie Parker by the Marty Nau Quintet.
July 17: Keter Betts' All Stars and Birthday Bash
Five of the area's pre-eminent performers–Nasar Abadey, Tim Eyreman, Dick Morgan, Chuck Redd and Paul A.Wingo–combine talents for their second "Art Night" performance. Cake for Keter Betts' 75th birthday included!
July 24: Fred Yonnet
French jazz harmonica player Yonnet is a regular on the French TV show "Canal Plus" and performs in Parisian jazz and blues clubs.
July 31: Walter Bell's Latin Jazz Unit
The evening features Afro-Brazilian, "straight-ahead" and Latin jazz influenced by Herbie Mann, Mongo Santamaria, Hubert Laws, Cal Tjader and Antonio Carlos Jobim.
Aug. 7: Bobby Parker
Singer/guitarist Bobby Parker and his band demonstrate the relationship between blues and jazz.
Aug. 14: Ashè Moyubbá Folkloric Ensemble (5–6:30 p.m.) and CuBop (6:30-8 p.m.)
The African influence on Latin jazz is illustrated in this extravaganza of energetic Afro-Cuban drumming and song performances of Yoruba, conga and rumba–with a fresh twist of contemporary dance. Organized in conjunction with the Latin American Folk Institute .
Top off the evening with CuBop in this dynamic seven-piece ensemble's deductive exploration of the musical possibilities found within Latin jazz.
Aug. 21: No program scheduled
Aug. 28: Calle Luna con Imani
The evening features Afro-Brazilian and Afro-Cuban arrangements combining sultry and rhythmic vocals with conga, guitar, percussion and bass.