Friday Art Break: Surveillance Technologies in XR Art, Activism and Everyday Life
FREE
This program is online only.
Register in advance now! Advance registration is required. After registering, you will receive a confirmation email containing information about joining the talk.
Facial recognition, data mining, racial profiling, biometric tracking, surveillance capitalism and its side effect—what some scholars have called "algorithmic obedience training"—are systems and tools that infringe on our liberties yet often remain invisible or difficult to detect. Artist Nancy Baker Cahill and cyber security expert Kavya Pearlman come together to discuss surveillance technologies and how they impact art, activism and everyday citizens.
These friends and collaborators will discuss surveillance as a human rights issue and how vulnerable communities are disproportionately endangered under current conditions. Together, they will explore the subversive potential of sousveillance, and imagine creative resistance, using technology toward empowerment, fortifying privacy rights, and ensuring individual freedoms.
About the Speakers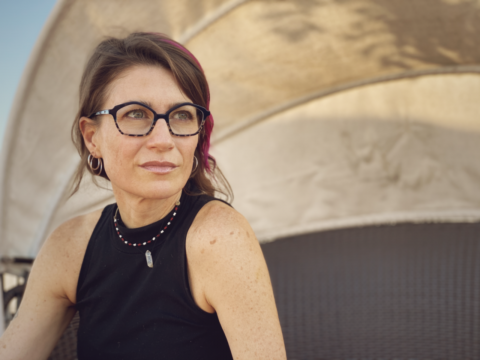 Speaker: Nancy Baker Cahill, Artist, Founder of 4th Wall App
Bio: Nancy Baker Cahill is an artist working at the intersection of fine art, new media and activism. She is the Founder and Artistic Director of 4th Wall, a free Augmented Reality (AR) public art platform exploring resistance and inclusive creative expression. In 2019, she received an "Impact Maker to Watch" award at LA City Hall and was recognized by the LA Times as one of the ARTS Faces of the Year. Baker Cahill is a featured TEDx speaker, and is currently one of ten artist scholars in the Berggruen Institute's inaugural 2020 Transformations of the Human Fellowship.
Speaker: Kavya Pearlman, Founder, XRSI
Bio: Well known as the "Cyber Guardian", founder of the XR Safety Initiative (XRSI), Kavya Pearlman is an award-winning cybersecurity professional with a deep interest in immersive and emerging technologies. She recently launched a novel XRSI Privacy Framework for the XR and Spatial Computing domain. Kavya is constantly exploring new technologies to solve cybersecurity challenges. She has been named one of the Top Cybersecurity influencers for two consecutive years, 2018-2019, and a Cybersecurity Professionals and Thought Leader for the year 2020 by IFSEC Global. Kavya has previously advised Facebook on third party security risks during the 2016 US presidential elections and worked as the head of security for the oldest virtual world, "Second Life" by Linden Lab. Kavya is one of the Top 50 speakers in the cybersecurity industry and constantly shares knowledge via webinars, conference talks, and blog posts around Application Security, Cloud-native technologies, Machine Learning, and immersive technologies such as XR.    
SCHEDULE
11:50 am EST | Zoom broadcast opens
Noon–1 pm EST | Discussion: Nancy Baker Cahill and Kavya Pearlman 
CART (real-time captioning) will be provided for this program. If you have any questions about accessibility for this program, please email hirshhornexperience@si.edu.
This program is presented in partnership with Art Production Fund.
Art Production Fund partnered with the Hirshhorn Museum and Sculpture Garden for the Washington, D.C. iteration of "Liberty Bell," a new public art project utilizing augmented reality, presented simultaneously in six cities in the United States: Boston; Charleston, South Carolina; Philadelphia; Rockaway, New York; Selma, Alabama; and Washington, D.C. "Liberty Bell" has been on view since July 4, 2020.
About Art Production Fund
Art Production Fund is a 501(c)(3) non-profit organization dedicated to commissioning and producing ambitious public art projects, reaching new audiences and expanding awareness through contemporary art. For more information, visit artproductionfund.org/@artproductionfund.
In addition to the Hirshhorn in DC, Art Production Fund is pleased to present alongside the following local partners:
Boston, MA: Boston Children's Museum, Boston Cyberarts, Rose Kennedy Greenway, Boston Harbor Now; Charleston, SC: Center for Heir's Property Preservation; Philadelphia, PA: Association for Public Art (aPA); Rockaway, NY: 7G Foundation, Jamaica Bay-Rockaway Parks Conservancy, The Rockaway Hotel, National Parks Service, NYC Parks, New York State Parks, Recreation & Historic Preservation, Rockaway Artists Alliance; Selma, AL: Brown Chapel African Methodist Episcopal (AME) Church; Washington, DC: Hirshhorn Museum and Sculpture Garden.
This event is also part of #HirshhornInsideOut, the Museum's initiative to bring art into your home.
This special Friday Art Break program is presented for the Smithsonian Institution's 24 Hours in a Time of Change
This program will be recorded and made available following the event. You will find it on this page and on our YouTube channel.