Gallery Guide Program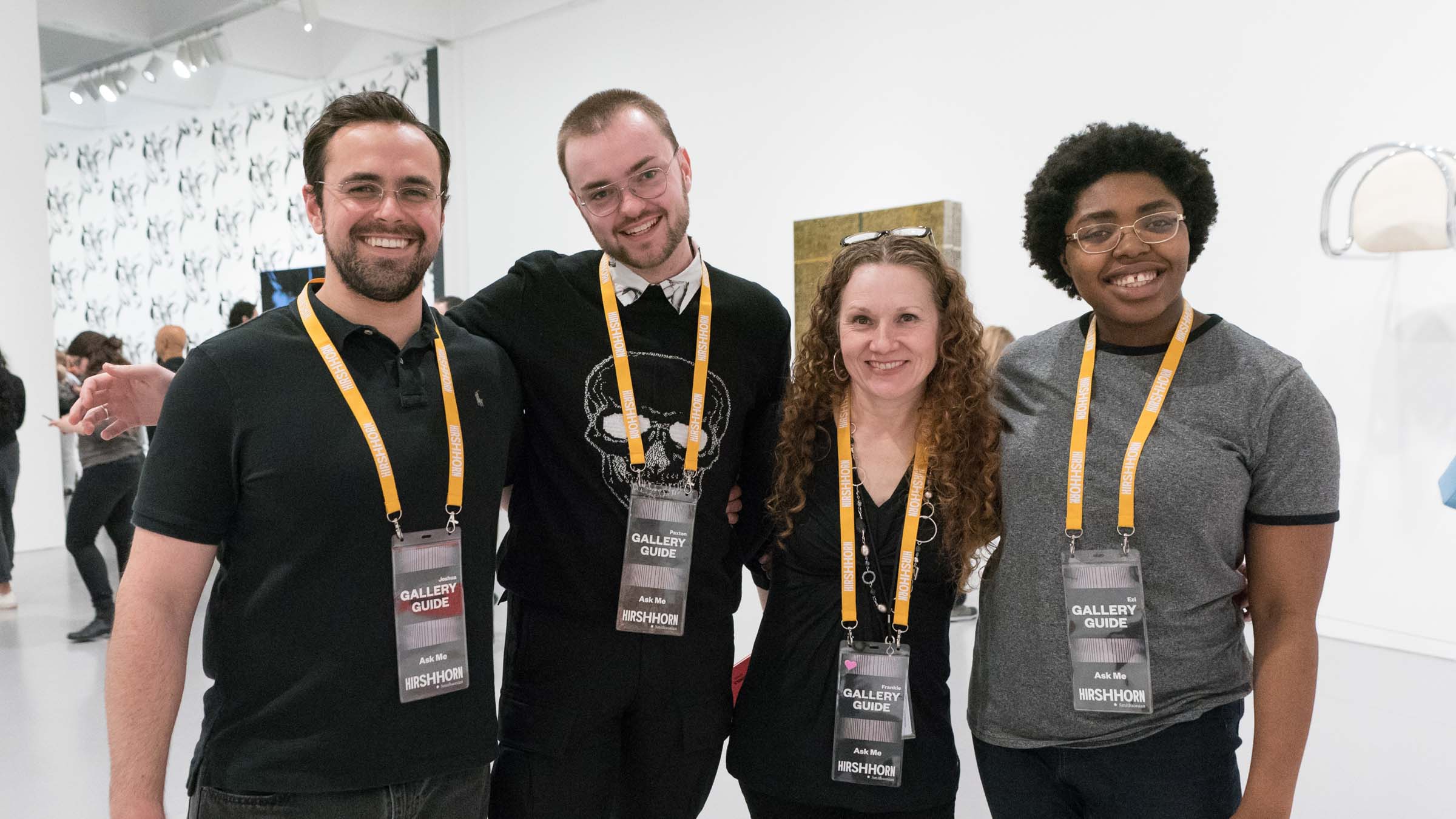 ABOUT THE GALLERY GUIDE PROGRAM
Become a Hirshhorn Gallery Guide! Apply for the opportunity to develop a deeper connection to art while building skills in museum education, public speaking, visitor service, and art-making facilitation. Gallery Guides learn about the art and artists of our time in the collection and special exhibitions through training and independent research.
HOW DO I JOIN?
To apply, please submit a resume, cover letter, and availability to vancen@si.edu
Spring 2023 Dates
Applications due: November 30
Mandatory asynchronous online training: January 10-27
Mandatory in-person training: January 28
Session: January 30 – May 15
REQUIREMENTS
This volunteer program is open to all people over the age of 18 and can be available for course credit. Guides should be curious, independent, reliable, and enthusiastic about modern and contemporary art. Applicants from both art and non-art backgrounds are encouraged to apply!
Program participation is contingent upon successful completion of online training and mandatory in-person training Saturday, January 28, 2023 from 9:00am-5:00pm.
SCHEDULE
Gallery Guide schedules are built to fit your availability and interests! During each session, new Gallery Guides commit to at least two of the following shifts each week in addition to independent research.
Guided Tour Shift: 11:30am-2:30pm or 1:30pm-4:30pm daily (includes public and private tours)
PK-12 School Field Trips: 9:45am-12:00pm Tuesdays or Thursdays
Weekday Kids Programs: 9:45am-12:30pm Wednesdays or Thursdays (includes Storytime and Art Cart)
Weekend Art Making Programs: 9:45am-2:00pm Saturdays or Sundays (includes Maker Morning, Art Cart, and Hirshhorn DRAW)
Friday Art Making Programs: 1:30pm-4:30pm (includes Hirshhorn DRAW)
Ask Me About Art: any two or more hours of your choice, daily
*All shifts include preparation and follow-up time. Please note that if you are participating in the program for course credit, you are required to commit to the hourly requirements set by your academic supervisor through a combination of the shifts above.
BENEFITS
Special invitations to Hirshhorn events and programs
Behind-the-scenes tours of Hirshhorn and other DC museums
Access to Smithsonian Libraries
Networking amongst a community of arts professionals
Discounts at Smithsonian stores and restaurants
Free admission to non-Smithsonian museums who have reciprocity with the Smithsonian