HIRSHHORN ADVANCE SCHEDULE: EXHIBITIONS AND PROJECTS 2003-2004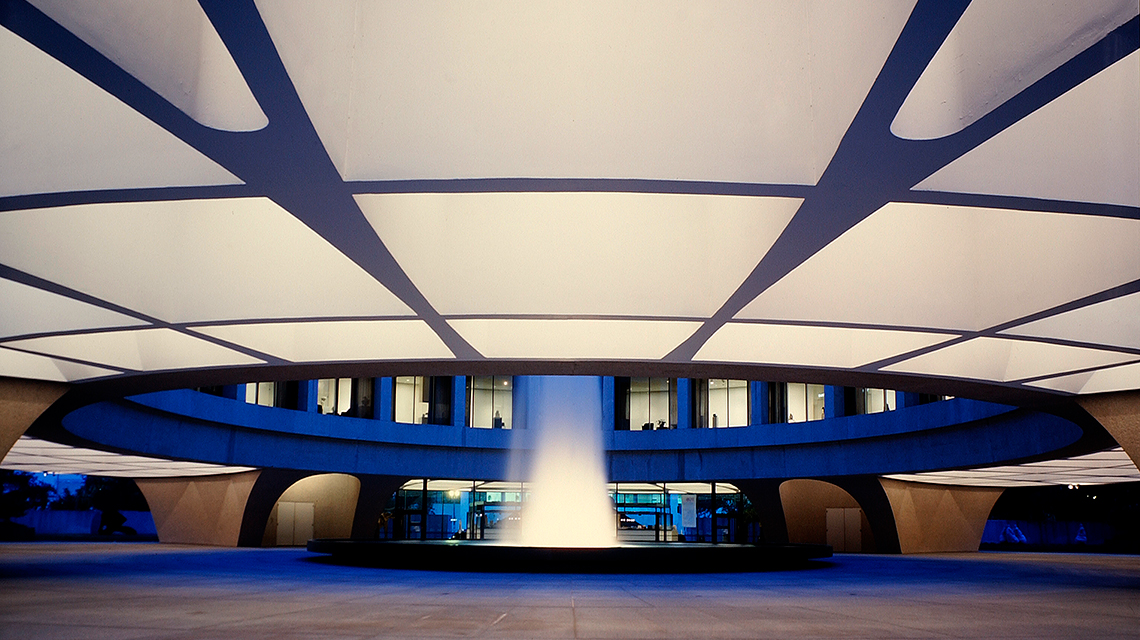 Monday, July 28, 2003
"Gyroscope"
On view in its entirety through Jan. 4, 2004
With its 30th anniversary approaching in 2004, the Hirshhorn has launched Gyroscope, a museum-wide celebration of its preeminent collection of modern and contemporary art. The project encompasses nearly forty different innovative solo and group installations that encourage visitors to experience art from a variety of perspectives, each designed to provoke curiosity, discovery and revelation. Filling the entire museum, Gyroscope addresses questions that arise naturally while viewing contemporary art and will evolve in response to feedback gathered from viewers. Works by a diverse array of international artists, including Francis Bacon, Joseph Beuys, Alexander Calder, Alberto Giacometti, Ann Hamilton, Agnes Martin, Ed Ruscha, Frank Stella, Andy Warhol and Rachel Whiteread, will be on view. Themed installations explore topics such as how bronzes are made, the figure in contemporary art, artworks created with black-and-white palettes and how artists respond to current events. New installations will be included on an ongoing basis.
"Directions–Dan Steinhilber"
Sept. 25, 2003 – Jan. 4, 2004
As part of its ongoing "Directions" program showcasing contemporary artists and ideas, the Hirshhorn presents the first solo museum show for Washington, D.C.–based artist Dan Steinhilber (b. 1972). Steinhilber, who reconfigures everyday objects into whimsical forms, will use clothes hangers, garbage bags and plastic tubes filled with soda to create three distinct sculptural projects that respond to the architecture of the museum's lobby. "Directions–Dan Steinhilber," on view only at the Hirshhorn, is organized by Deputy Director Olga Viso.
"Douglas Gordon"
Feb. 12 – May 9, 2004
The Hirshhorn will present the first American survey of the work of Scottish artist Douglas Gordon (b. 1966), best known for his video installations inspired by classic Hollywood films such as "Psycho," "The Searchers" and "Taxi Driver." Gordon excerpts and/or alters film sequences, often radically slowing down cinematic time to explore psychological states, personality and memory. The artist, who won the Hugo Boss Prize in 1998 and the Turner Prize in 1996, also produces text pieces, sculpture and still photography. The Hirshhorn is the final venue for this internationally-touring exhibition organized by The Museum of Contemporary Art, Los Angeles.
"Directions–Gabriel Orozco"
June 17 – Sept. 6, 2004*
The Hirshhorn will mount a "Directions" show examining the color photography of Gabriel Orozco (b. 1962). Orozco's photographs, taken in Mexico, New York, India and elsewhere, reveal the artist's interest in familiar objects and images as symbols of social interaction, as well as his fascination with the lyrical beauty of the everyday. The artist, born in Mexico and now based in New York, Paris and Mexico City, is also known for his installations, sculpture, drawings and video works. "Directions–Gabriel Orozco," on view only at the Hirshhorn, is organized by the museum's Curator of Works on Paper Phyllis Rosenzweig. *Dates are tentative.
"Ana Mendieta: Sculpture and Performance, 1972-1985"
Oct. 14, 2004 – Jan. 2, 2005
Organized by the Hirshhorn, this major traveling survey is a comprehensive consideration of the Cuban-born artist Ana Mendieta's career from 1972 until her untimely death in New York in 1985. Mendieta (1948 – 1985) is celebrated for using her body to explore issues of gender and identity and engaging in an artistic practice that combined elements of conceptual, performance and land art. Employing a combination of film and slide projection, as well as photography and other materials, the exhibition will include documentation of rarely-seen performances from Mendieta's student days in the innovative cross-disciplinary Intermedia Program at the University of Iowa, as well as of her more well-known actions in the landscape, such as the "Silueta Series" made in Iowa and Mexico from 1973 to 1980. Landscape interventions, "earth-body works" executed in Cuba, Canada and the United States and a selection of sculptures and installations dating to the early 1980s will also be presented. The exhibition will be accompanied by a definitive monograph on the artist and will open at the Whitney Museum in summer 2004. Olga Viso, the Hirshhorn's Deputy Director, is the exhibition's organizing curator.