Jimmie Durham: Still Life with Spirit and Xitle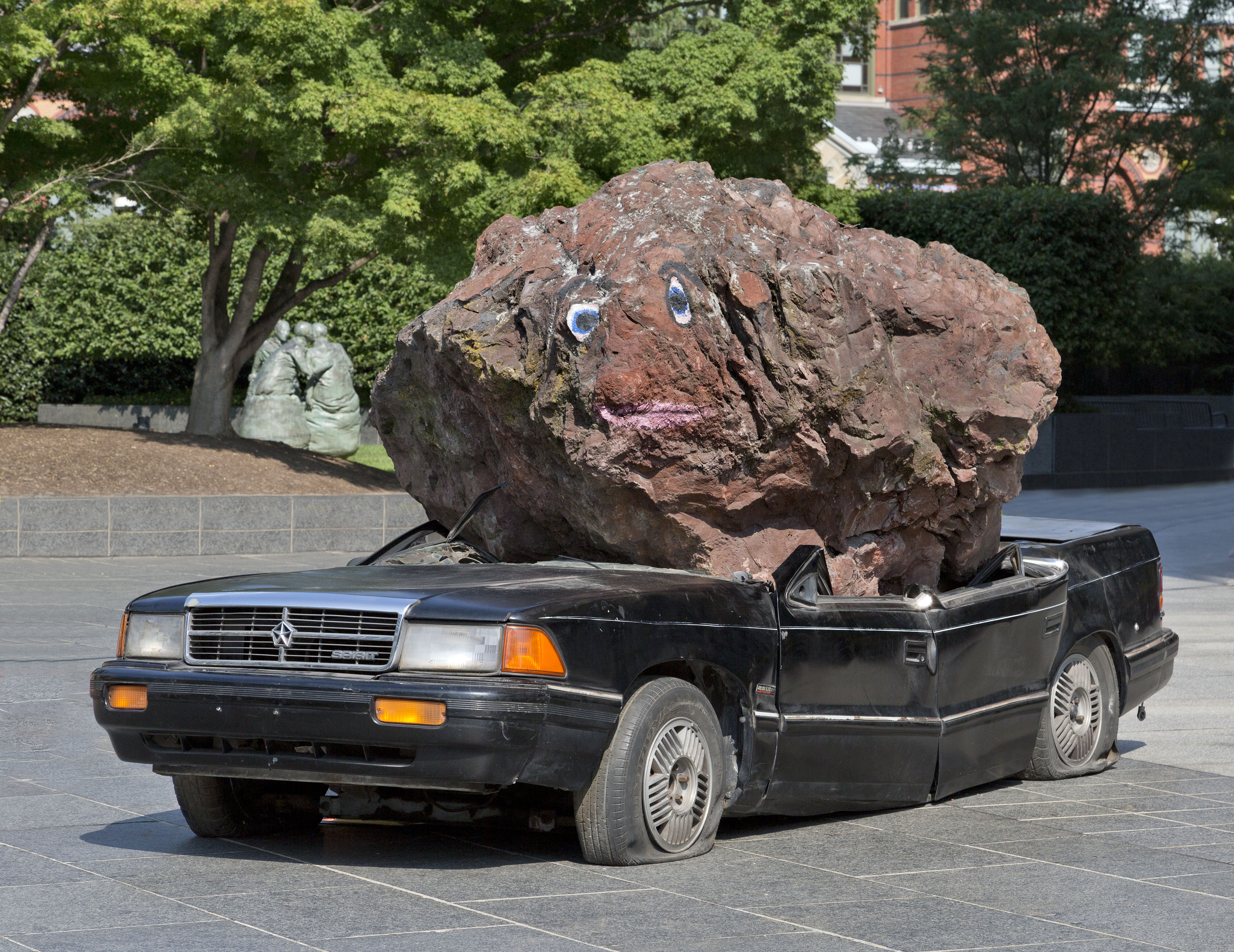 Jimmie Durham: Still Life with Spirit and Xitle, 2007
On view
In works that are part-performance, part-sculpture, Jimmie Durham (American, b. 1940) uses humor and irreverence to arrive at probing, layered insights.
Still Life with Spirit and Xitle (2007), making its DC debut as a new addition to the collection, is a slapstick disaster scene that was first enacted in Mexico City in 2007. Nearly 2,000 years ago, the Mexican volcano Xitle, or "spirit," erupted and destroyed the ancient city of Cuicuilco. To create the seemingly impulsive sculpture, Durham quarried a 9-ton boulder of red basalt from the archaeological site and used a crane to drop it onto the roof of a 1992 Chrysler Spirit. As a finishing touch, he graffitied the stone with a smug, cartoon-like face. Despite its comedy, the work carries a complex gravity, capturing the moment at which the spirits of ancient and modern collide. 
For many years, Durham's work has explored the complexities of stone and both its physical and metaphoric weights, using stones to smash glass in galleries, household appliances, automobiles, aircraft, and a small barge. Famous for operating outside of the establishment, Durham frequently expresses his belief that the artist's role is to question the power of industries, corporations, and governments.
Born in Washington, Arkansas, Durham has spent much of his life outside the U.S. After working as a political organizer for the American Indian Movement in the 1970's, he moved to Cuernavaca, Mexico, before ultimately relocating to Europe in 1994. He has exhibited widely at venues throughout Europe, including most recently the Serpentine Gallery, London (2015); MuHKA, Antwerp (2012), and the Glasgow International Festival (2010).