Library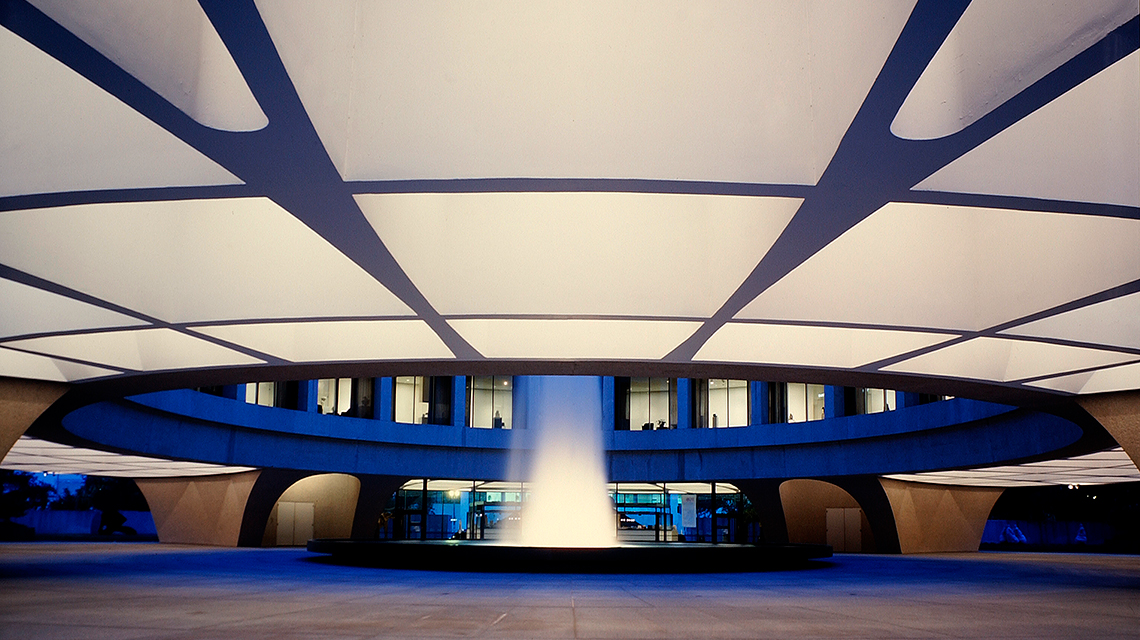 The Hirshhorn Museum Library, founded in 1969, is now administered by the Smithsonian Institution Libraries (SIL). It is a research collection devoted to modern and contemporary painting, sculpture, drawings, prints, photography, video, film and emerging art forms. The Library has books and related materials (exhibition catalogues, serials, and ephemeral material) from 1880 to the present, with an emphasis on artists in the Hirshhorn's collection and on artists featured in the exhibition program. These holdings consist of more than 62,000 volumes, 35 current serial titles, more than 980 non-collection photograph files, and 41 drawers of files on 2,291 individual artists. There is also archival material on the founding of the museum, the Hirshhorn family (letters, photographs, and memorabilia), and the exhibition program.
Online Catalog Search
The Library's catalog is available on the Smithsonian Institution Libraries website.
Search the Library catalog
Search the SIL website
Collections
Art and Artists Files Database
List of Audio Recordings
Audio Recording Database
Short MP3 clips are available for the following three artists: 
Artist Series: Magdalena Abakanowicz (5/24/01) [144kb]  
Chuck Close Press Conference (10/14/98) [192kb]  
Focus Lecture: Adrian Piper (6/29/91) [460kb] 
List of Films and Videotapes, by Anna Brooke
(Sample Clip: Ed Ruscha June 29, 2000 high| medium | low)
Photography Collection Inventory, by Anna Brooke
Visit the Hirshhorn Museum and Sculpture Garden's Podcast page for more artist interviews, Hirshhorn lectures and curator walk-throughs.
View the Exhibition Archive (PDF) for dates of past Hirshhorn exhibitions.
To make an appointment:
The Library is open to scholars by appointment from 10 am to 5 pm, Monday through Friday, except federal holidays. Appointments may be made by telephone, fax, or e-mail.
Telephone: 202-633-2773
Fax: 202-633-6764
E-mail: hmsglibmail@si.edu
Volunteer Opportunities
To apply for a volunteer position in the Library, please contact the Smithsonian's Behind the Scenes Volunteer program. Volunteer opportunities include: searching for online catalog records, and general library assistance.
Internships
The Library accepts qualified interns from library schools and art history programs. Knowledge of at least one Western European language is desirable. Please see Internships for information about how to apply.
Publications Exchange
The Library welcomes the opportunity to exchange catalogs on modern and contemporary art with other art organizations. To inquire about an exchange, please send us a copy of your publications list by mail, fax, or e-mail. Download our publication exchange list.
We appreciate donations of art books and art magazines to the museum library.
Mailing address:
Hirshhorn Museum and Sculpture Garden Library
Smithsonian Institution
MRC 361 
PO Box 37012    
Washington, DC 20013-7012
Staff
Amy Watson, Library Technician, 202-633-2776
Anna Brooke, Librarian, 202-633-2774
Rita O'Hara, Library Technician, 202-633-2775