Making My Mark
What represents you? Maybe it's the places you've traveled, the people you've met, or the activities you enjoy. Create a flag representing you!
We want to see your creations! Share on social media @hirshhorn with #HirshhornInsideOut.
Time: 45—60 minutes
Skill Level: Intermediate
Topic: Identity
---
LOOK CLOSELY
Look closely. What do you see? Let your eyes wander around the artwork.
Describe the colors, lines, and shapes. Are any of the shapes recognizable? What do you think they might be, and why?
This artwork is titled The Flag. You probably noticed the red, white, and blue lines, and the shapes they create. You might have observed many faces with many eyes, noses, and mouths. Did you spot the bird in the lower left corner?
The artist, Herbert Gentry, made this artwork in an abstract style. Abstract art does not depict the subject the way it would look in real life. Abstract art is made of lines, colors, and shapes. Interestingly, even though this artwork is abstract, the lines create some identifiable forms. When you look at this artwork very closely, the lines and shapes look like faces.
Try this. Take five big steps back from your screen. How does The Flag look now? Can you still see the bird or faces in the painting? From a distance, the work appears much more abstract.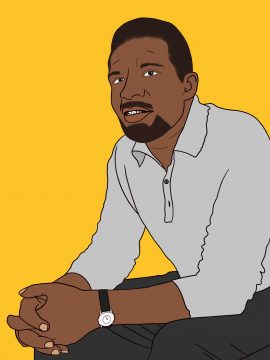 American artist Herbert Gentry (1919–2003) grew up in Harlem, New York City. He lived with his mother, Theresa Gentry, an accomplished dancer. His mother was friends with many creative people, and Gentry grew up learning from well-known writers and artists, including Duke Ellington. In the year 1936, at the age of 17, he studied art as part of a Works Progress Administration (WPA) program. During World War II, his studies were interrupted when he was drafted into the Army. After Europe was liberated (freed from German forces who had been occupying their countries), Gentry visited Paris, France, and fell in love with the city. In 1946, he returned to Paris after the war ended, residing there for several years. In Paris he took classes, met and married his first wife, had children, made paintings, and became a part of a dynamic community of artists. He traveled between New York, Paris, and Sweden for the rest of his life.
In an oral history interview for the Smithsonian, Gentry shared his life stories. He talked about his friendships with many artists, referring to Romare Bearden as "my brother and my father." When describing his own work, Gentry said, "The figures come into it, the faces come into [it]… My base is African American. Also in my paintings [are] the people I've met throughout the world…" Read more of Gentry's oral history here. 
Gentry's identity was shaped by his creative communities around the world and the people within them. Identity is all the different things that make you who you are. Identity includes who you are on the inside, such as your interests and your beliefs. Identity can also include what people see on the outside, such as your skin color and hair. Identity is influenced by where you grow up, who you meet, and your life experiences. While each person has a unique identity that makes them one-of-a kind, we are also impacted by the groups we belong to, such as our families, communities and even the country we live in. Gentry was affected by the artists he encountered throughout his life, from growing up around his mother's artist friends to his adulthood traveling between Europe and the United States.
Did you know that both the French and American flags use a red, white, and blue color scheme, like Gentry's The Flag? After learning about Gentry's global identity, what do you think inspired the colors in his work?
---
MAKE IT!
For this project, we take inspiration from Gentry's The Flag to paint a flag representing our own identity and life experiences!
Gather materials. You'll need:

Paint
Multiple pieces of cardboard, sheets of paper, etc.
Paint brushes or fingers


Talk together about identity. Some things that can shape identity are family, friends, and where you live in the world.What are some things about yourself that you think are important?This can be a really hard question to answer, so ask an adult or a friend for help if you need it. What do they think is special about you? As you list ideas about your identity, sketch  some symbols to represent your ideas! We choose to represent ourselves with the shapes of different countries we've lived in (United States, Germany, South Korea, and Sweden) and with cars and planes to represent travel.

Prep your paint. Choose a few colors you want to work with. For our project, we decided to use red, yellow, black, and blue to represent the colors in the flags of different places we've lived. You might use colors from a flag, your neighborhood, or anything else that inspires you.

Think about your composition. Do you want to repeat similar lines and shapes (like Gentry) or make a scene with different symbols (like ours)? You may also want to choose a background color like Gentry did. Look back at The Flag, did you notice the light purple color under other colors and lines?
Begin painting! Paint your background color and wait for it to dry. For our project, we choose to paint a sunflower yellow background to represent our favorite flower.Note: Younger participants may have trouble waiting for their background color to dry. Paint your background and then read through the rest of the exercise to shorten drying time. Or colorful construction paper also makes a good background if you'd prefer not to have to wait for your paint to dry.
Paint your symbols. Use your fingers or paint brushes to paint your lines, shapes, and symbols.Note: Children have very different reactions to the feeling of paint. Some children won't want to touch it, and that's perfectly fine. Other children will want to paint their bodies, and that's up to the adult in charge!


Abstract your design. You may choose to repeat your symbols or add abstract details. We repeated symbols and added more lines across our canvas representing travel routes.

Title your work! Or keep painting. We titled our work Over and Out.