Obliterate Yourself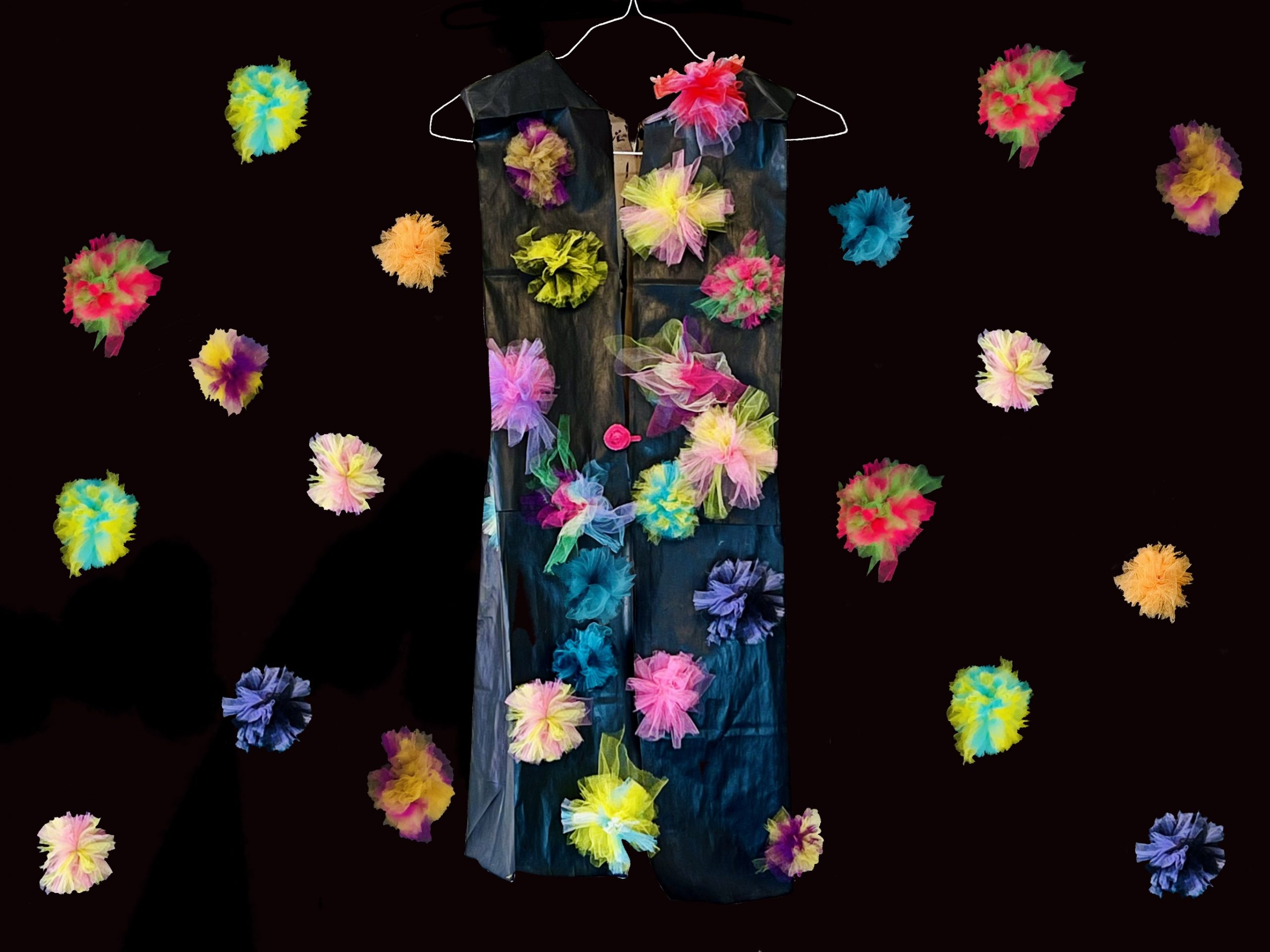 Have you ever wished you could blend in like a chameleon? Design your own wearable work of art inspired by Kusama's Flowers—Overcoat and disappear into your surroundings!
Time: 45–60 minutes
Skill Level: Intermediate
Topic: Obliteration
---
LOOK CLOSELY
Look closely at this coat. Let your eyes wander. Describe the color, objects and pattern.
Imagine yourself stepping inside this coat. How might it feel on your body? Where would you wear a coat like this?
You probably noticed a long, bronze-colored coat hung against a white wall. The coat is covered in flowers of the same bronze color. This artwork by artist Yayoi Kusama is called Flowers—Overcoat. She started with a normal black coat, painted it, and attached plastic flowers. Next, Kusama painted the flowers the same color as the coat. She also added a large signature to the back of the work.
Kusama arranged the flowers in an all over pattern and painted them the same bronze color as the coat. Her design covering the entire surface allows the flowers to obliterate, or disappear, into the coat.
The paint on this artwork, especially on the flowers, is very fragile and requires special care from conservators at the Hirshhorn. Conservators are scientists who help keep museum objects, such as this work of art, safe. For Flowers—Overcoat, the conservation team uses a tiny spatula (see a photo here) to heat up wax and reattach flaky paint to the artwork.
Have you ever heard of the "Princess of Polka-Dots?" Japanese artist Yayoi Kusama is known for her polka-dot covered artworks including paintings, sculptures, and mirrored rooms. Kusama has been making art for the last nine decades, and still makes art every day!
For most of Kusama's life, she has experienced hallucinations, often of dot-covered surfaces. A hallucination is when you see or hear something that's not actually there. Many of her hallucinations show patterns spreading out and covering everything, like the flowers on Flowers—Overcoat. Have you ever looked at a pattern, like polka dots, for so long you could see it even after you moved your eyes? Kusama shared this experience from childhood:
"One day, after gazing at a pattern of red flowers on the tablecloth, I looked up to see that the ceiling, the windows, and the columns seemed to be plastered with the same red floral pattern. I saw the entire room, my entire body, and the entire universe covered with flowers, and in that instant my soul was obliterated and I was restored, returned to infinity, to eternal time and absolute space."
How do you make yourself feel better when you're scared? Making art has been a form of therapy for Kusama. She creates many kinds of art, including paintings, mirrored rooms, and sculptures. Repeating the images she sees in her hallucinations is a way for her to obliterate them, or make them disappear.
Want to learn more?
Read more about Yayoi Kusama's life and work.
---
MAKE IT!
For this project, we take inspiration from Kusama's Flowers—Overcoat to design (and obliterate!) a piece of wearable art using a bag or a box as the structure.
Gather materials to make your wearable work of art. You'll need:

Coat structure (paper or plastic grocery bag, large box)
Scissors
Connecting materials (glue, tape, pipe cleaners, rubberbands)
Obliterating materials (paint, paper, coffee filters, tissue paper, tulle, beads, felt, stickers)
Mark-making materials (paint, markers, etc.)
Optional: planning materials (a piece of paper and mark-making materials)

Think of a pattern that inspires you. Yayoi Kusama created Flowers— Overcoat and might have been inspired by the floral patterns she saw as a child. What idea is on your mind? Close your eyes. What colors and patterns do you see? For our project, we were inspired by the pattern of fireworks in the night sky.
Sketch your design! Kusama often sketches her ideas. Make a sketch using your paper and mark-making materials. Think about the shape of your wearable art, and then add color and designs.

Note to adults: Many children, especially those under six, may do best skipping this step. Younger children's best planning will likely be in the process of experimenting with different material possibilities (see steps 4–5).
Play with the possibilities for your garment structure. How might you cut it and wear it? You might try making a hat, a shirt, a coat, or anything else you can dream up. The handles on paper and plastic bags can make shirt straps, or a bag can be cut to wear as a vest or headpiece.

Experiment with decorations for your wearable art. Explore making your flat materials three-dimensional, taking inspiration from Kusama's flowers! Don't worry about your finished product yet; just have fun seeing what your materials can do!
You might try:

Folding or twisting materials
Combining or stacking materialsTake inspiration from Futurist Flowers and cut notches in paper to connect pieces together


Create your decorations. Use your materials to make many decorations. Think of Kusama's coat: She covered it in flowers, obliterating the coat, or making it disappear. Make multiples of your design and enough to cover the surface of your artwork. Note: If you are using paint or other wet materials, allow time to dry!
Obliterate your garment! Use glue or another connecting material, such as pipe cleaners, to attach your decorations everywhere making your garment disappear. Leave room for your signature!

Sign your work! Add your own signature to your work of art.

Obliterate your environment. Use your remaining materials to obliterate the space (walls, floors, etc.) around you with the same decorations you created for your garment. Note: Always ask permission from an adult before adding any art materials to your space. A good alternative to walls could be obliterating a blanket or an outdoor space (as long as it is cleaned up after!).

Disappear into your surroundings. Once the work is finished and dry, model your artwork!