Open City: Street Photographs Since 1950 Brings International Photography To Hirshhorn, June 20-Sept. 8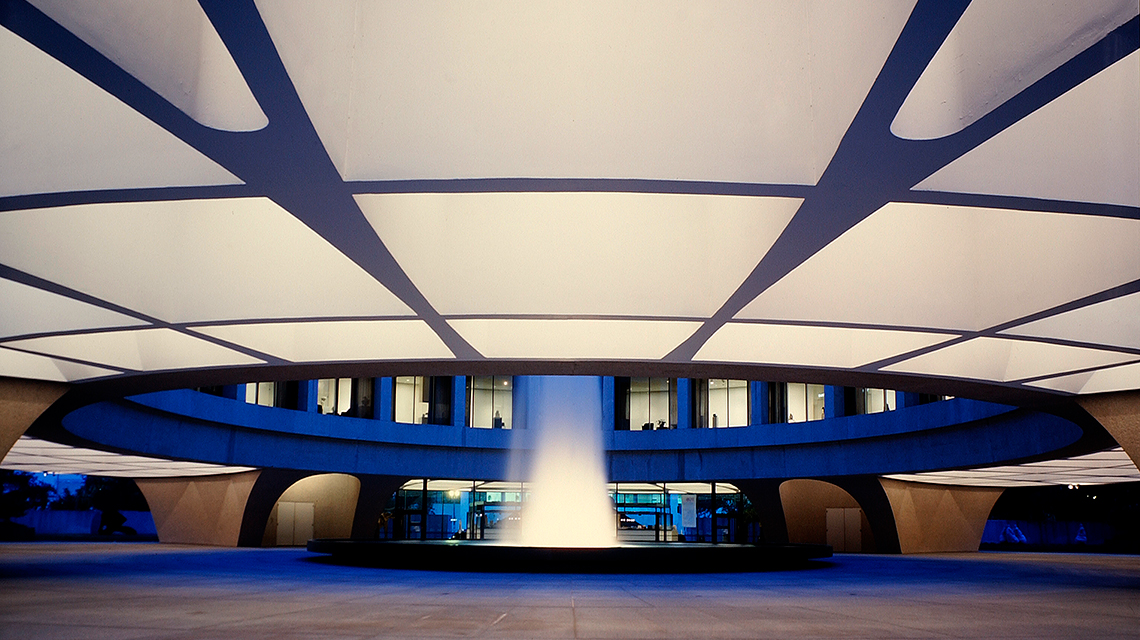 Monday, May 20, 2002
Press preview:
Wednesday, June 19, 9:30 a.m. until noon.
Curatorial remarks at 10:30 a.m. Refreshments.
R.S.V.P.: (202) 357-1618 x3
"Open City: Street Photographs since 1950" is an exhibition of 140 works by 19 international artists whose engagement with the city as a theater of human activity has constituted a distinct strain in art of the past half century. The show opens on Thursday, June 20, at the Smithsonian's Hirshhorn Museum and Sculpture Garden, Independence Avenue at Seventh Street S.W., and continues through Sept. 8.
Enlarged from its spring 2001 premiere at the Museum of Modern Art Oxford, its first venue before showings in Salford Quays, England and Bilbão, Spain, the show tracks a half-century of photographers' fascination with the faces, gestures and architecture of the urban streetscape, from edgy, postwar imagery and pioneering work in color to contemporary conceptual explorations.
On the opening day, the exhibition's co-curators–Kerry Brougher, the Hirshhorn's chief curator, and Russell Ferguson, deputy director/chief curator of the UCLA Hammer Museum, Los Angeles–will discuss the show in a slide illustrated "Curators' Talk" at 12:30 p.m. That evening, Roberto Rossellini's brutally realistic cinematic depiction of war-ravaged Rome, "Open City (Roma, città aperta)," 1945, which lends its name to the exhibition, will be screened at 8 p.m. Both programs are free and take place in the museum's Ring Auditorium. City-themed programs continue throughout the summer. For details, call (202) 357-3235 x117.
The earliest pictures in the largely chronological exhibition, installed in the museum's second-floor galleries, reflect a confrontational, gritty and often ironic approach to the city as subject. Employing increasingly portable cameras, photographers of the 1950s and 1960s expanded the vocabulary of the elegantly composed pre-World War II street photography of Brassaï, Henri Cartier-Bresson and others. William Klein (American, b. 1928) and Robert Frank (Swiss, b. 1924) used the camera almost like a gun, rejecting classical composition and clarity for the snapshot's speed and informality. Their photographs of 1950s America, which are often filled with a sense of claustrophobia and violent energy, offer a dark alternative to the postwar American Dream.
The exhibition also explores important formal and technical departures of this period. By incorporating obstructions, shadows and reflections, Lee Friedlander (American, b. 1934) makes the photographic experience self-reflective, while Garry Winogrand (American, 1928-1984), working with wide-angle lenses, stepped back from his subjects in order to place them in disorienting architectural surroundings.
In Japan, Daido Moriyama (b. 1938), inspired by Klein, produced hard images of a scarred society from scratched and otherwise damaged negatives during the 1960s. Nobuyoshi Araki's (b. 1940) unsentimental yet haunting images of Tokyo children of that time are also featured in "Open City," as are the artist's later, more impressionistic depictions of the Japanese city in the affluent 1980s.
Nigel Henderson (British, 1917-1985) turned photography into an almost anthropological tool, recording everyday details of London's East End neighborhood. Working in the same city, Terence Donovan (British, 1936-1996) translated street photography into fashion and advertising images that helped define the "swinging" 1960s.
From the black-and-white images in its first galleries, the exhibition makes a shift to color with work made in the 1970s and 1980s, when advances in processing allowed photographers to break down a resistance to color in "serious" photography. William Eggleston (American, b. 1939) examined such peripheral spaces as suburban housing tracks and freeways, while for Raghubir Singh (Indian, 1942-1999) color was an essential compositional element in his images of India's feverish and sensual street life. Such vitality gives way to violence with the poignant use of color in photojournalist Susan Meiselas' (American, b. 1948) work documenting armed conflict in Nicaragua.
"Open City" concludes with works from the 1980s and 1990s by photographers who, influenced by the conceptual art of preceding decades, have turned the camera on itself, rethinking the traditions of the street genre and of the photographic apparatus. Jeff Wall (Canadian, b. 1946) hires actors and stages events, merging street photography, cinema and history painting in large-scale color transparencies presented in light boxes. Philip-Lorca diCorcia (American, b. 1953) surreptitiously transforms the street into a stage with studio lights that are tripped by unaware pedestrians, creating dramatically lit photographs.
Beat Streuli (Swiss, b. 1957), who works in conventional photos, slide installations and video, also focuses on faces in the urban crowd by way of telephoto lenses, while Allan Sekula (American, b. 1951) documents workers leaving a factory and the 1999 Seattle riots in slide projections structured like film. No less cinematic are the aerial perspectives in Wolfgang Tillmans' (German, b. 1968) oddly angled shots of cities and the abundant detail of Thomas Struth's (German, b. 1954) photographs of Shanghai's teeming streets.
Catherine Opie (American, b. 1961) is another photographer who emphasizes architecture and urban layouts over the figure: the communities who would otherwise inhabit her empty panoramic spaces are only implied. The final exhibition images, by Nikki S. Lee (Korean, b. 1970), reverse the positions of photographer and subject established in the first galleries. Lee, who like Opie immerses herself in the idea of community, adopts the attitudes and dress of ethnic and demographic groups and then asks others to document her "performances" within these groups as snapshots.
The Hirshhorn is open daily from 10 a.m. to 5:30 p.m., with hours extended to 8 p.m. on Thursdays, May 30-Aug. 29, as part of the Smithsonian's "Art Night" when city-themed jazz concerts, gallery talks and other related programs will take place. Take Metro to L'Enfant Plaza, Maryland Avenue exit. The Hirshhorn's Web site address is https://hirshhorn.si.edu.
Catalog and Itinerary
The exhibition is accompanied by MOMA Oxford's 205-page illustrated catalog, with essays by co-curators Brougher and Ferguson, available in the Hirshhorn Store for $35. Other showings included: MOMA, Oxford, U.K. (May 6 – July 15, 2001), The Lowry, Salford Quays, U.K. (Oct. 28, 2001 – Jan. 3, 2002) and Museo de Bellas Artes, Bilbão, Spain (Feb. 19 – May 12, 2002).
Sponsorship
"Open City" was organized and toured by the Museum of Modern Art Oxford with kind support from The Horace W. Goldsmith Foundation, The John S. Cohen Foundation, Pro Helvetia, and the Institute for Foreign Cultural Relations, Stuttgart. Additional funding for the Hirshhorn presentation has been provided in part by the Canadian Embassy, The Japan Foundation, Pro Helvetia, and the Embassy of Switzerland, Cultural Fund. The Washington Metropolitan Area Transit Authority (Metro) is the promotional partner for the Washington, D.C., showing of this exhibition.
Public Programs
In addition to the June 20th "Curators' Talk" and film, the following are a selection of free public programs organized in conjunction with the exhibition.
TALKS
Thursday, July 25, at 7 p.m.: "Street Photography and Post-Street Photography"
Lecture by independent critic, curator and teacher Andy Grundberg. Ring Auditorium.
Thursday, Aug. 1, at 7 p.m.: "Meet the Artist: Catherine Opie"
Join "Open City" photographer Opie for a discussion of her work. Ring Auditorium.
Thursday, Aug. 8, at 7 p.m.: "Gallery Talk: Open City"
Research Associate Colette Crossman discusses the exhibition. Meet at the Information Desk.
Sunday, Sept. 8, at 3 p.m.: "New Voices"
Gallery talk with Takema Robinson, art history graduate student at Howard University. Meet at the exhibition entrance.
DANCE
Thursday, June 13, at 8 p.m.: "Communitas–Now and Beyond," Tsunami Theatre Company. Meet at entrance to the Sculpture Garden. Supported by D.C. Commission on the Arts and Humanities.
POETRY
Thursday, July 11, at 7 p.m. and Sunday, Sept. 8, at 4 p.m.: "Urban Women Poets"
Urban-themed poetry readings by seven women poets. Meet at the exhibition entrance.
MUSIC
Thursdays, June 6 – July 25, 5:30 – 7 p.m.: CITY SOUNDS Jazz on the Plaza
Free outdoor concerts featuring preeminent jazz musicians.
Thursdays, Aug. 1 – Aug. 22, 5:30 – 7 p.m.: CITY SOUNDS Latin Jazz on the Plaza
Free outdoor concerts with a Latin flavor.
HANDS-ON ART ACTIVITIES
Thursdays, 4:30 – 6:30 p.m.: "Improv Art"
For children ages 5 to 11 and their adult companions. No registration required.
July 11, 18, 25: "City Skylines" – Construct a three-dimensional cityscape.
Aug. 8, 15, 22: "Urban Development" – Create a city skyline with photographic paper.
Saturdays, 10 a.m.– noon: "Young at Art"
For children ages 6 to 9 and their adult companions. Call (202) 357-3235 x117 to register.
July 20: "Tee in the City" – Design your own T-shirt based on architectural elements.
Aug. 17: "City Dwellers" – Make your own urban scene after listening to a storyteller.
Friday, July 19, 1 – 3 p.m.: "Art Explorers Workshop for Adults: Urban Elements"
Prepare a study of Mall architecture, then collaborate on a mural. Call (202) 357-3235 x117 to register.
Call (202) 357-3235 x117 or visit https://hirshhorn.si.edu for information on general and family tours of the exhibition.