Print and Repeat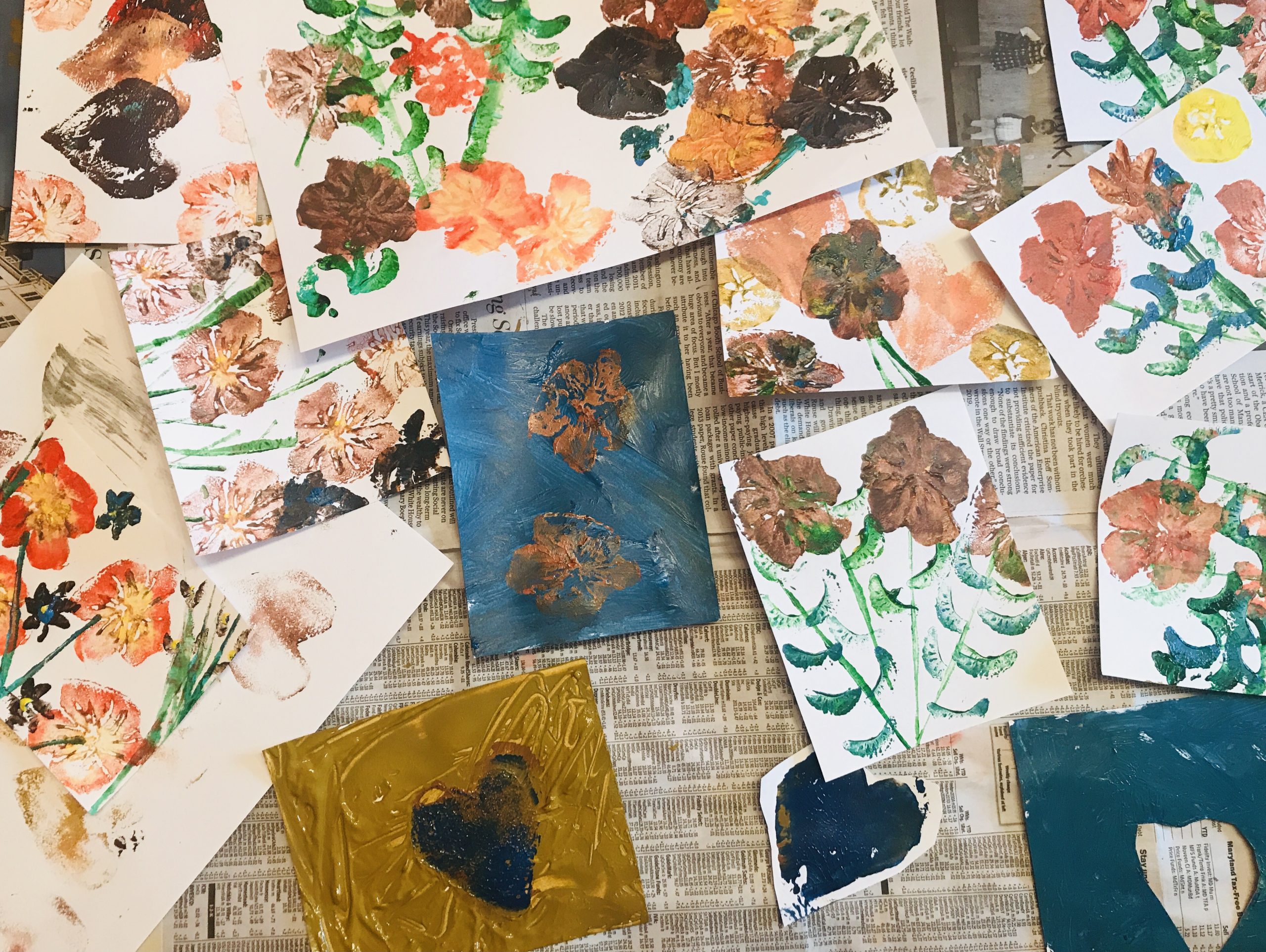 Need to make multiples? Print and repeat! This project uses cut and carved fruit and vegetables to create colorful prints inspired by artist Andy Warhol.
We want to see your creations! Share on social media @hirshhorn with #HirshhornInsideOut.
Time: 45 minutes
Skill Level: intermediate
Topic: printmaking
---
LOOK CLOSELY
What do you see? Notice the colors, lines, and shapes.
This artwork is called Flowers, and is by Andy Warhol. Warhol created this print from a photograph of hibiscus flowers he saw in a photography magazine. He enlarged the photograph and transformed it into a screen print. This process allowed Warhol to use the same screens to create multiples of the same image.
Now, take a look at this version of Flowers, which uses different colors.
---
MEET ANDY WARHOL
"You need to let the little things that would ordinarily bore you suddenly thrill you."

—Andy Warhol, Andy Warhol's Party Book, 1988
Andy Warhol (1928–1987) was an American artist who was a leader of the Pop Art movement. He was a painter, a sculptor, a filmmaker, and even had a television show! Most recognized for his printmaking, he is now one of the most famous contemporary artists.
Warhol was born Andrew Warhola in Pittsburgh, Pennsylvania. His parents were immigrants to the United States from what is now Eastern Slovakia. Like many immigrants at that time, they came to the United States in search of jobs and opportunities. Warhol's parents saved money to pay for his college education at Carnegie Institute of Technology, now called Carnegie Mellon University.
After college, Warhol went to New York City and became an illustrator for fashion magazines and shoe companies. Warhol became well-known for his designs and even won awards. In the 1950s, Warhol began creating his own art, often inspired by his fashion illustration work. Just like advertisements, Warhol used bright colors, celebrities, and every day products in his art. He also liked to make many versions of each artwork.
---
MAKE IT!
Andy Warhol didn't just make a print once; he made multiple versions of his prints. He borrowed images from popular culture and turned them into art. Taking inspiration from Warhol's process, this project invites you to use cut and carved produce to make your own prints—again and again!
Find inspiration: Grab a few favorite magazines and look through the advertisements.  Open a kitchen cabinet and find an intriguing food label design. We found inspiration in a flowery design on a marker container.

Gather your materials. You'll need:

Newspaper or paper grocery bags to cover your work area.
A stack of paper; we suggest experimenting with different sizes and colors. You might even fold some to make a set of cards.
Paint and paint brushes
Firm produce items, such as potatoes, apples, celery, and starfruit
A toothpick or sharp pencil, for carving your produce

Make a plan. Look closely at your inspiration image. Notice lines and big shapes. Sketch a plan for your print. Note: If working with younger children, it may be best to skip this planning step and get right to the action of printing.
Carve and cut your printing tools. Cut your produce into the shapes you want to print. Play with the possibilities! Note: When using sharp tools, always make sure an adult is supervising.  

Take advantage of natural shapes within produce: the star inside an apple, the leaf-like curve of a piece of celery, or the flower-like shape of a pepper's top.
Use a toothpick or a pencil to carve designs into a potato or apple's flesh. We carved the lines of a flower's petals into a potato.

Print! Brush some paint onto your cut and carved printing tools. Press firmly to the paper and hold. Press again in a new spot. Add more paint as needed.

Repeat. Make another print. Like Warhol, try using different color schemes. How does the same print look in another color?

Share your art! Mail your prints to friends or family, or create a gallery wall displaying them all together. Remember, different paints will take more or less time to dry. Be sure your prints are fully dried before putting them inside an envelope!