Re-Setting the Stage: In Conversation with Robert Wilson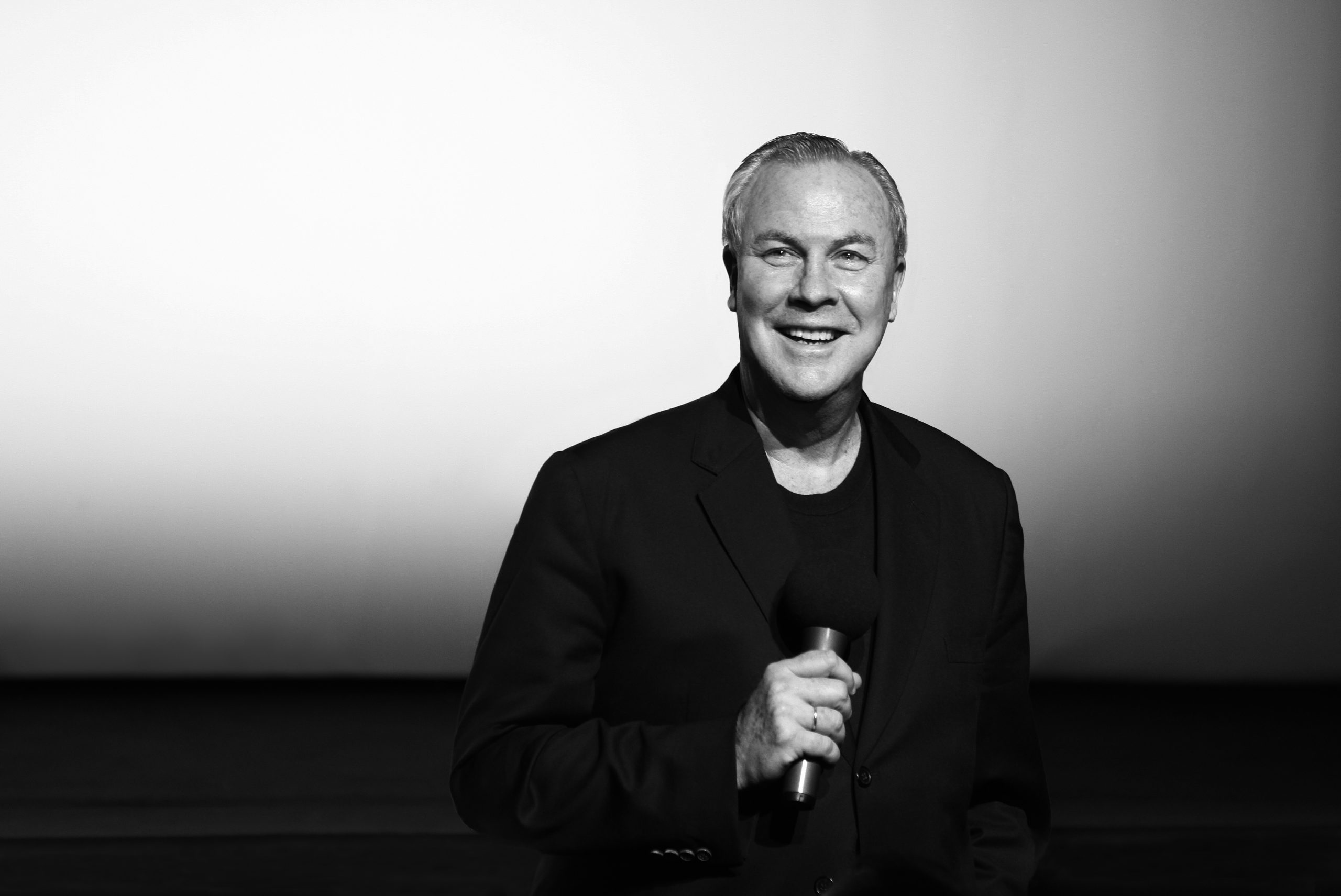 "[Robert Wilson is] a towering figure in the world of experimental theater and an explorer in the uses of time and space on stage." —The New York Times
Acclaimed director, designer, performer, artist, and writer Robert Wilson will join Hirshhorn director Melissa Chiu in conversation about his decades-long career of redefining art, design, and the theater experience.
Celebrated as one of the most important living directors and stage designers of this century, Wilson's productions have decisively shaped the look of theater and opera. Since the late 1960s, Wilson has continuously articulated the force and originality of his vision through his signature use of light, his investigations into the structure of a simple movement, and the classical rigor of his scenic and furniture design. Wilson's collaborations with leading artists, writers, and musicians—such as his famous 1976 collaboration with composer Philip Glass on Einstein on the Beach—continue to fascinate audiences worldwide.
Wilson's macabre video Mademoiselle, a tableaux vivant featuring Lady Gaga as a living interpretation of Jean-Auguste-Dominique Ingres's Portrait of Mademoiselle Caroline Rivière, was a pivotal work in the Hirshhorn's 2014 exhibition Days of Endless Time. His work is featured in upcoming solo exhibitions at Galerie Thaddaeus Ropac and Bernier/Eliades Gallery and in a group exhibition Opera as the World at the Centre Pompidou-Metz. His current theatrical productions include The Messiah in Salzburg, Jungle Book in Dusseldorf, and Mary Said What She Said with Isabelle Huppert.
We encourage you to arrive early. Ring Auditorium seating is limited. Any open seats may be released to walk-up visitors 10 minutes before the program.
Schedule
5:30–6:30 pm | Come early to enjoy a happy hour at Dolcezza Café in the Lobby. Drinks for purchase.
6 pm | Doors open to Ring Auditorium.
6:30–7:30 pm | Robert Wilson in conversation with Melissa Chiu
About the Speakers
Born in Waco, Texas, Robert Wilson is among the world's foremost theater and visual artists. His works for the stage unconventionally integrate a wide variety of artistic media, including dance, movement, lighting, sculpture, music, and text. His images are aesthetically striking and emotionally charged, and his productions have earned the acclaim of audiences and critics worldwide. After being educated at the University of Texas and Brooklyn's Pratt Institute, Wilson founded the New York-based performance collective "The Byrd Hoffman School of Byrds" in the mid-1960s, and developed his first signature works, including Deafman Glance (1970) and A Letter for Queen Victoria (1974-1975). With Philip Glass he wrote the seminal opera Einstein on the Beach (1976). Wilson's artistic collaborators include many writers and musicians, such as Heiner Müller, Tom Waits, Susan Sontag, Laurie Anderson, William Burroughs, Lou Reed, Jessye Norman, and Anna Calvi. He has also left his imprint on masterworks such as Beckett's Krapp's Last Tape, Brecht/Weill's Threepenny Opera, Debussy's Pelléas et Mélisande, Goethe's Faust, Homer's Odyssey, Jean de la Fontaine's Fables, Puccini's Madama Butterfly, Verdi's La Traviata and Sophocles's Oedipus. Wilson's drawings, paintings, and sculptures have been presented around the world in hundreds of solo and group showings, and his works are held in private collections and museums throughout the world. Wilson has been honored with numerous awards for excellence, including a Pulitzer Prize nomination, two Premio Ubu awards, the Golden Lion of the Venice Biennale, and an Olivier Award. He was elected to the American Academy of Arts and Letters as well as the German Academy of the Arts, and holds eight honorary doctorate degrees. France pronounced him Commander of the Order of Arts and Letters (2003) and Officer of the Legion of Honor (2014); Germany awarded him the Officer's Cross of the Order of Merit (2014). Wilson is the founder and artistic director of The Watermill Center, a laboratory for the arts in Water Mill, New York.
Melissa Chiu is director of the Smithsonian's Hirshhorn Museum and Sculpture Garden, the national museum of modern and contemporary art. Since her appointment in 2014, she has advocated for contemporary art through the Museum's exhibitions, acquisitions, and public programs. While maintaining the Hirshhorn's focus on twentieth- and twenty-first-century art, she has orchestrated landmark exhibitions of work by some of the most important contemporary artists, notably Shirin Neshat, Robert Irwin, Yayoi Kusama, and Charline von Heyl. Under Dr. Chiu's leadership, the Hirshhorn has also commissioned site-specific artworks that connect with the Museum's unique architecture, such as a piece by Linn Meyers and installations by Mark Bradford and Pat Steir. Dr. Chiu has expanded the Museum's substantial holdings of European and American postwar art to include examples of global modernism. Works by artists Park Seo-bo, Jimmie Durham, Monir Farmanfarmaian, Natsuyuki Nakanishi, and Senga Nengudi have been added to the collection. Dr.Chiu's current organizational focus is transforming the Hirshhorn into a twenty-first-century institution through establishing the Future Fund to support a number of new technology initiatives such as the award-winning mobile video guide, Hirshhorn Eye (Hi).
A native of Australia, Chiu earned her bachelor's degree in art history and criticism from the University of Western Sydney in 1992 and her master's degree in arts administration in 1994 from the University of New South Wales. She completed her Ph.D. with a dissertation on contemporary Chinese art at the University of Western Sydney in 2005. Chiu has written and edited several books and catalogues on contemporary art, including Contemporary Art in Asia: A Critical Reader (MIT Press, 2010), and has lectured at Harvard, Yale, Columbia, the Museum of Modern Art, and other universities and museums.
Please e-mail hirshhornexperience@si.edu if you would like to request ASL interpretation for this event.
---
Recording