Rock and Metal Sculpture
Design a sculpture using your rock collection and metal items from your junk drawer.
Time: 15–20 minutes
Skill Level: Beginner
Topic: Contrasting materials
Lee Ufan: Open Dimension
is made up of ten sculptures that the artist created especially for the Hirshhorn Museum, in response to the Museum building and outside spaces. The sculptures are installed on the Museum's large outdoor plaza. Contrasting materials, such as manufactured stainless steel plates and natural boulders, are placed together. Leaving the materials mostly unchanged, Lee arranges them in conversation with one another, and with careful attention to the Museum's architecture and landscape. The artist hopes people will see the everyday in a new light, and experience an "open dimension," where we can consider the relationships among people, things made by people, and the broader natural world.
LOOK CLOSELY
Watch this video. What do you see? Talk together about the sculptures. What materials does the artist use to create the sculpture? How is each sculpture the same? How is each one different?
The artist, Lee Ufan, talks about his choice in using rocks, describing rock as a "mass, a lump of time equal to that of earth." He means that rocks can take millions of years to form. The artist also uses steel in each sculpture. How is steel a contrasting, or different material, than rock?
---
MAKE IT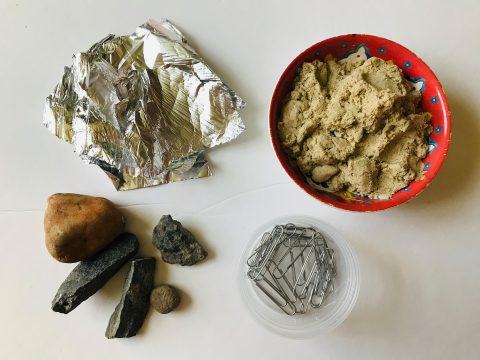 Gather your materials. Collect a few favorite rocks and set them out with some aluminum foil and paper clips. You might also include some gravel, sand or kinetic sand in this project. Set these materials on a tray or piece of cardboard that you don't mind getting dirty.
Get into the junk drawer and locate metal parts and pieces long ago discarded. Take a scavenger hunt for metal objects with interesting shapes (such as old washers, tools). (Note: Be aware of small objects that may pose a choking hazard to children under age three.)
Explore the possibilities of the aluminum foil and paper clips. Fold or curve the foil to transform it from flat to sculptural. Unwind the paper clip, and bend it into a new shape.
Choose a location. Lee Ufan creates sculptures that are meant to respond to where they are. Choose a location you like! For our model sculptures, we chose a location on a white table for one, and a wooden table near a vase of flowers for another.
What can you make? When you have metal shapes and pieces you like, mix and match them with your favorite rocks. If you have some sand or dirt, consider adding this in as an element. (Note that children under 5 may be more interested in only playing with the sand, if introduced prior to the other materials.)