Sculpture Spotlight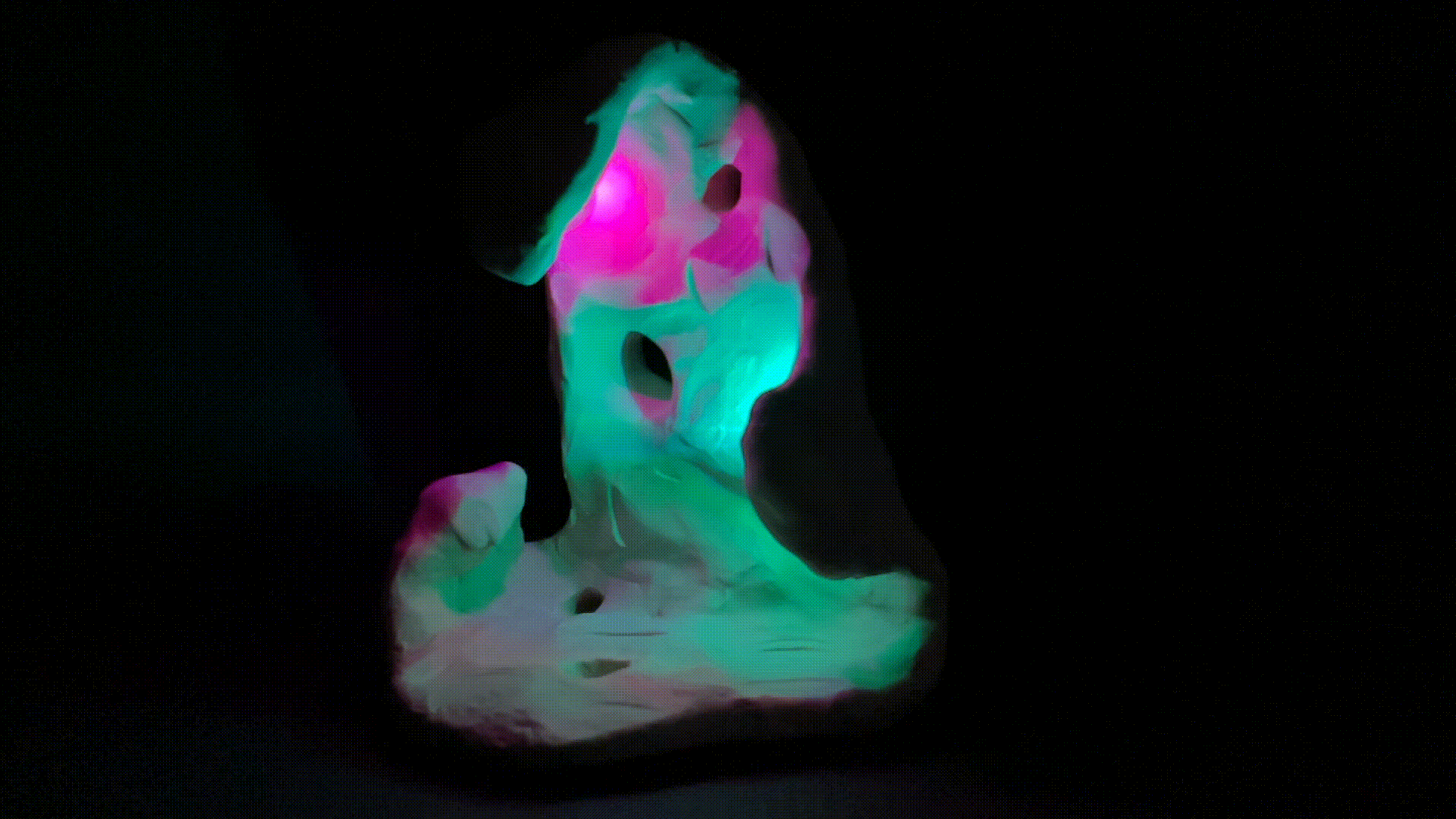 Have you ever wondered about where the moon gets its light? Find out and create your own "lunar" sculpture inspired by Isamu Noguchi.
We want to see your creations! Share on social media @hirshhorn with #HirshhornInsideOut.
Time: 45–60 minutes
Skill Level: Intermediate
Topic: Light
---
LOOK CLOSELY 
Look closely. What do you see? Describe the shapes, lines, and colors. What do you think this is? What makes you say that?
You probably noticed a large, mostly rectangular shape with different 3-dimensional shapes (a solid shape or object, like a ball, is three dimensional) and lights on the surface. Spheres are suspended from fishing lines that connect to the surface of the artwork. This artwork is called Lunar Landscape. The word lunar is used to describe something that looks like the moon.
Do you notice anything that reminds you of the moon?
Isamu Noguchi made this artwork out of cement, cork, fishing line, electric lights and additional technical materials. Noguchi made several sculptures featuring light. He called his light sculptures "ankari" and "lunar" sculptures. His lunar sculptures feature indirect light like the moon. The moon does not have its own light; it reflects the light of the sun, giving it the appearance of illumination. Noguchi took inspiration from the moon and used reflected light in his lunar sculptures like Lunar Landscape.
Artist Isamu Noguchi was born in 1904 in Los Angeles, California. He is best known for his sculptures and design work. Noguchi's mother was American and his father was Japanese. He lived with his father in Japan until he was a teenager. During World War Two, the United States was at war with Japan. In 1942, Noguchi voluntarily checked into the Poston War Relocation Center in Arizona. He was incarcerated there for six months. Learn more about Japanese American Internment.
Throughout his life, Noguchi continued to travel and had art studios in Mure-cho, Japan, and Long Island, New York. Noguchi cared about and respected public spaces (such as museums and parks.) He even helped establish a museum for his work in Long Island before his death in 1988. The Noguchi Museum in Long Island is now in possession of Noguchi's local studio. Noguchi's studio in Japan has also been converted into a museum.
---
MAKE IT! 
For this project, we take inspiration from Noguchi's Lunar Landscape to create our own moon-inspired light sculpture.
Gather materials. You'll want an assortment of:

Sculpting materials such as clay or playdough (Need dough? Stock your studio with our recipe for salt dough)
Modeling tools such as popsicle sticks, pencils, toothpicks, utensils, pasta, etc.
Light sources such as a sunny window, flashlights, lamps, or LEDs. Note: You can find low-cost LEDs at many online retailers. They are often referred to as mini LED lights, balloon LED lights, or party LEDs.
Sketching materials such as a piece of paper and a drawing tool


Play with the possibilities. What kind of shapes and textures can you make with your dough? You might try using your hands and modeling tools to create unique impressions in your dough, like the craters on the moon.

Experiment with light. Practice using your light materials with your dough. How can you shine a light or use light in your sculpture? For our model project, we experimented with shining our light through negative space (empty shape created by the cutout) in our sculpture.


Safety note: Never shine a flashlight in someone's eyes, and never look directly at a light or the sun. Looking right at a light can damage your eyes! 

Make a sketch. Plan your sculptural form using your drawing materials. What do you want your sculpture to look like? What do you want your included light to look like?Note to adults: Many children, especially those under six, may do best skipping this step. Their best planning will likely be in the process of experimenting with different sculpting possibilities (see steps 2-3).


Build your sculpture. Sculpt your dough. Look back at the lights in Lunar Landscape. Think about how you can use lights to change how your sculpture looks. For our project, we took inspiration from the different phases of the moon and created a crescent-shaped sculpture.


Shine your light. For our project, we decided to use three LED lights and hide them inside the curves of our sculpture.

Display your work! Or keep sculpting and playing with light.