Make a Felt Set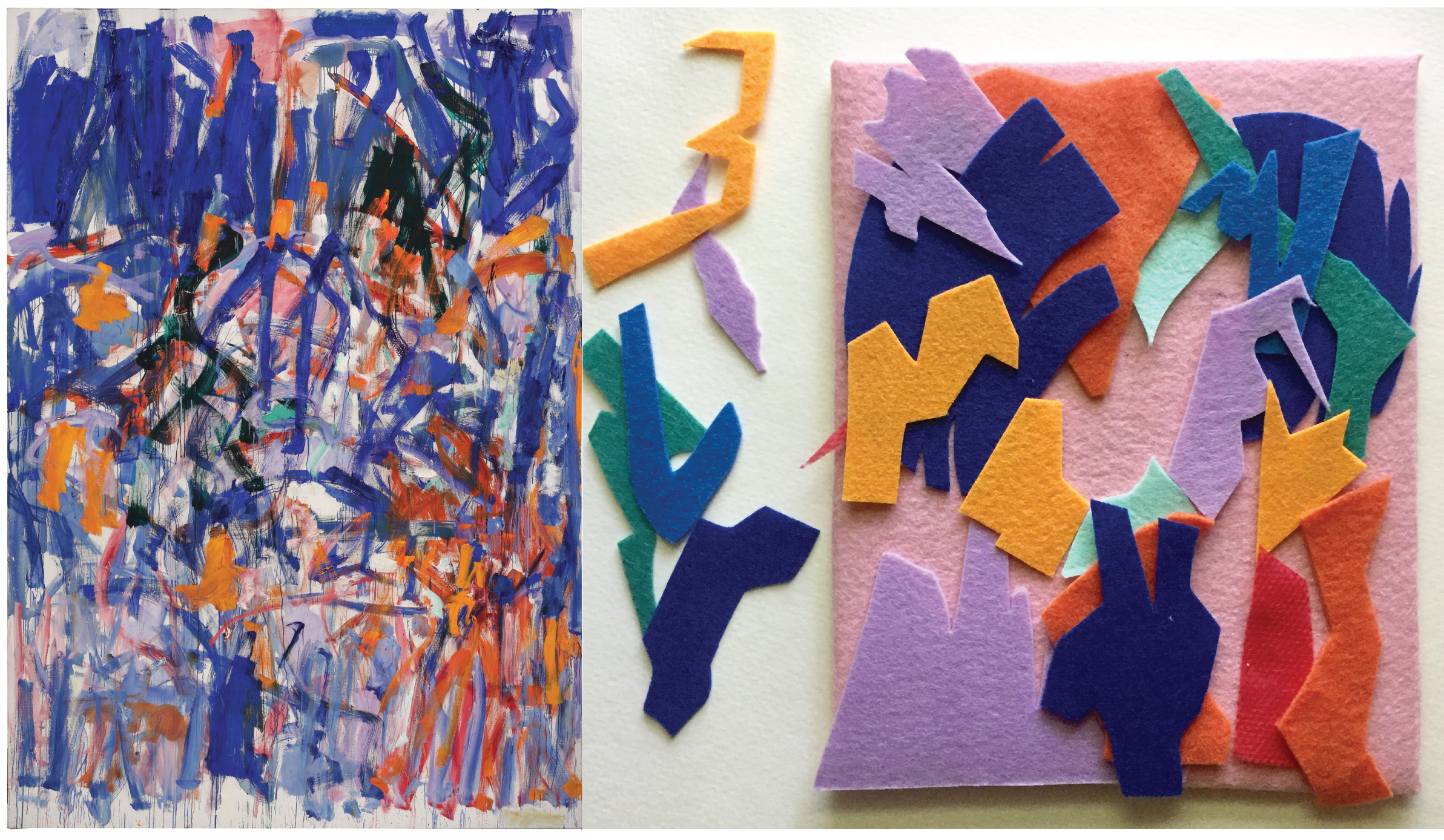 Become a felt artist by making a custom felt set to use with your felt board!
Time: 15–20 minutes per set
---
Do you want to make art with your child, but don't want to get out the paint and other wet, messy materials? Felt offers endless opportunities for fostering play, creativity, and early literacy skills. It can be made to meet the developmental needs of multiple ages, simply by varying shape size and complexity. Use a felt set to introduce a simple concept such as lines, shapes, or colors. Or, use a felt set to create a story complete with characters, setting, and plot. You can also create a set inspired by a favorite artwork or book.
Continue reading this edition of Stock Your Studio for our best tips and tricks for cutting felt, plus a library of art-inspired sets to get you started!
---
FELT CUTTING 101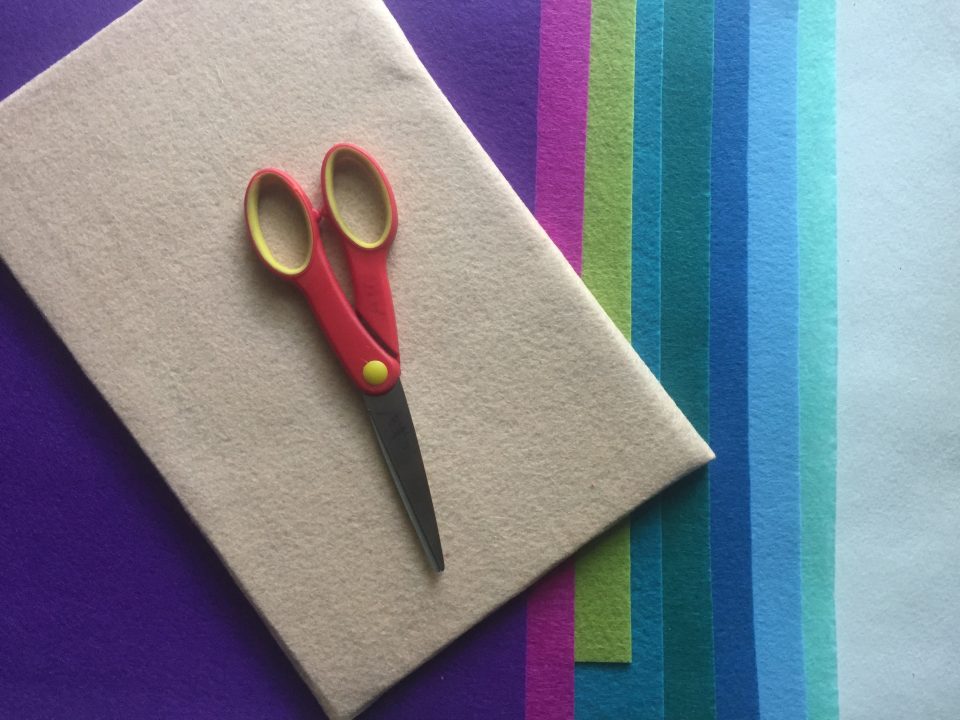 What special tools do I need? If you own a pair of fabric scissors, they will make cutting neater and easier, and allow you to cut multiple layers of shapes at once. Don't have fabric scissors? Don't fret! Regular scissors also work. We like to cut freehand, but some people prefer to use a marker and stencils to draw the shapes first.
Age determines felt shape size.  
Children under three: Cut large shapes. Big shapes are easier for small hands to grasp and manipulate. Avoid small shapes that pose a choking hazard.
Children over three: Cut a mix of medium and small shapes. Grasping small shapes helps develop fine motor skills necessary for writing. A range of sizes, colors, and shape types also keeps the play interesting.
How many shapes should I cut?  Cut enough to cover the felt board and add layers. You might also cut extras to save as backups.
We base our felt sets on artworks in the Hirshhorn collection. Find your inspiration.  Then, go on a material hunt to make your set interesting. Look for fabrics with different colors and textures. Check your closet for castaways ready for a new life. We used an old pillow case, a grocery bag, and a t-shirt!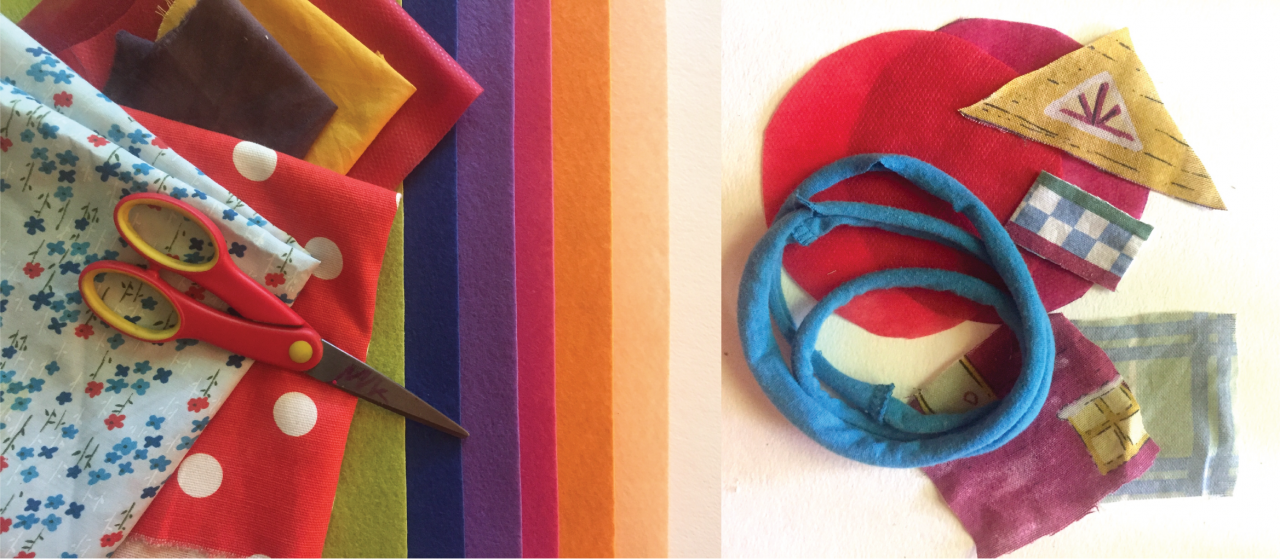 ---
FIND INSPIRATION TO MAKE YOUR OWN
The Hirshhorn Museum has a lot of different artworks in our collection that can inspire your felt sets. Does your child have a favorite book? Use the illustrations from that book for ideas to create your own set.
Geometric Shapes
One of our primary felt set categories at the Museum is geometric shapes. Geometric shapes are familiar to children and will be among the first things they learn.
We found plenty of shape inspiration in the screenprint Untitled (from "Ten Mexican Artists" portfolio) by Kazuya Sakai , which also has warm colors that we wanted to emulate. Need another starting point? Try Anni Albers, Auguste Herbin, and Nadia Khodossievitch Léger.
Suggested book pairings:
Triangle, Circle, and Square, by Mac Barnett and Jon Klassen
Color Zoo, by Lois Ehlert
---
Organic Shapes
Many artworks in the Hirshhorn collection are abstract in some way, meaning they don't look like things we see in the world around us. Organic shapes are asymmetrical and can give a suggestion of movement to an artwork.
What does Agricola by David Smith look like to you? Spark your child's imagination with zany organic felt shapes reminiscent of this sculpture. Personalize the shapes by making them your favorite color.
Weeds by Joan Mitchell has a lot of zig-zaggy lines that are full of energy. We used felt scraps for our blobby and brushstroke-like shapes.
Find more inspiration in the work of Basil Alkazzi and Barbara Hepworth.
Suggested book pairings:
The Shape of Me by Dr Seuss
Ish by Peter H. Reyolds
---
Nature Play
We love nature. The artwork that informed this nature felt set is The Quiet Valley by Bernie Casey. We think it looks like a relaxing place to be! Search the collection for more inspiration from Helen Lundeberg and Marsden Hartley.
Suggested book pairings:
The Tiny Seed by Eric Carle
Llamame Arbol by Maya Christina Gonzalez
---
Figure and Face Felt
Cut funky figures and face felt inspired by Pablo Picasso's painting Bust of a Woman (Dora Maar) and The Cue and the Ball by Jacob Lawrence. Cut a variety of face-like shapes for your child to assemble. We used scraps for eyebrows, noses, and fun accessories.
TIP: Add pieces from other felt sets. Use your geometric shapes to make people. You can also add in nature shapes. Your child might want to make a scene or tell a story with the shapes. It's okay if their play doesn't look realistic!
Check out Alice Neel, Viola Frey, and Nikki S. Lee for other figure and face finds in the collection.
Suggested book pairings:
Why am I Me? by Paige Britt
Love by Matt de la Peña
The Day You Begin by Jacqueline Woodson
---
Combine your felt sets
We cut a few new shapes and added some of our geometric shapes and nature shapes in to make a space-themed artwork inspired by Bernie Casey's Peppermint Lunar Field. Look for more out of this world artwork inspiration with Joan Miro, Sam Francis, and Luigi Boille.
Suggested book pairings:
Moon Over Star by Diana Hutts Aston
Mooncake by Frank Asch