SUMMER EVENTS AND INSTALLATIONS AT THE HIRSHHORN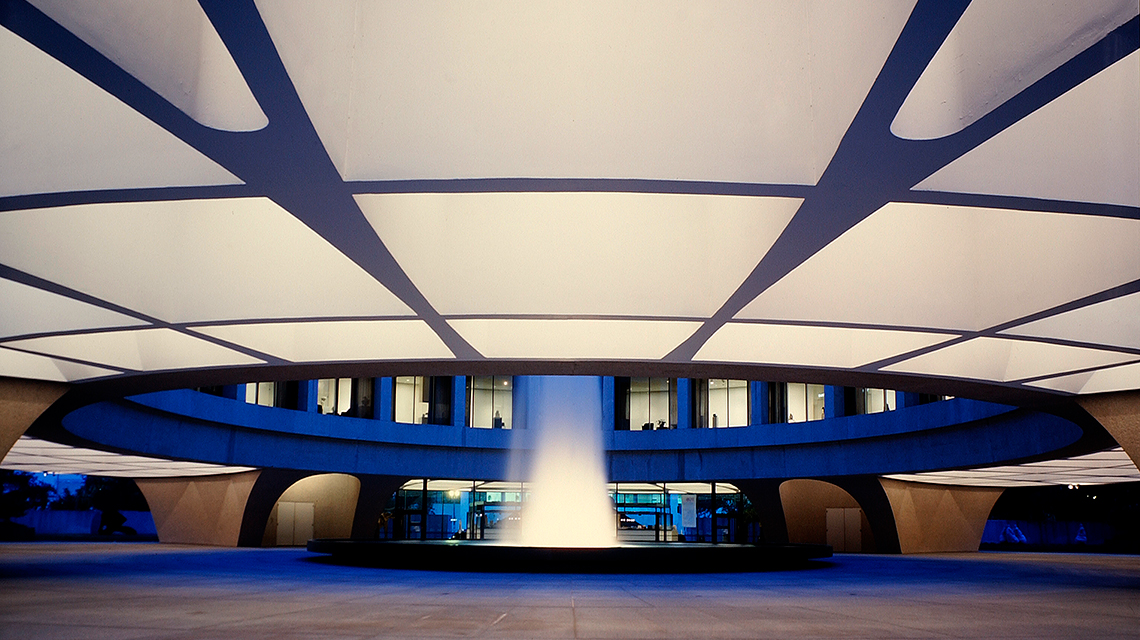 Friday, May 23, 2003
GYROSCOPE
Mid-July 2003 – Jan. 4, 2004
With its thirtieth anniversary approaching in 2004, the Hirshhorn will launch Gyroscope, a museum-wide celebration of its preeminent collection of modern and contemporary art. Gyroscope will encompass nearly forty different thematic installations that encourage visitors to experience art from a variety of perspectives, each designed to provoke curiosity, discovery and revelation.
Like the scientific tool that gives the program its name–a device that creates balance through a spinning, centrifugal force–Gyroscope is about art's power to draw people in and stimulate a dynamic exchange between artists, their work and audiences.
Filling the entire Museum from mid-July through early Jan. 2004, Gyroscope will address questions that arise naturally while viewing contemporary art and will evolve in response to feedback gathered from viewers. Gyroscope will feature works by such artists as Matthew Barney, Joseph Beuys, Alexander Calder, Alberto Giacometti, Agnes Martin, Ed Ruscha, Frank Stella, Andy Warhol and Rachel Whiteread. Among the themed installations on view this summer will be explorations of how bronzes are made, contemporary portraiture, artworks created with black-and-white palettes and the use of personal and inventive symbols to express stories and ideas. New installations will be included on an ongoing basis.
ART NIGHT AT THE HIRSHHORN
Thursdays, June 26 – Aug. 28, 2003 (except Aug. 21)
On Thursday evenings this summer–June 26 through Aug. 28 (except Aug. 21)–the Hirshhorn galleries, Sculpture Garden and Museum Store will be open until 8 p.m. to host a variety of free Art Night programs.
A series of outdoor jazz and Latin jazz concerts near the Museum's distinctive circular fountain will kick-off these special evenings (5:30–7 p.m.). Gallery talks and lectures (starting at 7 p.m.) will include, among others included in the complete schedule enclosed with this release:
"Conserving Royalty: Henry Moore's King and Queen and Other Garden Projects" (June 26)
"Why a Painting is Like a Pizza: A Guide to Understanding and Enjoying Modern Art" (July 17)
"Meet the Artist with Fred Tomaselli" (July 24)
ART NIGHT SPONSORSHIP
Latin music, Back-to-School Night for Educators and selected films are supported by Federal funds for Latino programming, administered by the Smithsonian Center for Latino Initiatives. The music program is supported by an anonymous donor with additional funding from America's Jazz Heritage, A Partnership of the Lila Wallace-Reader's Digest Fund and the Smithsonian Institution. Additional support is provided by the Holenia Trust in memory of Joseph H. Hirshhorn.
The Hirshhorn Museum's regular gallery hours are from 10 a.m. to 5:30 p.m., seven days a week. The Museum is located at Independence Avenue at Seventh Street. By Metrorail, take the L'Enfant Plaza Metro stop; exit at Maryland Avenue and Seventh Street. Admission to the Museum and all programs is free.